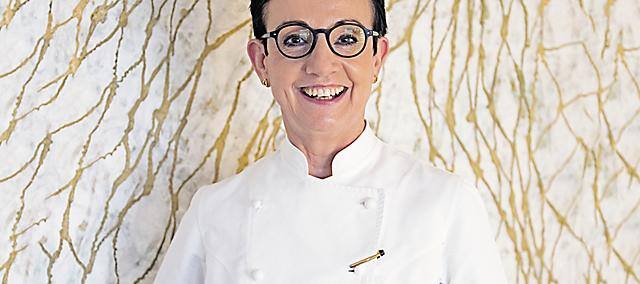 Carme Ruscalleda's foodie guide to Barcelona
Meet the world-beating chef who collects Michelin stars

BY MARÍA CONTRERAS
Journalist Maria Contreras contributes to titles including El País and the Spanish editions of Vogue, Vanity Fair and GQ.
If you know of chef Carme Ruscalleda, it's probably as the only woman in the world with seven Michelin stars to her credit. Three for the Spanish cuisine of Sant Pau, in the town of Sant Pol de Mar, Barcelona; two for its Asian outpost serving the same, Sant Pau Tokyo; and another two for Moments, her celebrated restaurant within Mandarin Oriental, Barcelona. What you might not know is that Ruscalleda has also recently taken over Blanc, the main restaurant at Mandarin Oriental, Barcelona.
"Blanc is at the heart of the hotel; it's where people meet," she explains. "It's a multi-purpose space where you can find the usual hotel classics: some pasta, some pizza, Caesar salad, a hot dog and even a soup that we call a 'jet-lag fixer'," she says. Of course, this being Ruscalleda, even the simplest dishes have been elevated to something truly memorable, thanks to her expertise and insistence on the finest produce. "We're in tune with the time of year, so we also offer a short seasonal menu," she continues. At midday, we offer some quick executive meals. At night though, when things are more laid-back, we've got four-course meals and a dessert cart, and a lovely setting with great ambience."
It's a wholly different model than the more formal, theatrical Moments. "Moments offers an artistic discourse with a title and script," says Ruscalleda. "At the moment, we're creating meals inspired by art forms and ecosystems of the world. They are quite elaborate and require special crockery," she adds.
Beyond her own must-visit restaurants, here, Ruscalleda shares her favourite Barcelona finds for foodies.
My first Barcelona food memory was at…
"Las Ramblas. I was with my then boyfriend – now my husband – and his parents in a restaurant which is now closed, Casa Joan. They had a dish called 'young gentlemen's rice' that my father-in-law loved. It combines meat, fish and seafood, and the reason for the name is that it doesn't have any bones or skin to pick out. My boyfriend and I would go to influential restaurants in Barcelona that are closed now, such as Reno and Finisterre. This was back in the 1970s, when it wasn't common for young people to go to that kind of establishment. The other diners would give us strange looks, and so did the waiters, wondering what we were doing there. But we were thrilled by it all."
For food shopping, I recommend… 
"A spice shop called Angel Jobal (Carrer del Comerç, 21) – it has a huge variety. I'll tell you their secret, you've got to buy at least a kilo. But they've got some absolutely fantastic peppers, curries and paprika. There's another place, called Casa Gispert – it sells nuts, dried fruit, traditional sweets and coffee roasted in house – where it seems like time has stopped. It's totally artisanal. And, since I'm so in love with Asian cuisine, we frequently go to Tokyo-Ya, a fantastic shop selling Japanese food."
I always eat the same dish at…
"Gorría, which serves Navarre cuisine. We go every time my husband and my daughter and I are in the mood for the bean dish, pochas. But they also have first-class cod and incredible steaks."
Apart from my own, a Barcelona restaurant I'd recommend is…
"La Cuina d'en Garriga, which is near Mandarin Oriental, Barcelona. It's essentially a little shop with a dining room attached. Another similar spot that I love is La Teca de Vila Viniteca (Carrer dels Agullers, 7), which, again, is a shop with a few tables for diners.
For a gourmet restaurant where you can't go wrong whatever you choose, I love Els Pescadors in Poblenou. Their dishes – a variety of rice, baked fish and some impressive fish stews – will make you cry with delight. For me, gastronomy is about the excellence of the produce; there's no need to gild the lily. A perfectly executed Spanish tortilla made with zero-food-miles eggs, served on bread topped with locally grown tomato and extra-virgin olive oil... now that's pure gastronomy."
Moments
With two Michelin stars already, Moments restaurant continues to win new awards and new devotees thanks to its creative, fresh and healthy cuisine inspired by Catalan culinary culture.
Reserve a Table