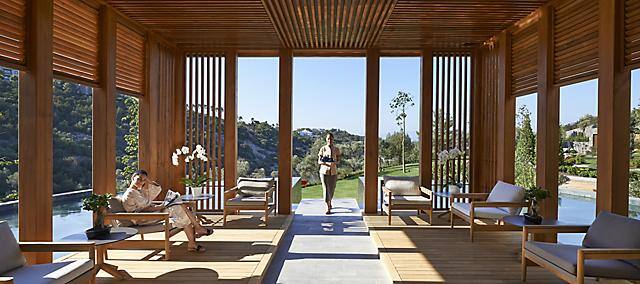 Turkish beauty tips you'll want to try
Age-old beauty and wellness insight from The Spa at Mandarin Oriental, Bodrum

BY TARIK ACAR
Tarik Acar is the Director of Spa and Wellness at Mandarin Oriental, Bodrum, and a contributor to spa and beauty magazines internationally.
KEEP IT ROSY
Rose oil is a beautician's mainstay and Turkish rose oil – which has a distinctive, earthy aroma – has been part of the health and beauty culture in the country for centuries. Beyond its calming, mood-boosting scent, rose oil has antibacterial properties and helps to soften and condition the skin. At the spa at Mandarin Oriental, Bodrum there's a chance to envelop yourself in a Rose Hydrating Cocoon for noticeably softer skin. Ask staff, too, about the Gülsha Purifying Rose Ritual – it includes a gentle face exfoliation with 'natural rose dust'.
SCRUB UP
Until you remove the layer of dead skin cells that naturally builds up over time, it's almost impossible to get a really healthy, natural glow. In Turkey, exfoliation takes the form of a good scrubbing with a kese: the traditional, plain white exfoliation mitt. It's the original version of the 'scrubby gloves' you can buy for a rub-down in the shower. Make sure you rinse any exfoliation mitts you use and let them dry properly, to avoid any less-than-sensual mould smell. As for exfoliating your feet, it may not be Turkish, but at The Spa at Mandarin Oriental Bodrum we use a traditional Italian Ponza stone. To avoid taking off healthy skin, use it to file soles and heels when your feet are dry, or only slightly damp.
Get the professionals in Bodrum to help you scrub up beautifully by booking an Oriental Hamman Ritual.
BREATHE IN
Bodrum can't claim to have invented fresh air, but we certainly have it in abundance. One of the reasons our guests take time out here is for a break from all the stresses of city life, including the skin-bothering air pollution which many of us have come to accept as part of our daily grind. Pollution is thought to contribute to a variety of skin conditions, including adult acne. Even the most committed urbanites should make time to give their skin a total break from the city environment once in a while; you'll be surprised how quickly you see a difference in its appearance. Go the extra mile and blast your skin with an Oxygen Regenerating Facial, which is suitable for almost any skin type and restores the skin's natural balance.
GET MINTED
A versatile essential oil, among its seemingly myriad health benefits, peppermint has the potential to cool, calm and soothe sore skin. This makes it ideal for some TLC after any time you might have spent tanning and soaking up the sun on the beaches here in Bodrum. You can reap the benefits of peppermint, rose and lavender oils as part of the Summer Skin Cooler spa treatment. Beyond the bathroom cabinet, you'll also find peppermint widely used as a natural flavouring – from fresh peppermint tea to Turkish delight.
Ready to relax?
Experience The Spa at Mandarin Oriental, Bodrum for yourself with one of our decadent packages. Now's the time to book your Turkish holiday.
View Offers