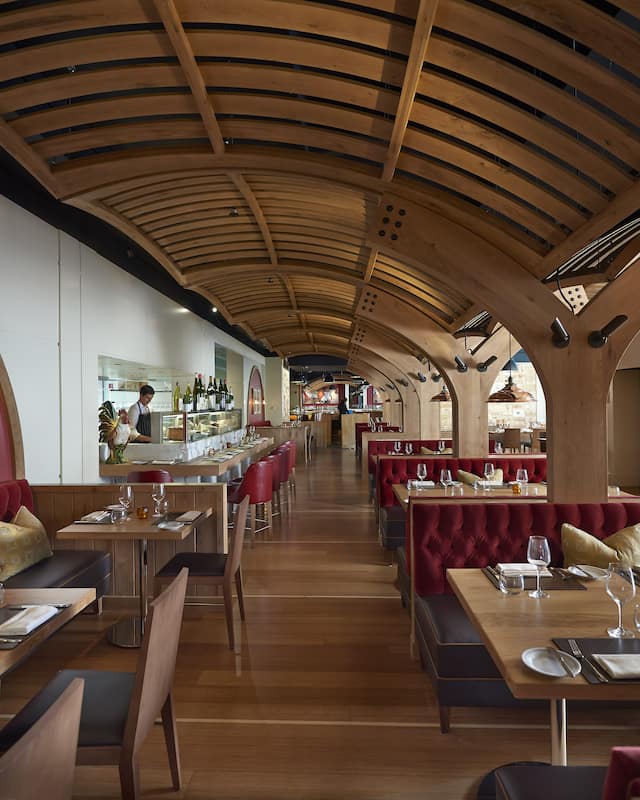 Bar Boulud Boston
Chef Daniel Boulud
One of the most celebrated chefs on the East Coast, French chef Daniel Boulud is considered to be one of America's leading culinary authorities on French cuisine. Based in New York for over 30 years, chef Boulud is renowned for his soulful interpretation of traditional French cuisine and is chef-owner of restaurants around the globe including the three Michelin-star New York City restaurant DANIEL.
The author of eight cookbooks and the recipient of multiple James Beard Foundation awards including "Outstanding Chef" and "Outstanding Restaurateur," chef Boulud has also been named a Chevalier de la Légion d'Honneur by the French government. He is a generous supporter and Co-President of Citymeals-on-Wheels and is also Chairman of the Bocuse d'Or USA Foundation.
Executive Chef, Ethan Koelbel
With a natural talent and passion in the culinary arts, Chef Ethan Koelbel has evolved from the young boy helping his parents in the kitchen of their New Mexico home to the experienced Executive Chef he is today.
Born and raised in New Mexico, Koelbel spent his summers in Cape Cod, Massachusetts visiting family, and then at age 15, he relocated to the area permanently. He joined the Upper Cape Cod Regional Technical School in Bourne, Massachusetts and majored in Culinary Arts while also working at the Hyannisport Club, where he was responsible for the garde manger and desserts. Koelbel continued his studies at the Culinary Institute of America, graduating with a degree in Culinary Arts Management in 2011. He then became Sous Chef at the upscale Victorian hotel The Atlantic Inn in Block Island, Rhode Island and was quickly promoted to Executive Chef. His inspiration from New England seafood remains prevalent on his menus today.
Koelbel moved to New York City in 2012 and worked alongside some of his greatest mentors at several of the city's most acclaimed restaurants, including Oceana Restaurant, the Two-Star Michelin Restaurant Daniel and Stella 34 Trattoria. In each position, Koelbel developed new and creative ways to improve organization, quality and ultimately guest satisfaction.
Koelbel returned to Chef Daniel Boulud and his restaurant group as Executive Chef of Bar Boulud Boston in October 2019. He is responsible for managing all aspects of the kitchen and works to ensure all quality standards are not only met but surpassed.