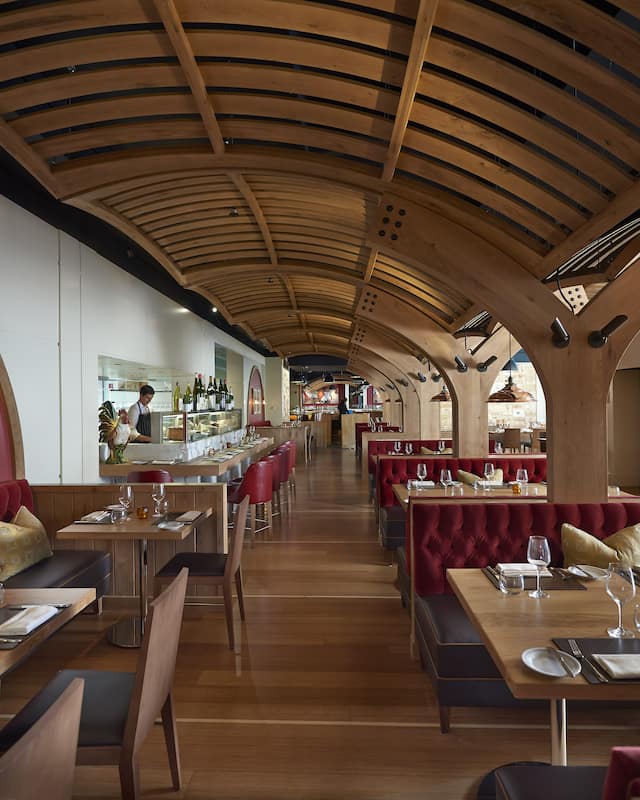 Bar Boulud, Boston
Chef Daniel Boulud
One of the most celebrated chefs on the East Coast, French chef Daniel Boulud is considered to be one of America's leading culinary authorities on French cuisine. Based in New York for over 30 years, chef Boulud is renowned for his soulful interpretation of traditional French cuisine and is chef-owner of restaurants around the globe including the three Michelin-star New York City restaurant DANIEL.
The author of eight cookbooks and the recipient of multiple James Beard Foundation awards including "Outstanding Chef" and "Outstanding Restaurateur," chef Boulud has also been named a Chevalier de la Légion d'Honneur by the French government. He is a generous supporter and Co-President of Citymeals-on-Wheels and is also Chairman of the Bocuse d'Or USA Foundation.
Executive Chef, Brian Arruda
Continuing his career with the Boulud family, Executive Chef Brian Arruda joins Bar Boulud, Boston - a French-inspired bistro and oyster bar from internationally acclaimed chef Daniel Boulud.
Chef Arruda arrives from Palm Beach, Florida, where he served as Executive Sous Chef at Daniel Boulud's Café Boulud. Responsible for creating locally-inspired seasonal dishes and French bistro fare, Chef Arruda manages all aspects of the kitchen, bringing his French technique, charcuterie expertise and seafood influence to Boston's Bar Boulud.
Chef Arruda's vast knowledge and passion for cuisine developed in his hometown of Stonington, Connecticut where he was instrumental in the opening and operation of his family-owned restaurant, the Dog Watch Café in 2008. Inspired to make the culinary arts his career, Chef Arruda continued his journey graduating from the New York Culinary Institute of America. His career has since brought him to Bermuda, Las Vegas, Florida and Boston and he has had the opportunity to work under the tutelage of some of the world's most accomplished chefs including: Thomas Keller, Charlie Palmer, Mario Batali and José Andrés.