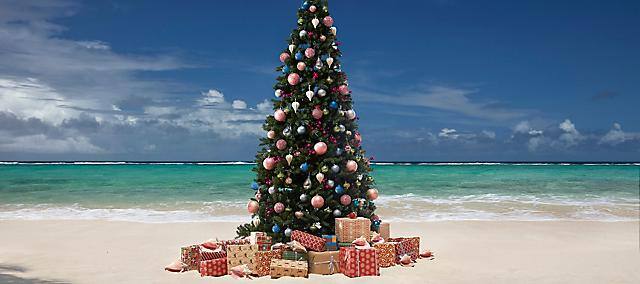 Canouan
Festive Season
Festive Season
It's the Most Wonderful Time of the Year!
We are delighted to have you spend this special time of year with us.
Canouan Island, also known as "Island of Tortoises" offers natural beauty, unspoiled beaches, tranquil seas and gentle breezes. Tailor made for relaxation and recharging your spiritual battery, you will leave the Island feeling you have found your own little paradise. To celebrate this festive season in true Mandarin Oriental, Canouan style, our team has created a program of special events and experiences which we invite you to enjoy.
If you would like to arrange a special celebration or adventure, please do let us know. We will be delighted to assist and to provide a seamless service and thoughtful gestures to create magical memories for you this holiday season.
From our Mandarin Oriental, Canouan family to yours, we wish you a very memorable and joyous holiday.
Celebrate the holiday season in luxury with our Festive Holiday offerings
Experience the festive season with a special Caribbean twist at Mandarin Oriental, Canouan. A calendar of very merry activities and Mediterranean cuisine paired with Caribbean ocean views will delight guests from December 17, 2021 through January 9, 2022, with special events including our annual Hawksbill sea turtle release, a visit from Santa Claus, and fireworks. You can also expect fabulous culinary happenings, such as rum tastings, cooking classes, and Gala dinners.
For more information and Villa availability, please contact our Reservations Specialists at +1 (212) 461 8068 or email mocan-reservations@mohg.com.
The Spa at Mandarin Oriental, Canouan has partnered with Crystal Sound Healer, Nitikarn Thachina, from December 10, 2021 to March 31, 2022.
Nitikarn Thachina is a certified pranic healer, yoga and meditation instructor, Thai massage therapist, and an artist of crystal singing bowl sound therapy specialising in foot reflexology practiced in several different countries including Singapore, China, France and Thailand.
Using her skill set as a fully trained and qualified crystal bowl sound therapist, Nitikarn strives to bring her passion of using the vibration of bowls to align with the spiritual side of a human being. This is attained by putting you into a state never before attained by using sounds and vibrations along with voice guidance. Healing sessions by Nitikarn are nothing short of miraculous as she reaches the heights of calmness accompanied by a spiritual experience.
To book your treatment, please call us at +1 (212) 461 8068 or email mocan-spa@mohg.com.
Mandarin Oriental, Canouan welcomes back Giancarlo Morelli, a Michelin-starred chef known in the world of haute cuisine, as well as a business owner of four restaurants in different parts of Italy. ​​
He's an experienced chef in leading star-rated restaurants in the United States and France. Chef Morelli has also served as a consultant for several Italian restaurant companies around the world, which later led him to embark on his own entrepreneurial path when he opened Pomiroeu in Milan, Italy. ​
After the opening of his first restaurant, chef Morelli was awarded a prestigious Michelin star. He continued to grow his passion by taking charge of Phi Beach, a restaurant in Sardenia, Italy. Shortly after that he opened Trattoria Trombetta in Milan and more recently BULK, a mixology bar considered to be the best in Milan. ​Chef Morelli uses food as an expression of culture and identity. He believes that through food you can get a taste of the world. His ability to translate everything into the simplicity of a dish with taste, meaning, and true passion is a work of art. ​
We invite you to enjoy dinner by chef Morelli for an unforgettable experience, with simple yet quality fresh ingredients where he will be demonstrating his creative passion, fine palate and sophisticated taste. Please see scheduled dates and times.