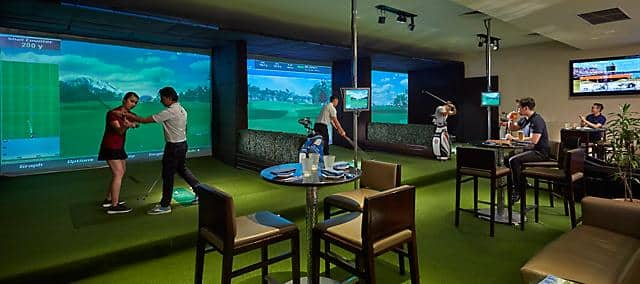 Kuala Lumpur
Indoor Golf
Indoor Golf
Practice year-round, rain or shine, with Indoor Golf at Mandarin Oriental, Kuala Lumpur
+60 (3) 2380 8888 ext. 3739
Using high-speed camera tracking for precise analytics and stunning 3D-rendered visuals, immerse yourself in a golfing experience, designed to make lasting improvements to your game. With virtual simulations of 48 world-renowned golf courses, you can treat yourself to a different experience every time.
Equipment is provided and includes clubs, balls and tees. Professional coaches are available upon booking for one-on-one instruction.
Indoor Golf at Mandarin Oriental can be booked as an exclusive venue for your event including food and beverage catering options. For further information, please email mokul-fitness@mohg.com.
Simulator Rental Fee
Indoor Golf Simulator - MYR 250 per hour | MYR 125 per hour (Hotel Guest)
Golf Instructor Lessons (Single) - MYR 320 per hour
Golf Instructor Lessons (Pair) - MYR 425 per hour
Golf 101 (Group class) - MYR 200 per hour
*Simulator fee per hour is for 1 to 4 players. A round of 18-holes game for 1 player take approximate 1 hour.
Pure Golf
Enjoy a personalized Pure Golf membership kit, it includes:
One complimentary Golf Fitness Assessment by our resident Fitness Instructors, one per membership
Two hours simulator time daily on any of the Golf Simulators at Indoor Golf Mandarin Oriental for membership holder (non-accumulative), subject to availability and advance reservation
Four guest access passes per month, to be used for guests accompanied by the membership holder
One complimentary 15 minutes Formula 1 Simulator experience, per membership
Complimentary use of all in-house golf training and teaching aids
15% savings off total food bill at AQUA Restaurant and Bar
50% savings off regular simulator rates for personal use if inclusive time exceeded
Pure Golf Subscription Fee
1 month - MYR 700
3 months - MYR 1,400
6 months - MYR 2,300
12 months - MYR 4,000