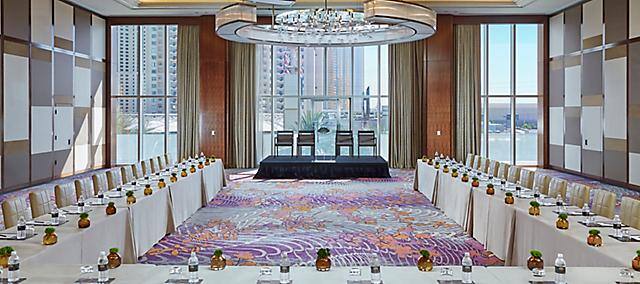 Las Vegas
Facilities
Facilities
Designed to host high-impact events, our function spaces include a ballroom, executive boardroom and a range of meeting rooms.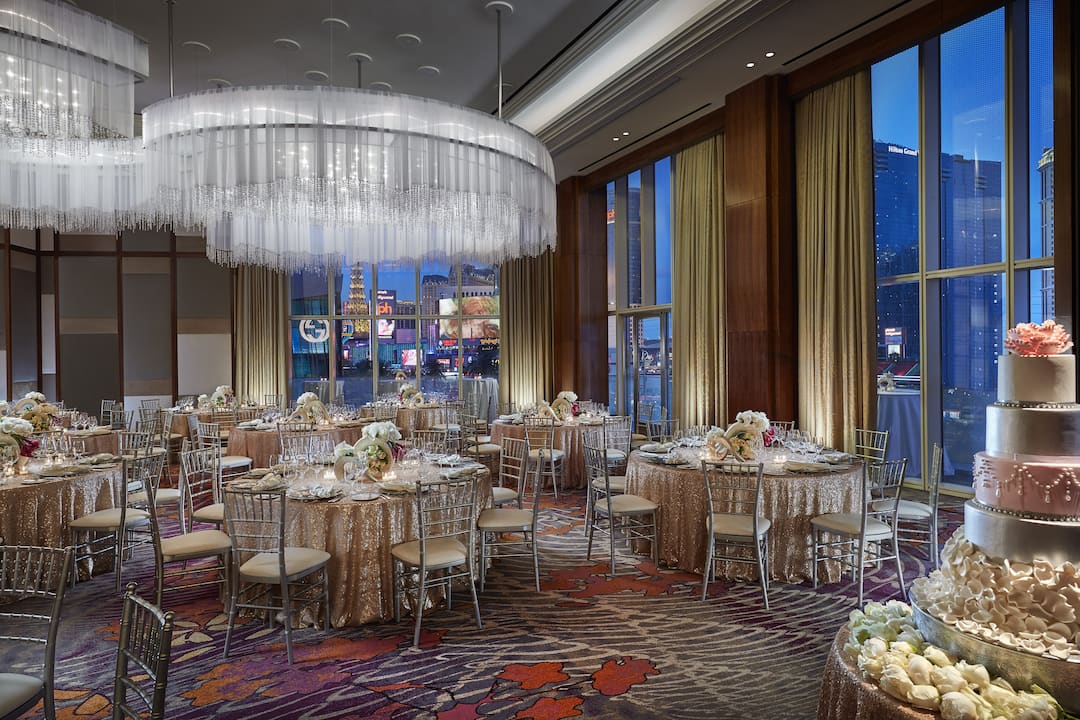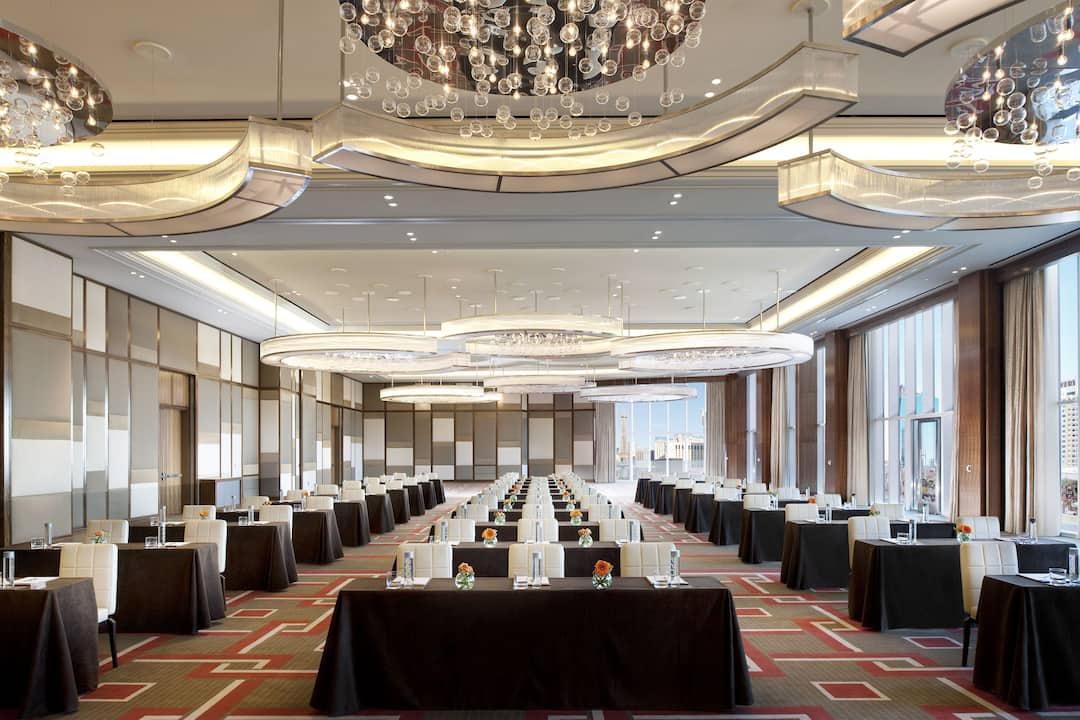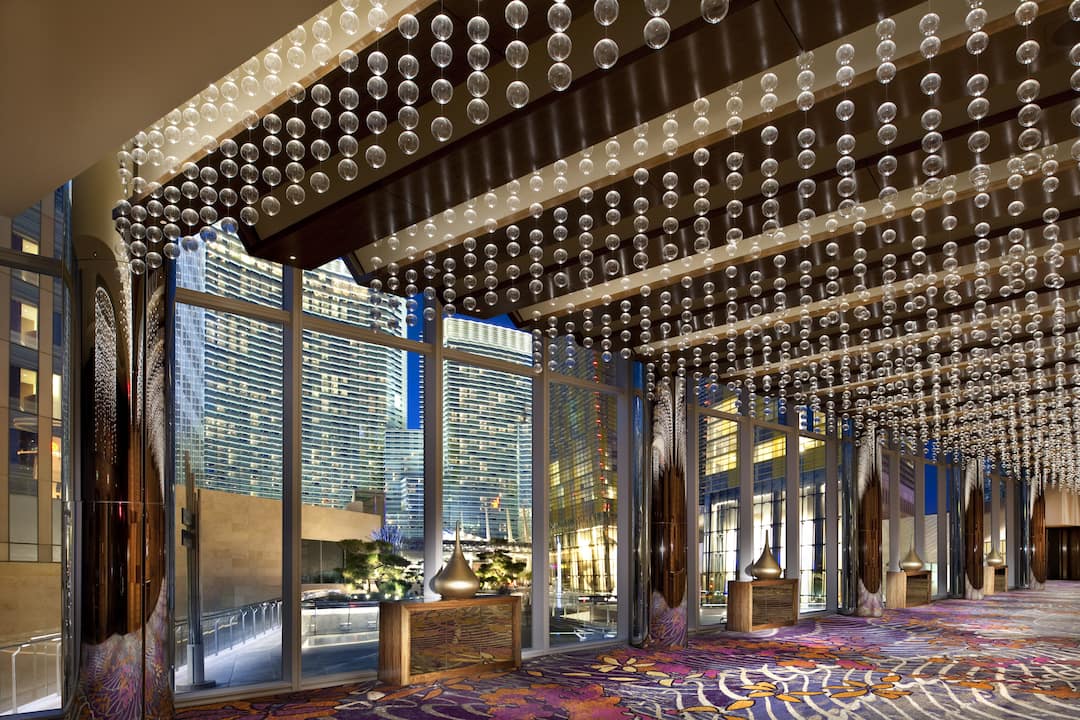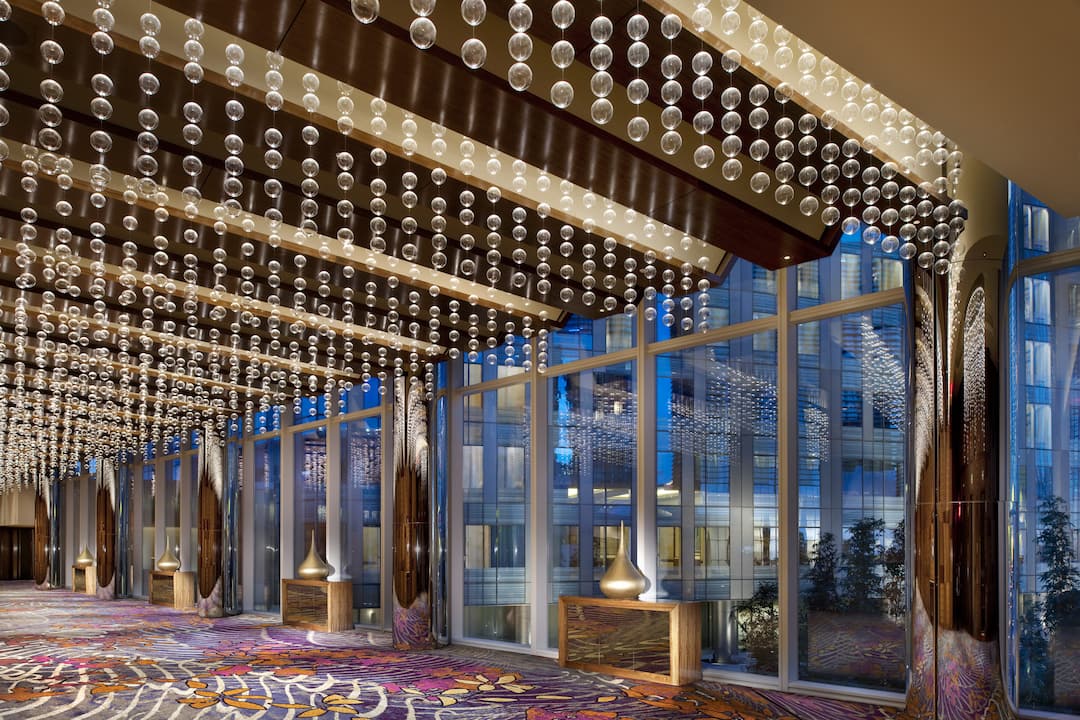 All of our meeting rooms are located on the same floor, providing seamless transitions between events. We have a private entrance that's separate from the hotel's main entrance for extra convenience for guests not staying in the hotel.
The Ballroom
Situated three floors above The Strip and featuring floor-to-ceiling windows with automated blackout shades and an intimate outdoor patio, the Oriental Ballroom is a breathtaking venue. Divisible into three sections, it is suitable for all kinds of events and seats up to 480 guests for dinner. Adjacent to the ballroom lies a grand pre-function foyer perfect for drinks receptions.
Lotus and Jade
These two function spaces can be reserved individually or combined for up to 56 guests. Flooded with natural light, these rooms boast state-of-the-art technology including complete wireless interface with sophisticated lighting and audio-visual possibilities such as slideshows and music.
Mandarin Boardroom
Our boardroom is one of the most impressive executive boardrooms in Las Vegas, with seating for up to 20 guests. Flooded with natural light, the boardroom features impressive technology such as surround sound systems to help enhance presentations.
The Pool Deck
Situated on the 8th floor, our sophisticated pool deck provides a unique outdoor events venue. Surrounded by the spectacular architecture of ARIA Campus, the pool deck features private cabanas which are ideal for varied food or cocktail booths. Past events have included poolside poker, live music and sit down dinners.
Room specifications
| FUNCTION ROOMS | FLOOR PLANS | DIMENSIONS | BANQUET | RECEPTION | CLASSROOM | THEATRE | CONFERENCE | U-SHAPE | HOLLOW SQUARE |
| --- | --- | --- | --- | --- | --- | --- | --- | --- | --- |
| Oriental Ballrooms A, B, C | View | 7,650 sq ft | 480 | 1000 | 360 | 550 | 128 | 120 | 144 |
| Oriental Ballroom A | View | 2,500 sq ft | 150 | 200 | 120 | 200 | 40 | 44 | 52 |
| Oriental Ballroom B | View | 2,850 sq ft | 180 | 240 | 160 | 220 | 40 | 48 | 52 |
| Oriental Ballroom C | View | 2,300 sq ft | 120 | 200 | 120 | 200 | 40 | 32 | 52 |
| Oriental Ballroom A, B | View | 5,350 sq ft | 330 | 440 | 280 | 420 | 72 | 90 | 108 |
| Oriental B, C | View | 5,150 sq ft | 300 | 440 | 280 | 420 | 72 | 90 | 108 |
| Oriental Ballroom Foyer | View | 3,100 sq ft | 180 | 250 | -- | -- | -- | -- | -- |
| Lotus & Jade Rooms | View | 810 sq ft | 50 | 60 | 36 | 50 | 24 | 22 | 32 |
| Jade | View | 405 sq ft | 20 | 30 | -- | -- | 12 | -- | -- |
| Lotus | View | 405 sq ft | 20 | 30 | -- | 32 | 12 | -- | -- |
| Mandarin Boardroom | View | 800 sq ft | -- | -- | -- | -- | 18 | -- | -- |
| Pool | View | -- | 150 | 300 | -- | -- | -- | -- | -- |