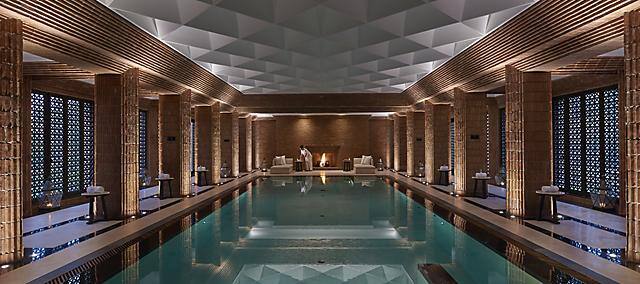 Five of the best spas with serious design cred
A rainforest soundtrack and a water feature is not enough. The best spas are created by international heavyweight designers, with immersive environments and bespoke creative touches. Here are some Mandarin Oriental spas with added sparkle

BY BETHAN RYDER
Bethan Ryder is an author and journalist who writes on design for titles including The Telegraph Luxury magazine, The Guardian, and Elle Décor.
The Spa at Mandarin Oriental, Paris
Designed by Leading French designer Sybille de Margerie, who conceived a distinctive pearlescent sphere for the spa entrance. This functions as the perfect transition space into a realm of relaxation, as she explains – "it's a path from the city noise to a calm cocoon and a more intimate world, enhanced by the sound of a gong and the scent of the bespoke perfume we created for the space."
Why go? The light and ethereal two-level interior is alive with delicate butterfly (because they are "synonymous with luck in Asia") and floral motifs, from the stunning "origami wall" of flowers to the poetic papillon and petals digitally projected like shadows onto the walls surrounding the 15m indoor pool.
Must-try treatment
The two-night Urban Detox package for two, which includes daily breakfast at Camélia, or in your room, and a dining credit of €75 at L'Honoré restaurant. Rejuvenation comes in the form of the 80-minute Inner Strength massage with oils; couples can also enjoy a one-hour yoga lesson.  
The Spa at Mandarin Oriental, Marrakech
Designed by French duo Patrick Gilles and Dorothée Boissier, who conceived a hotel and spa that pays homage to Morocco's cultural diversity. "The earth and sand were major influences, along with the colours of the street and traditional Berber women's clothing," explains Boissier. "The sand colour of the stonework combined with the large expanses of green from the lush vegetation makes for true fluidity between the exterior architec­ture and the surrounding nature, while the pools give the illusion of an oasis in this 'living desert'."
Why go? An architectural tribute to the ancient mosques and cathedrals of Andalusia – the domed hammams (one for men and one for women) are particularly spectacular.
Must-try treatment
Moroccan Rose is a three-hour restorative 'journey' featuring local ingredients such as rose, argan and prickly pear.
The Oriental Spa at Mandarin Oriental, Bangkok
Designed by Hong-Kong based designer John Morford. This celebrated spa was one of the first in Thailand when it opened in 1993. Housed in a century-old Thai teakwood property, guests enjoy a scenic arrival to the spa from the hotel, travelling across the Chao Phraya River via private boat. Morford took his cues from traditional Siamese architecture for the four-storey interior.
Why go? This is a spa with an unrivalled, independent setting; guests arrive by boat and are lulled into a sense of calm before treatments even begin.
Must-try treatment
The Oriental Signature treatment combines European and Thai massage techniques, and is an all-round sensory experience with herbal compresses containing lemongrass, turmeric and plai.  
The Spa at Mandarin Oriental, Bodrum
Designed by Italian firm Antonio Citterio Patricia Viel. This award-winning spa laid out over three floors may be pared back in style, but it's rich with organic textures of local stone and teak wood. It certainly dissolves the usual boundaries between indoor and out – indeed, Citterio's vision was to design "free-flowing space in an elegant, contemporary style, providing the absolute feeling of being at one with nature".
Why go? The opportunity to enjoy the nature in a spa setting from the outdoor sauna to the private alfresco cabanas.
Must-try treatment
The Oriental Hammam Ritual, which includes body scrub, massage and mask, and foot exfoliation, followed by a head and foot massage with oils. 
The Spa at Mandarin Oriental, Guangzhou
Designed by LWK & Partners (HK) Limited. The spa's six individual treatment rooms, two couples' suites and VIP suite (complete with hidden sliding door and private yoga space) have a calming flower theme, with dark floral watercolours adorning the walls.
Why go? To experience tian quan, a Chinese bathing therapy that combines ancient wisdom with modern techniques to relieve stress and boost circulation.
Must-try treatment
City Garden begins with a soak in a bath infused with kumquat and chrysanthemum, followed by a body wrap using vitamin-C rich mulberry and sugarcane, and finishing with a massage with fragrant rose, geranium and orange oils.