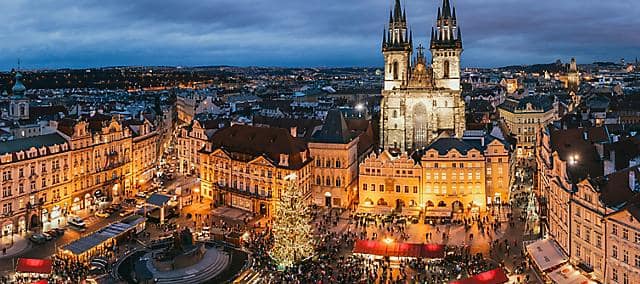 The pro's guide to Christmas in Prague
No one does December like the Czechs and it goes beyond what you'd expect – from classic Christmas markets to inflatable animals, here's how to make the most of Prague's festive season

BY Mike MacEacheran
Mike MacEacheran is a travel journalist for titles including Condé Nast Traveller, Esquire and The Guardian. He has been visiting and writing about Prague since 1998.
Where to shop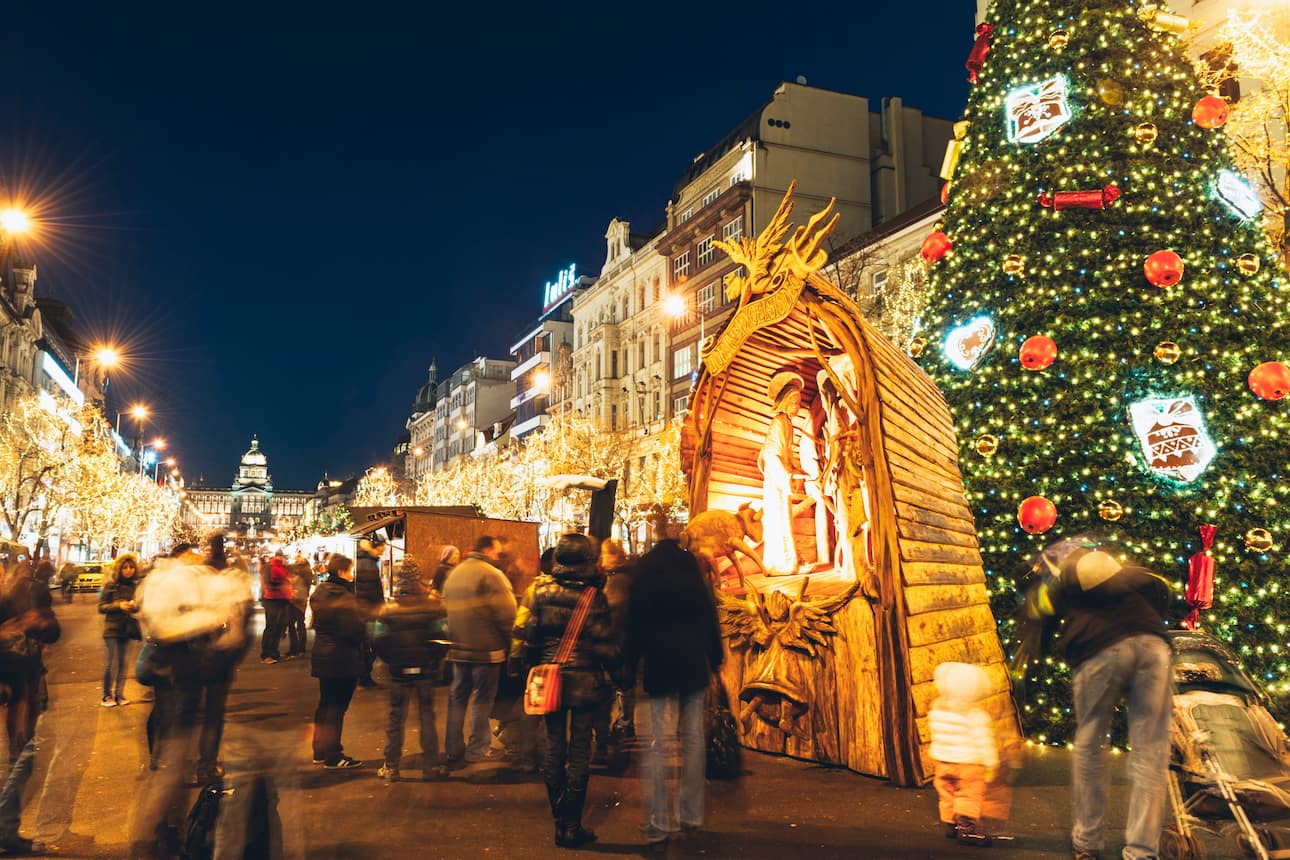 Running the gamut of the festive period, from 2 December to 6 January, Prague's Christmas markets centre on the atmospheric, lantern-lit huts on Old Town Square and Wenceslas Square. A five-minute stroll connects the two, while also within striking distance are the stocking filler-sized cabins on Republic Square, as well as those at Havelská Market and in front of St George's Basilica. Take a moment and look up: fairy-tale Prague Castle soars above, giving you that perfect stuck-in-a-snow-globe rush. For further VIP inspiration, the designer boutiques of Bulgari, Gucci and Cartier on Parizska Street have late opening hours throughout December. To see it all in one swoop, join a private Old Timer tour of Prague – preferably in a 1930s Alfa Romeo.
What to buy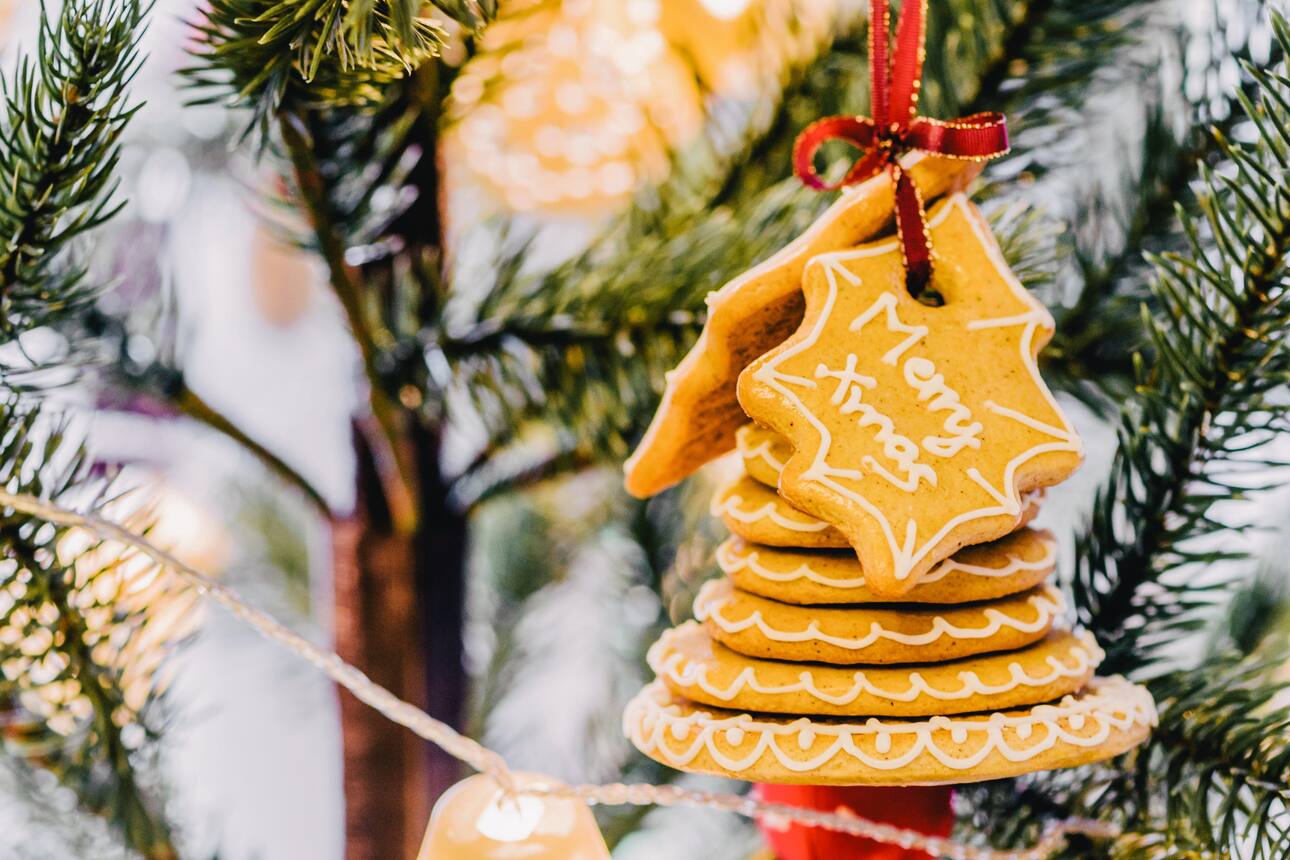 As at all Christmas markets worth their salt, puppets, children's toys and holiday ornaments take centre stage; and let's not underestimate a well-made wooden toy as a timeless Christmas gift for small people. But Prague lords it over the Christmas market competition with a little extra: you can pick up handwoven clothes, garnet rings, iced pernick cookies, seasonal potpourri and trdelník, a spindle-shaped walnut pastry (it grabs you by the ear-muffs and says: "eat me"). Do pick up a dinky pot or two of aromatic Frankincense as well. Burn it like incense, then inhale a deep lungful and it'll help reinvigorate the soul. Or so the locals will tell you.
Beyond the Christmas markets, for something a little more unpredictable, head to Guma for retro animal inflatables, once a staple of Czechoslovakian playrooms (the hot-pink lobster is a particular seasonal head-turner). Or gift a pair of splashy, rainbow-coloured sneakers from BOTAS 66.
Where to eat street snacks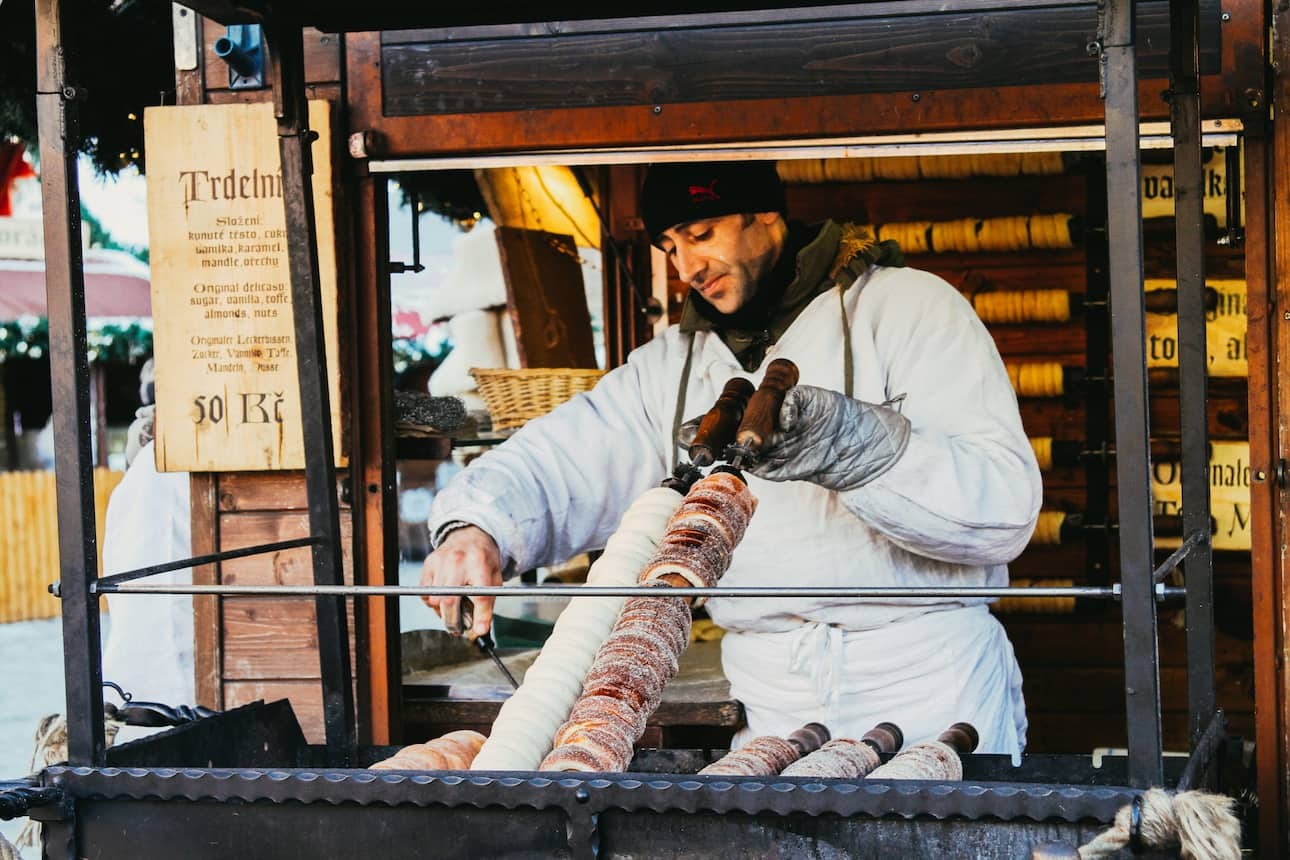 What really keeps the Christmas market tradition alive is the belly-hugging grills dotting Prague's mediaeval squares. Like eating a dirty hotdog from a New York City cart, it's a prerequisite to sample a beechwood-smoked klobása sausage from a timber stand. A little more high-end is a minced párek sausage or utopenec, a pickled sausage with red pepper and onion from Naše Maso, a hip butcher reeducating locals in the history of Czech sausage.
Where to drink like a local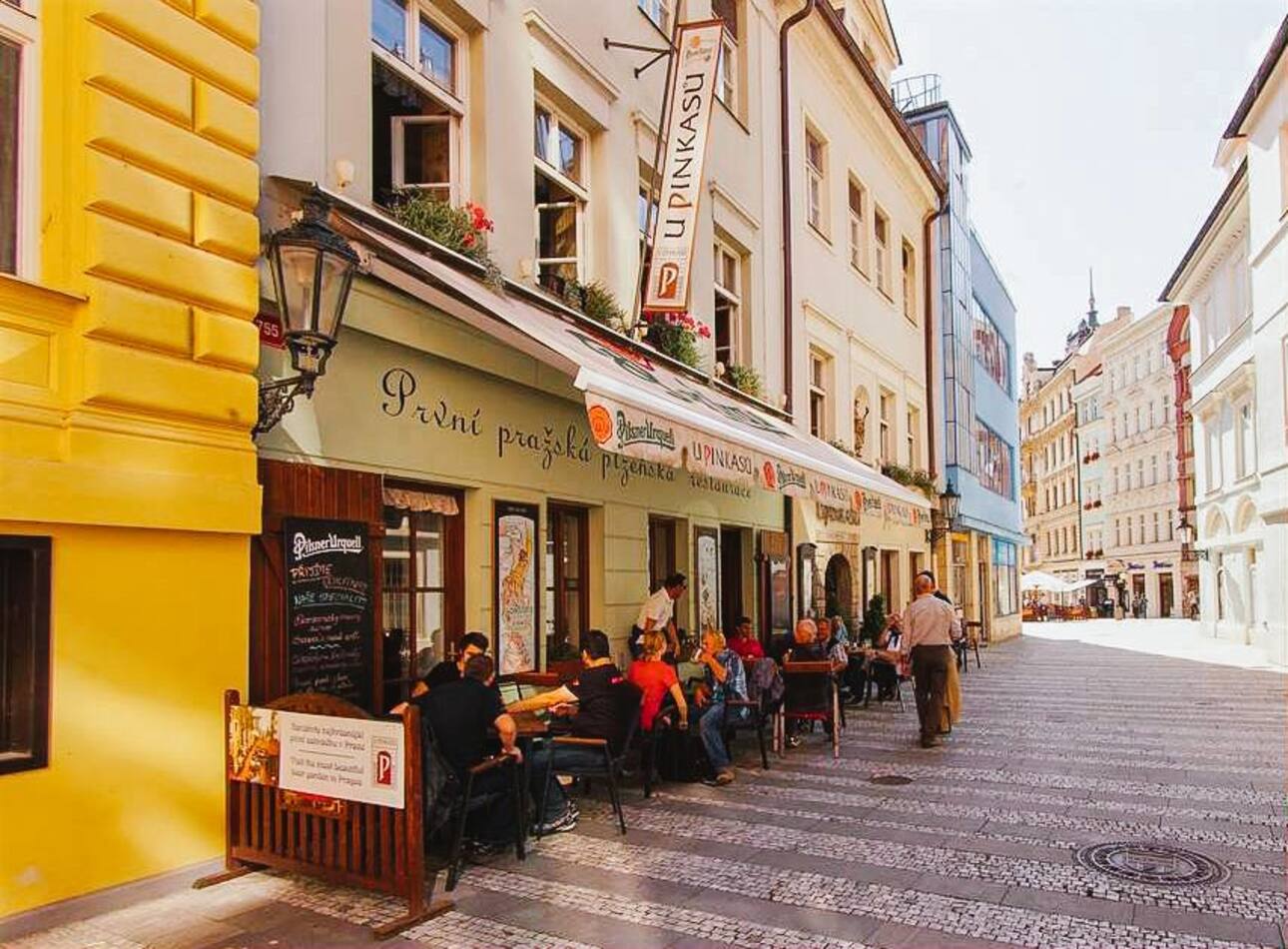 Wash down your dinner with an unpasteurised Pilsner at one of the city's unmissable tankovna pubs. Two worth lingering at are U Pinkas? and Pivnice U Rudolfina, both of which pump in spiritually satisfying suds from their own vast tanks.
The perfect antidote to all that time-worn, wood-panelled beerhall naughtiness is a Bohemian cinnamon punch from a street stall, ideally enjoyed with a slab of your own handmade honey-spiced gingerbread made earlier in the day at the Gingerbread Museum. Either that or try the local hot wine, grog, and warm honey liquor called medovina.
Where to soak up the atmosphere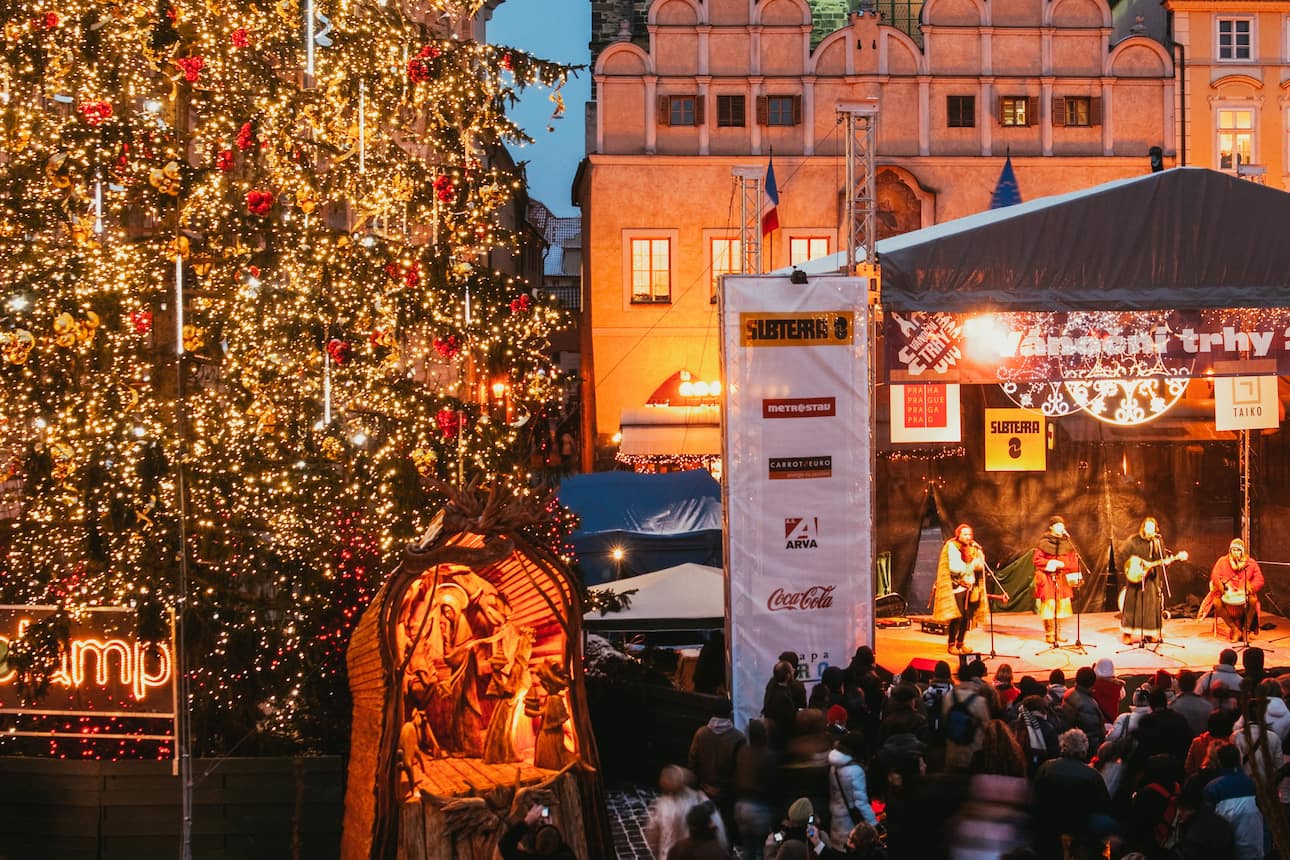 For "pa-rum-pum-pum-pum-ing" school choirs, both the Old Town Square and Wenceslas Square have regular concerts and carol sing-alongs. Looking onto the stage-set nativity scene, you'll also find Bethlehem reborn, with stables home to donkeys, goats and sheep (note to parents: kids can get up close, so try and contain their excitement). Around this part of the Old Town, St Nicholas mills around with an angel and a devil by his side, checking which people have been naughty or nice.
Another scenario entirely is offered-up at Prague's Gothic churches, where a series of advent concerts run throughout the month. Of note are the carol galas and concertos at the beautifully preserved Klementinum (Klementinum 190) and St Martin in the Wall Church (Martinská 8). But the perfect festive weekend in Prague also hinges on getting a ticket to the Prague National Theatre's Dickensian reworking of The Nutcracker, Tchaikovsky's symphonic ode to the season.
And finally… where to eat Christmas dinner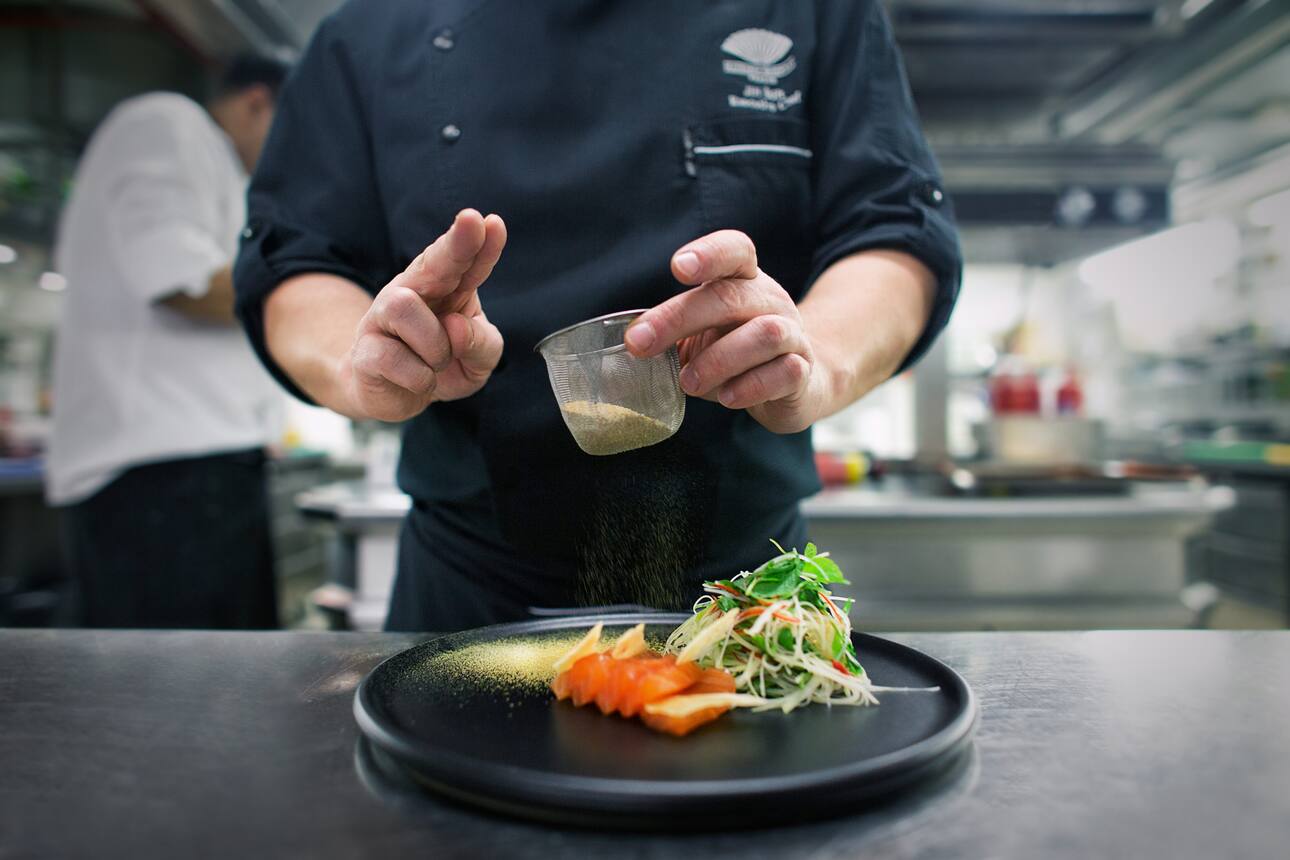 As in most of central Europe, Christmas Day is celebrated on 24 December. Of course, there's never a wrong time to eat at the critically acclaimed Spices at Mandarin Oriental, Prague. Its Asian flavours are the perfect antidote to a jaded festive palate and its setting in a former monastery with a Renaissance-style vaulted ceiling certainly delivers.
Elsewhere, in the city, at chef David Šašek's celebrated restaurant Coda, the menu dips into tradition with a parade of local treats, including fish soup and fried carp fillet with potato salad. Just off Wenceslas Square, meanwhile, chef Roman Paulus' Michelin-starred Alcron offers a seven-course menu which reflects on both the classics (fish velouté) and the contemporary – snails and parsley porridge for Christmas dinner, anyone?
Prague Christmas Markets
Book the Prague Christmas Markets package at Mandarin Oriental, Prague – including an Old Timer tour of Prague with a Bohemian Toddy and Czech pernik cookies, VIP shopping card and markets map.
See Details