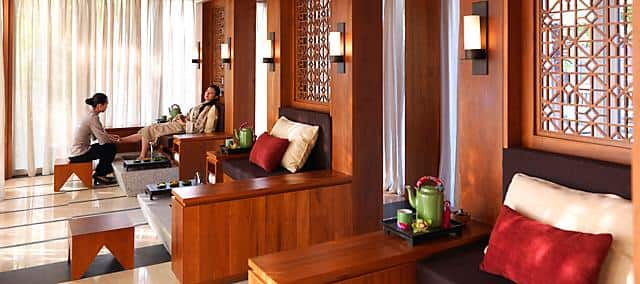 Sanya
Respect for the individual forms the cornerstone of our spa experience. Personalised to your needs, our treatments include a range of relaxing body and facial therapies
Announcement
*Prices are subject to 15% service charge
Relax and revive, from head to toe
Signature
3 hours 30 minutes
Garden Sanctuary
The treatment begins with our refreshing Tian Quan Therapy. Next a warm bath filled with natural Chinese herbs awaits you. These herbs were hand picked specifically for your journey. A relaxing Chinese body wrap follows, using a combination of specialized essential oils. Our professional therapists will then perform a pressure point body massage. To conclude your suite experience, enjoy relaxation time with our healthy Spa Cuisine.
1 hour 20 minutes
Oriental Essence
This massage is a part of the Mandarin Oriental's signature spa therapies and has been designed for the tired traveller, stressed executive or someone who just wishes to relieve neck and shoulder tension. This massage centres on all stress areas of the body. Utilising our Signature Quintessence oil blended with warming ginger, uplifting mandarin and sacred frankincense, all come together to realign the mind and emotions. A completely relaxing treatment.
2 hours 20 minutes / 3 hours 20 minutes
Time Rituals
Mandarin Oriental's bespoke "Time Rituals" encourage guests to book time rather than specific treatments, so that services can be tailor-made to meet individual needs. Each "Time Ritual" begins with a soothing foot ritual and is designed to restore a natural state of equilibrium.
Chinese
2 hours
Chinese Time Ritual
Your customized journey begins with a welcoming foot ritual and consultation. This is tailor-made as prescribed by our Traditional Chinese Medicine Doctor. Designed to stimulate your body's natural healing process and coupled with our legendary service in fantastic surroundings, our Chinese Time Rituals will set you on a path to recovery and wellbeing.
Suite Experiences
3 hours 30 minutes
Hua Yuan Journey
Learn the delicate art of Tai Chi from our Shaolin Kung Fu Master. The Shaolin Tea ceremony will provide you with an exclusive insight into this fascinating culture while at the same time relaxing your mind. An Acupressure massage completes the treatment for an overall balancing effect. After your treatment time, you can enjoy 30 minutes of relaxation time in our secret garden with a healthy Spa snack.
3 hours 50 minutes
Natural Retreat
Enjoy Sanya's natural resources and beauty. Using fresh indigenous ingredients, your journey includes a hair and scalp treatment, a relaxing scrub, a coconut bath and concludes with special attention to your face and eye area. This treatment will transform your skin leaving you feeling pampered and at one with nature.
Programmes
4 hours 10 minutes
Hainan's Hidden Secret
Experience complete wellness with the "Hainan's Hidden Secret" Spa Journey. Starting with a refreshing foot ritual, your journey is followed by a pearl powder and rice milk scrub to fully exfoliate your body and leave your skin glowing. You will then enjoy our Lava Sea Shell massage treatment in an outdoor sala surrounded by water features in the serene surroundings of the Secret Garden. The first of its kind in China, this unique massage is a complete wellness experience using warm shells to ease tired muscles and give you firmer, healthier looking skin. The entire journey is designed to completely nurture your body and uplift your spirits.
Welcoming Foot Ritual
Tian Quan Therapy
Pearl Powder and Rice Milk Scrub
Lava Sea Shell Massage
Customized Aromatherapy Facial
Relaxation Time and Spa Cuisine
Sea Shell Gift
Full Day Programme
Choose one of our speciality designed day programmes combining fitness, health and wellness for the ultimate lifestyle experience. Each programme spans two days with various treatment options for four hours each day. After your treatment, enjoy the calming experience of healthy spa cuisine in the privacy of your own garden.
3 hours 30 minutes
Secrets of the Orient
Step into seclusion and let your worries melt away. This nurturing and comforting package will leave you feeling calm, balanced and at ease for the remainder of your day.
Welcoming Foot Ritual
Tian Quan Therapy
Bathology
Customized Scrub
Oriental Harmony Massage
Relaxation Time and Spa Cuisine
Body
1 hour 20 minutes
Golfers Massage
A combination of a Therapeutic massage, hot herbal pouches and herbal steam shower, this intensely relaxing treatment concentrates on areas of the body used during golf and is the perfect way to finish a round. As those aching limbs start their journey of recovery, the treatment continues with a balancing facial to cleanse and moisturise after being in the sun and concludes with a deeply relaxing De-Stress Massage.
1 hour 20 minutes
Lava Sea Shell
The first of its kind in China, our Lava Sea Shell massage is the ultimate wellness experience. Using self-heated shells together with local coconut oil, this treatment is designed to ease tired muscles, nurture the body and leave you with firmer and healthier looking skin.
50 minutes
Mother-to-Be
Feel nurtured and supported in a time of constant change. Choose from a selection of oils, each safely formulated to be used during pregnancy to nourish and care for your skin. This treatment uses traditional aromatherapy massage to ease away tension in the upper back and on tight shoulders.
Facial
1 hour 20 minutes
Age Repair
This highly effective anti- aging treatment repairs the skin and works with natural oils of inca inchi and larch extract, which stimulate collagen formation to deliver firm and tightened skin. Skin is thoroughly cleansed, exfoliated, and is then massaged using lymphatic massage techniques to improve both suppleness and elasticity, before the application of two masks. A luxurious scalp massage releases any remaining stress and tension. The result is a firm, plumped and more youthful looking complexion.
1 hour / 1 hour 20 minutes
Balance Men's Facial
Specially customised and developed to treat male skin, this treatment cleanses and invigorates. Combating oiliness, shaving irritation and in growing hairs, it promotes a healthy and well-balanced complexion. Products are removed with a hot towel compress. A scalp and foot massage are included as part of the treatment. The skin is left feeling fresh, soft and fully cleansed.
1 hour 20 minutes
Customised Aromatherapy Facial
Beginning with a facial assessment to determine your skin type, our therapist will select products from our Aromatherapy Associates facial range to create a facial experience tailor-made to your skin's needs.
Gentlemen
3 hours 30 minutes
Gentlemen's Journey
Designed specifically for our male guests to relieve muscle tension and to leave you feeling relaxed and renewed once again.
Welcoming Foot Ritual
Tian Quan Therapy
Therapeutic Massage
Men's Balance Facial
Relaxation Time