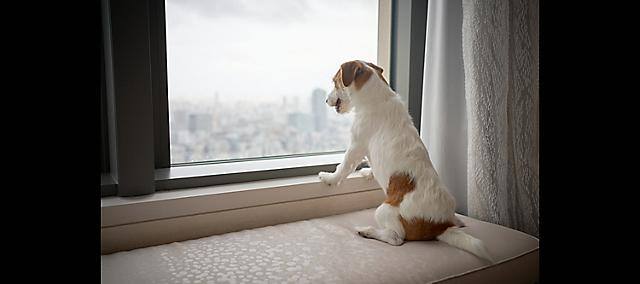 Tokyo
Pampered Pups
Pampered Pups
Mandarin Oriental, Tokyo welcomes you and your four-legged furry fan (one dog per room) of up to 15kg, featuring customised in-room amenities, for an additional fee of JPY12,650 (inclusive of tax & a service charge) per night.
Dog Friendly Hotel in the heart of Tokyo
Upon arrival, dogs receive an exclusive set of amenities which includes a comfortable bed, dedicated bowls, a luncheon mat, welcome cookies, a toy set, and chew bones as a special treat.
For an enhanced experience, specific meals produced by our culinary team are also available for an additional fee, such as Grilled Wagyu Hamburg Steak with Steamed Rice, Steamed Chicken Breast with Broccoli or Steamed Sweet Potatoes, Pumpkin and Rice.
For celebrations, our pastry team can prepare a special Cake, designed with a portrait of your four-legged best friend, for the owner to enjoy at an additional fee.
For more information on how to make your dog's stay more comfortable or to make a reservation, please call +81 (0) 3 3270 8950 or email motyo-reservations@mohg.com.
Terms & Conditions
A cleaning fee of JPY12,650 per night will be payable in addition to the room rate.

The hotel accepts one dog per room at a maximum weight of 15kg.

The dog must have received and be current with all required shots and immunisations under the Rabies Prevention Act of Japan. A copy of records must be sent to the hotel before check-in.

A dog bed, pet bowls, and luncheon mat are provided throughout the duration of your stay.

When outside the guestroom, dogs must be kept in a pet stroller or carrier when in the hotel unless it is in the guest's room. This is for the comfort, health, safety and concern of all other hotel guests.

Dogs are not allowed in any food and beverage outlets, spa, fitness centre or meeting room facilities. This exclusion does not apply to guide dogs.

Dogs must not be left unattended in the room. If the dog is alone during housekeeping services, the guestroom will not be serviced.

The guest is responsible for all property damages and/or personal injuries resulting from their dog.
Announcement 
*Due to COVID-19 and health and safety, services and amenities may be limited and subject to change, please contact hotel for additional information and availability.