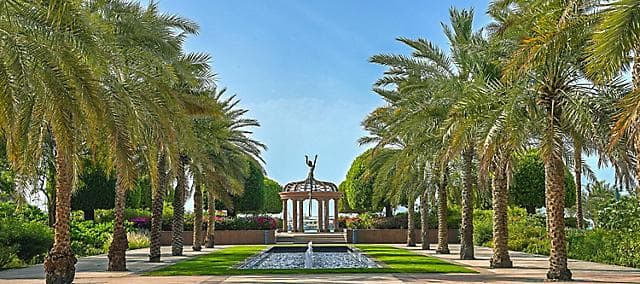 Abu Dhabi
Sustainability
Naturally Better
One of our guiding principles at Mandarin Oriental is 'Acting with responsibility', which we strive to achieve through our Naturally Better plan. We're on a journey to make things Naturally Better for the planet, for communities, and for you. As well as embracing and putting into practice our global sustainability initiatives, such as eliminating single-use plastic by March 2021, here at at Emirates Palace, Abu Dhabi  we also have our own local initiatives to make sure we play our part in making your stay more sustainable and comfortable. 
Emirates Palace is committed to reducing waste and responsibly managing our environmental impact, and has implemented several measures across the property which align with our group-wide policy of eliminating single-use plastic by March 2021.
This started with the replacement of plastic water bottles with glass bottles in Palace Suites and has continued with reusable replacements implemented for take-away packaging, cafeteria cups and in-room slipper packaging. Biodegradable alternatives for products such as straws, garbage bags and vacuum packs are in place across the hotel.
We are passionate about spreading awareness within our network and have implemented sustainable purchasing policies to ensure that wherever possible, all packaging materials on deliveries to the hotel are eco-friendly.
Emirates Palace is committed to sustainable practices, to help conserve our world's natural resources. Our gardens have 8,000 trees that are spaced out and beautifully landscaped. Besides looking magnificent when in flower, they also provide shade and help to improve the climate, which in turn paves the way for bird migration. Emirates Palace also hosts a turtle rehabilitation centre, where a dedicated team of professionals provide medical aid for sick and injured turtles that are washed onto our shores.
The UAE has abundant Date Palm; it is cultivated for its sweet edible fruit. Dates have a long shelf life and may be eaten fresh or dried. Emirates Palace, Abu Dhabi has approximately 500 date palms of six varieties within our gardens. We produce close to 20 tons of fruit per year and make organic date jam at the hotel.
Clean Energy is an emerging industry in the UAE, focused on creating a sustainable source of energy with zero or very low carbon emissions. This holds great promise in helping the world's transition to a low-carbon future.
We contribute to this focus via energy-efficient control systems including manual occupancy linked controls, time scheduling and daylight responsive controls and sensors which limit the consumption of electricity. We also have a desalinization plant which converts sea water into potable water which we use for gardening. An average of 2500 cubic meters of water is produced per day which accounts for 912,500 cubic meters of water saving per year.
The installation of the new energy saving pumps installed in the East & West swimming pools saves 900 MW of energy per year.
Emirates Palace joined the Abu Dhabi Sustainability Group and contributes to the Plan Abu Dhabi 2030 "Estidama" drive to green the city. Our colleagues are committed to working with communities and charitable organizations to make a difference. This includes taking part in blood donation initiatives and visits to Zayed Higher Organization for Humanitarian Care and People of Determination.
We pride ourselves in being a firm contributor towards sustainability education. This category is embedded in our corporate culture first seen in new staff orientation. Ongoing awareness and training programmes are conducted to educate our colleagues and contractors on the importance of sustainability within the hotel.
As part of our commitment to reduce waste, we give gently used soap to Aid Agencies and used cooking oil is converted to Bio-diesel. Another initiative that is widely practiced at Emirates Palace is to request suppliers to reduce the usage of plastics in their packaging and encourage them to use products that are easily bio-degradable along with reusable containers.
We believe in holistic wellness, which is why we offer a range of treatments and facilities to help guests rejuvenate their body and mind. Yoga classes are available to in-house guests and employees.
Emirates Palace colleagues also participate in various public activities including the international and local triathlon and half marathon events. The hotel has its own in-house champions.