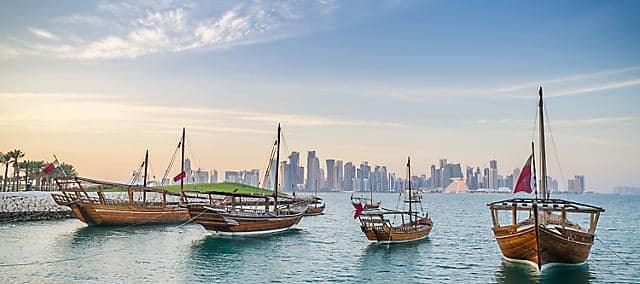 Doha
Sustainability
Naturally Better
One of our guiding principles at Mandarin Oriental is 'Acting with responsibility', which we strive to achieve through our Naturally Better plan. We're on a journey to make things Naturally Better for the planet, for communities, and for you. As well as embracing and putting into practice our global sustainability initiatives, such as eliminating single-use plastic by March 2021, here at Mandarin Oriental, Doha we also have our own local initiatives to make sure we play our part in making your stay more sustainable.
We have implemented a number of measures across our hotel which align with our group-wide policy of eliminating single-use plastic by March 2021. This includes the use of an on-site water filtration system to replace and reduce plastic bottle consumption by up to 80,000 bottles annually by producing enough for 400 glass bottles a day. Other initiatives include switching to disposable food containers, using sustainably sourced and recyclable paper, and introducing dry in-room and spa guest amenities.
Mandarin Oriental, Doha has partnered with Bu Saif's Apiary to harvest natural Qatari honey called Malika through beekeeping. With one third of the world's crops reliant on pollination, our initiative aims to encourage greater awareness of the vital role of bees. Guests can support our efforts by purchasing honey at our hotel, ordering Malika Honey gelato at Gelato or the beehive-inspired Honeycomb Cake and chocolate pralines at Baraha Lounge and Mandarin Lounge.
Mandarin Oriental, Doha is home to 29 solar thermal panels which provide up to 80% of the hot water used in our guestrooms. In addition, the hotel has 49 photovoltaic panels which produce around 16,560 kWh of electricity each year.
Guestroom washrooms and other bathrooms throughout the hotel have been fitted with water-efficient fixtures that make use of the 351 cubic meters of rainwater captured from our rooftop as well as 3780 cubic meters of water condensation from air conditioning each year. We've also introduced sustainability preferences to Fans of M.O. members so you can opt into our linen and towel reuse programme to reduce laundry volume.
Using the ORCA food composting system, we are able to sustainably break down and compost organic food waste. We have also implemented a process of measuring excess food in order to reduce waste in both colleague dining and buffet operations.
The Green Key award is the leading standard for excellence in the field of environmental responsibility and sustainable operation within the tourism industry. This prestigious eco-label represents a commitment by businesses that their premises adhere to the strict criteria set by the Foundation for Environmental Education. A Green Key stands for the promise to its guests that by opting to stay with the Green Key establishment, they are helping to make a difference on an environmental level. The high environmental standards expected of these establishments are maintained through rigorous documentation and frequent audits. Green Key is eligible for hotels, hostels, small accommodations, campsites, holiday parks, conference centres, restaurants and attractions.
Our hotel is part of the world's first sustainable downtown regeneration project which features pioneering work in the fields of orientation and layout, transportation, energy production and efficiency, water conservation and waste management. As part of this, the architectural design of Msheireb Downtown Doha is based on key sustainability principles – the preservation of existing heritage sites, the use of natural light and ventilation, the utilisation of material from the region and the adoption of new technologies and practices. This includes thicker walls and shade from adjacent buildings to cool the local environment and reduce air conditioning requirements.
Our colleagues are committed to working with communities and charitable organisations to make a difference. This includes taking part in blood donation initiatives, visits to animal shelters and collaborating with students from the neighbouring Qatar Academy Msheireb school on a honey and gelato stand. In 2019, six flavours were sold (alongside our sustainably sourced Malika Honey), with proceeds donated to teamtrees.org.