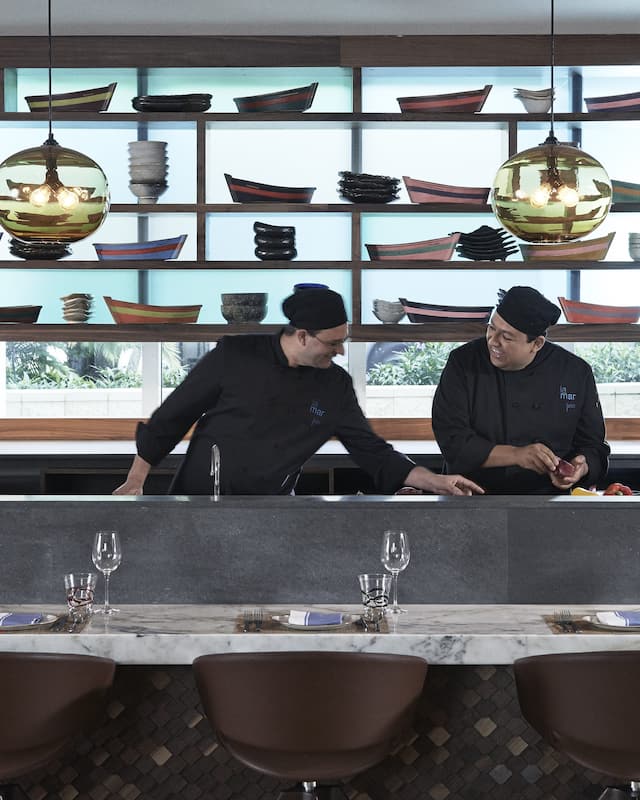 La Mar by Gastón Acurio
Gastón Acurio
Gastón Acurio is a chef, writer, businessman and promoter of Peruvian culinary arts. In 2005, he was named "Entrepreneur of the Year" by America Economía magazine – the most influential business magazine in South America. With 40 restaurants in 12 countries and one chocolate shop, the Acurio Organization is leading the Peruvian culinary revolution.
In 2013, Acurio was the recipient of The Diners Club® Lifetime Achievement Award presented by the organisers of Latin America's 50 Best Restaurants list. He was selected to receive the prestigious award in a vote by 250 industry experts from across the region. The honour recognises Acurio's fundamental contribution to Peru's culinary industry and national identity.
As an author, Acurio has published 20 national bestsellers in Peru. His latest publication "500 Años de Fusión" (500 Years of Fusion) was considered the best cookbook worldwide at the 2008 Gourmand World Cookbook Awards.
Diego Oka
Born and raised in Lima, Peru, Executive Chef Diego Oka has first-hand experience of growing up in one of the world's most exciting culinary destinations. With influences including his grandmother's cooking, his Japanese-Peruvian heritage and the foods he discovered whilst living in Mexico and Colombia, he brings a unique and innovative talent to La Mar. 
Whilst training at the Universidad San Ignacio de Loyola in Lima, Oka undertook an internship at Gastón Acurio's Astrid & Gaston, a legendary Peruvian establishment celebrated on San Pellegrino's "50 World's Best Restaurants" list. From here, Oka went on to work as Executive Chef at La Mar establishments around the world including Lima, Bogota and San Francisco. Whilst living in San Francisco, he was named as winner of 7x7 Magazine's "Your City Your Chef" 2013 competition. 
As Executive Chef of Mandarin Oriental's La Mar by Gastón Acurio, Oka is dedicated to sharing the flavours and culture of Peru with Miami. Focusing on authentic Peruvian dishes and cocktails, Oka's menu has been tailored specifically for Miami with the city's residents and their tastes in mind.
6 - 11pm (Sun-Thu)
6pm - midnight (Fri & Sat)