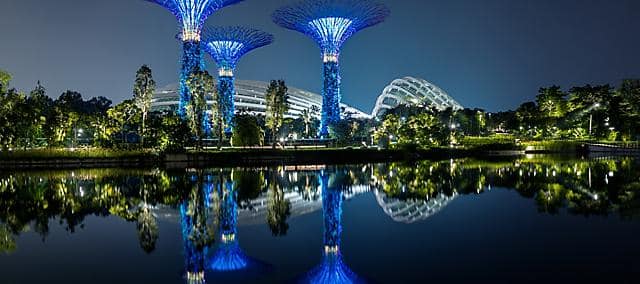 Singapore
Sustainability
Naturally Better
One of our guiding principles at Mandarin Oriental is 'Acting with responsibility', which we strive to achieve through our Naturally Better plan. We're on a journey to make things Naturally Better for the planet, for communities, and for you. As well as embracing and putting into practice our global sustainability initiatives, such as eliminating single-use plastic by March 2021, here at Mandarin Oriental, Singapore we also have our own local initiatives to make sure we play our part in making your stay more sustainable.
We have implemented several measures across our hotel which align with our group-wide policy of eliminating single-use plastic by March 2021. Mandarin Oriental, Singapore is on track to achieving this goal. We have already removed plastic straws and switched to sustainable containers and are removing all plastic water bottles throughout the property. 
In partnership with leading bottled water distributor, DR. WHO, the hotel is progressively turning to water refining technologies to provide guests with filtered water in sustainable glass bottles.  
The hotel also recycles all Nespresso Capsules used in guestrooms, restaurants and In-Room Dining through Nespresso's own recycling program, and collects used or discarded ring pull tabs. The contributions from this initiative go towards the production of prosthetic limbs for the disabled. 
To divert food waste from landfill, Mandarin Oriental, Singapore has installed a bio-digester on the premises to conduct aerobic digestion of food waste. Using microbes and enzymes, food waste is broken down and sent to the public sewage treatment plant.  
In line with its vision of raising awareness and understanding of mental health issues, Mandarin Oriental, Singapore strives to engage in meaningful outreach programmes and fundraising initiatives through Jardine Matheson's MINDSET initiative, which provides direct assistance for communities in need of help. To increase awareness of mental health, the annual MINDSET Challenge & Carnival allows hotel colleagues to raise funds towards job training facilities for individuals who are recovering from mental health problems.  
To assist with the problem of rising food waste, Mandarin Oriental, Singapore works closely with Food Bank Singapore to donate surplus cooked food every month. We also partner with Food from the Heart, a non-profit organisation that aims to alleviate hunger through its efficient food distribution program. In line with the hotel's commitment of reducing food wastage, surplus bread and pastries are donated every week and redistributed to underprivileged communities in Singapore.
Guests can choose how often they would like their towels and bed linen refreshed during their stay, by placing a room card on their bed. Fans of M.O. members can also select their sustainability preferences in their member's profile.