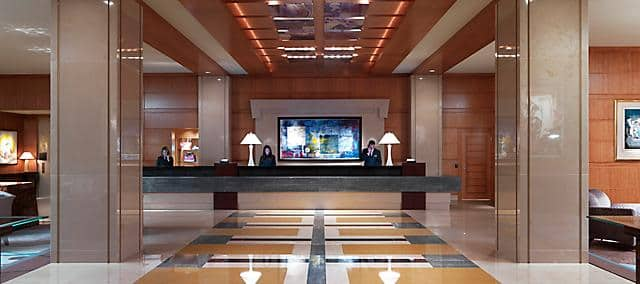 Boston
Business Meetings
Business Meetings
With modern meeting-spaces, excellent service and fantastic catering, we're the perfect venue for business in Boston.
Built to the most modern specifications, Mandarin Oriental, Boston offers an incomparable setting for business and was designed to host the most technologically advanced productions.
Technology
Every aspect of our technology is state-of-the-art and here to help facilitate your business and enhance your leisure time. We can, for example, coordinate pin spot lighting with anything from your linen to logo, provide simultaneous global broadcasts and Telecom and Video conferencing. Additional features include ceiling embedded rigging points for wire-free productions, secure in-room channels to transmit the day's session, wired and wireless networks with internet connectivity at speeds of 1 Gbps and LED lighting behind mirrored walls for added effect.
Staff and services
We offer all clients a point of contact at the hotel who will help manage every aspect of your event, including meeting space, catering, and delegate transfer. We also offer external event planners use of the Lotus Suite as a "green room" from which they can manage proceedings. Equipped with a well-stocked refrigerator, essential items of stationery, refreshments and private restrooms, it acts as an ideal preparation space.
We have a large and convenient loading bay off Boylston Street to help you bring in whatever materials and equipment you might need.
Business center
Our business center offers every service you might need, including translation and secretarial services, Video Conferencing with HD displays and Studio Audio, laptop and cell-phone rental, printing, faxing, and messenger services. It also provides additional private meeting space and three semi-private workstations. No matter what your requirements, our team of professionals is on hand to help.
The perfect venue also offers the
Perfect meeting packages
Inside our world-class function facilities, take traditional meetings to new heights with innovative wellness add-on options from our Mindful Meetings programme.
Mindful Meetings incorporates elements of nourishment, movement, stillness, connections and wellbeing through customizable options in any of the hotel's opulent meeting spaces. Activities can be personalized to any function space from our Hong Kong Boardroom to the Oriental Ballroom with floor-to-ceiling windows providing views overlooking Boston's historic Back Bay. The outdoor Garden also offers an intimate outdoor space, ideal for creating a fresh and open environment for wellness breaks.
Director of Spa & Wellness, Jason Paluch, will be on hand to provide meeting planners and attendees with a host of wellness activities to help disconnect and renew the senses. Guests are invited to disengage from and re-evaluate their relationship with technology through a calming and soothing escape from the stress and demands of a constantly connected, digital lifestyle. With the help of guided yoga sessions, meditation, smoothie breaks and more, guests will be able to get back to business with moments of mindfulness seamlessly built into their meeting.
For groups looking to connect with the community during their time in Boston, we can also help coordinate team building activities at any of our partner charities such as Franciscan Children's, MSPCA-Angell or the Emerald Necklace Conservancy.
For reservations or more information, please call our Sales & Catering Team at +1 (617) 603 2990 or email mobos-sales@mohg.com.
With warm, legendary service, newly renovated event spaces and mindful meeting wellness experiences, double Five-Star Mandarin Oriental, Boston is the perfect venue for your next meeting or event. Book a group with a minimum of 25 guestrooms between now and December 31, 2020 and enjoy the following benefits:
Complimentary 15 minute Mindful Meditation Exercise for your group guided by our Wellness Expert
One complimentary smoothie break
Complimentary Wi-Fi in guestrooms
One complimentary guestroom for every 25 rooms booked
One complimentary upgrade for the onsite meeting planner
One complimentary valet parking for meeting planner
For reservations or more information, please email or call +1 (617) 603 2990 or email mobos-sales@mohg.com.
*Offer is limited and is subject to availability. Blackout dates may apply. Taxes are excluded and the offer is valid for new bookings only. Group contract of 25 or more rooms per night is required. Offer cannot be combined with any other promotions and other restrictions may apply.