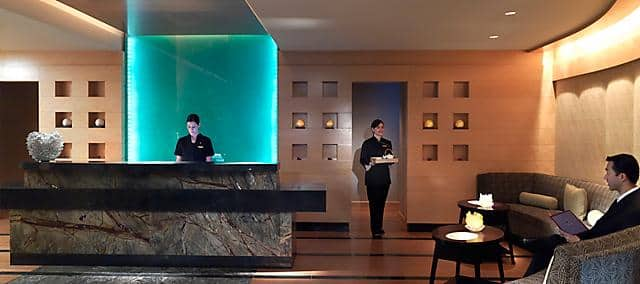 Boston
Inspired by ancient traditions and designed for your personal needs, every one of our unique treatments has been created to bring equilibrium to your mind, body and spirit.
Please view the spa brochure for our full list of treatments.
Relax and revive, from head to toe
Signature
1 hour 50 minutes
Oriental Qi
USD 295

USD 330
A simple, effective and authentic spa experience, this relaxing hands-on body massage works on the energy of the meridians' while using the benefits of essential oils.
1 hour 20 minutes / 1 hour 50 minutes
Inner Strength
USD 220 / 295

USD 250 / 330
Using a blend of healing and balancing aromatherapy oils, this nurturing treatment uses massage to ease physical tension and emotional anxiety resulting from a traumatic experience or stressful time in one's life.
1 hour 50 Minutes / 2 hours 50 Minutes
Time Rituals
USD 295 / 440

USD 330 / 500
Mandarin Oriental's bespoke "Time Rituals" encourage guests to book time rather than specific treatments, so that services can be tailor-made to meet individual needs. Each "Time Ritual" begins with a soothing foot ritual and is designed to restore a natural state of equilibrium.
1 hour 20 minutes
Digital Wellness Escape
USD 220

USD 250
Concentrating on the head, eyes, neck, shoulders, hands and feet, this restorative treatment aims to ease stresses and strains resulting from the frequent use of digital devices.
Massage
1 hour 20 minutes
Himalayan Salt Stone Massage
USD 220

USD 250
This relaxing body massage, using warm, hand-carved salt stones from the Himalayan Mountains, balances the central nervous system and nourishes depleted cells, leaving the body in a deep state of relaxation.
1 hour 20 minutes
Therapeutic Massage
USD 220

USD 250
Firm pressure is used with specific techniques to dissolve your body's aches and pains, targeting areas of tension using elbows and forearms to achieve an effective deep tissue massage.
1 hour 20 minutes
Oriental Essence
USD 220

USD 250
Using custom-blended oils and movements inspired by traditional Oriental therapies, this tension-relieving full-body massage focuses on the traditional stress areas of the back, neck and shoulders. This massage centres on all stress areas of the body. Utilizing our Signature Quintessence oil blended with warming ginger, uplifting mandarin and sacred frankincense all come together to realign the mind and emotions. A completely relaxing treatment.
1 hour 20 minutes
Pre or Postnatal Massage
USD 220

USD 250
This personalized body massage has been carefully designed for pregnant and nursing mothers to aid in relaxation and tonicity of the skin during this very special time. Only recommended after the first trimester of pregnancy.
Beauty
1 hour
Biologique Recherche Custom Made
USD 250

USD 270
After a thorough skin analysis, a personalized "treatment booster," a combination of recommended products, treatment and manual techniques, will be tailor-made for each guest. This facial is ideal for all skin types, particularly those in need of reconditioning, repair, lifting and pigmentation reduction.
1 hour 20 minutes
Biologique Recherche Remodeling Face
USD 310

USD 340
Featuring state-of-the-art technology and Biologique Recherche skin care, Remodelling Face combines the power of four currents to lift and restructure, creating immediate long-lasting results.
1 hour 20 minutes
Linda Meredith Couture
USD 280 Oxygen / 290 Collagen

USD 295 Oxygen / 305 Collagen
A thorough skin assessment is followed by a unique layering of products that result in immediate improvements. A regenerating collagen mask or a powerful infusion of oxygen, completes this treatment, evening skin tone and reducing fine lines.
1 hour and 50 minutes
Linda Meredith Ultimate
USD 365

USD 385
A completely customized and indulgent experience that combines the healing and anti-aging properties of oxygen and collagen. Finishing with a layer of V-TOX, a unique botanical fusion which is a natural alternative to Botox, fine lines and wrinkles are visibly reduced.
Programmes
4 hours
The Bostonian
USD 660

USD 720
Take the time to step out of your day to day routine to breathe, while rejuvenating your whole body.
Quintessence Body Scrub
Oriental Essence Massage
Lunch in the Tea Lounge
The Ultimate Linda Meredith Facial
To book, please contact the spa at +1 (617) 535 8820
2 hours 20 minutes
Restorative Beauty
USD 470

USD 520
A completely pampering experience that brings your inner beauty out.
Biologique Recherche Custom Made Facial
Therapeutic Massage
To book, please contact the spa at +1 (617) 535 8820
3 hours 20 minutes
Rejuvenate
USD 575

USD 630
The perfect combination of treatments to give you a fresh outlook and a whole body glow to match.
Revive Body Scrub
Aromatherapy Massage
Linda Meredith Couture Oxygen Facial
To book, please contact the spa at +1 (617) 535 8820
4 hours 20 minutes
Device Free Wellness Retreat
USD 615

USD 685
Surrender your phone upon check-in and bring balance into your lifestyle, restoring body, mind and spirit.
Personal Training, Yoga or Pilates
Coffee and Frankincense Body Scrub
Himalayan Salt Stone Massage
Lunch in the Spa Tea Lounge
Bespoke Facial
To book, please contact the spa  at +1 (617) 535 8820
Facial
1 hour and 20 minutes
Aromatherapy Associates Bespoke
USD 220

USD 250
Following a consultation to determine your needs and skin-type, your therapist will select a range of products from the brand to create a tailor-made facial experience.
1 hour and 20 minutes
Aromatherapy Associates Clear
USD 280

USD 295
An ideal treatment for problem skin, this facial deeply cleanses, heals and hydrates, brightening the skin's complexion.
1 hour 20 minutes / 1 hours 50 minutes
Aromatherapy Associates Radiant Lift
USD 280 / 365

USD 295 / 385
This treatment offers pure relaxation while simultaneously lifting, toning, and plumping skin to improve natural radiance. Facial muscles are elevated and toned to create a visible lift while hydration plumps out fine lines.
Essence of Boston
2 hours 50 minutes / 3 hours 50 minutes
Mandarin Suite Experience
USD 910 / 1,200

USD 980 / 1,320
Our magnificent 700 square-foot signature suite provides unparalleled serenity and features a private sauna, oversized soaking tub, two treatment tables and a sumptuous daybed for relaxation. The experience includes a personalized Time Ritual or Signature Spa Treatment with choice of herbal body scrub, body treatment or massage, and one-hour of relaxation time with seasonal fruit refreshments. The Mandarin Suite is available to book all day with a minimum three-hour booking.
To book, please contact the spa at +1 (617) 535 8820
1 hour 50 minutes
Commonwealth Comforter
USD 295

USD 330
This hyper-moisturizing treatment, ideal for dry skin, begins with a full-body exfoliation, followed by a nourishing body wrap. While cocooned, a hydrating facial and a relaxing scalp massage melt away any remaining tension.
1 hour 50 minutes
New England Retreat
USD 295

USD 330
Tension melts away as this experience begins with a full dry body brush exfoliation, followed by a targeted tension relieving massage. To finish, warm muds and de-stressing muscle gels are applied to revitalize and refresh.
1 hour 50 minutes / 2 hours 50 minutes
Sanctuary Couples Suite
USD 610 / 900

USD 680 / 1,020
Inviting and luxurious, this wonderful suite provides a beautiful retreat where couples can enjoy side-by-side treatments and complete pampering. This suite features two treatment tables and a private vanity. The perfect environment to enjoy simultaneous personalized treatments, the Sanctuary Couples Suite is available to book all day with a minimum two-hour booking.
Specialities
1 hour 20 minutes
Forest Therapy Journey
USD 230

USD 260
Bring the serenity of nature to your mind and body. Using Forest Therapy's® unique essential oil blend, you will feel restored from the stresses of modern day living. A cleansing guided meditation, followed by a deep massage, relieves restlessness and agitation. A grounding mud mask to the feet, and soothing scalp massage leaves you feeling tranquil and rejuvenated.
1 hour / 1 hour 20 minutes
Circulatory or Non-Circulatory Massage
USD 200 / 230

USD 230 / 260
Designed specifically for anyone undergoing treatment or who has cancer, our specialized therapist will consult and perform a personalized restorative massage based on your individual needs.
1 hour 20 minutes
Craniosacral Therapy
USD 230

USD 260
A gentle manual and energetic method of touch therapy is performed over loose clothing. The treatment targets the central nervous system, helping to rebalance the cerebrospinal fluid and stimulate the body's innate healing ability.
50 minutes / 1 hour 20 minutes
Himalayan Singing Bowls
USD 200 / 230

USD 230 / 260
This treatment restores balance by advancing stagnant energy and reinstating the natural energy flow. Beginning with the gentle placement of singing bowls on and around the body, soft vibrations and sounds resonate from the bowl performance as the therapist begins to play.