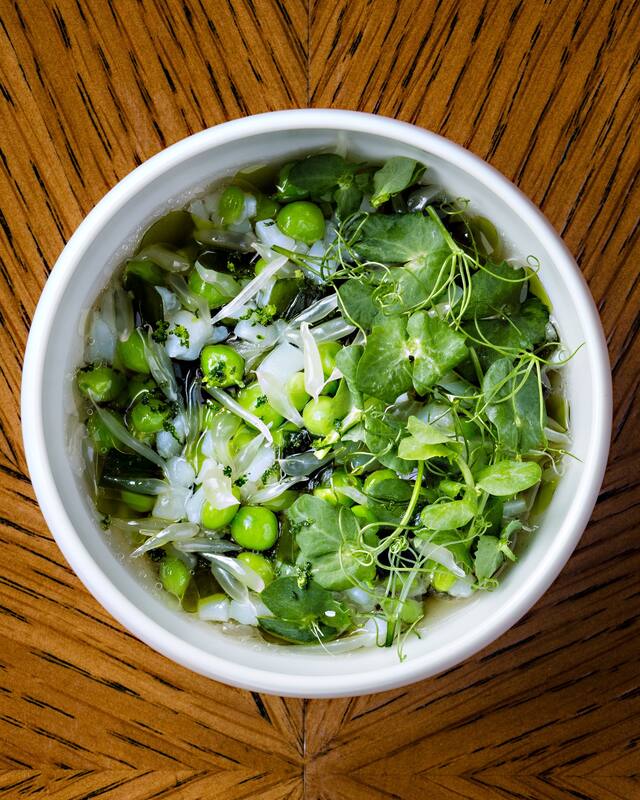 Amber
Sustainability
For Culinary Director Richard Ekkebus and the Amber team, modern luxury could not be redefined without considering the footprint that human activity leaves on the planet. Ever since its early days, Amber has been leading the charge for a cleaner, safer, more equitable food system. At Amber, sustainability is more than a buzzword – it's a pillar upon which the restaurant is built.
At every step, Amber considers its connection with the world – the people, food, and environment. From requiring transparency, sustainability and ethical standards in sourcing, to being vigilant about waste reduction and recycling, to contracting local artisans, ensuring equal work for equal pay, and sharing its experiences with the wider community, honest and actionable sustainability initiatives are intricately woven into Amber's values and everyday processes.
Upon entering the restaurant, it's likely that everything you see, touch and taste will have a sustainable story. These include:
Nordaq FRESH water filtering and bottling system from Sweden: No imported water nor wasted bottles, thanks to the state-of-the-art system that provides still and sparkling water.
Ethically sourced animal proteins: Carefully sourced from responsible farms, all our meats are antibiotic and growth hormone-free, and where appropriate, grass-fed and free roaming.
Plant-based options and eliminating dairy: Reducing greenhouse gas emissions while widening our exploration of the kingdoms of plants and fungi.
Fair trade agricultural commodities: We only use certified fair trade agricultural commodities such as chocolate, vanilla, coffee, tea that ensures equitable working conditions and responsible growing practices.
Gender equality: All members of our team are equally recognised and fairly compensated.
Award Recognition
Amber believes that culinary excellence cannot be achieved without a commitment to a sustainable world. For its efforts in upholding sustainable values, Amber has received recognition from organisations near and far.
Food Made Good Hong Kong
Being a member of Food Made Good Hong Kong, Amber participates in a bi-annual evaluation of our sustainability practices called the Food Made Good Hong Kong Rating. The Rating is a survey capturing our activity across the three pillars of sustainability: Sourcing, Society & Environment. Once the survey is completed, a percentage score is calculated for each key area, and the overall sustainability score is an average of those percentages. Subject to this score, a business may achieve one, two, three, or no stars (committed). In 2020, Amber achieved 2-star rating.
More Awards
2022 Michelin Guide HK & Macau – MICHELIN Green Star
2020 Asia's 50 Best, Sustainable Award – Most Sustainable Restaurant
2020 Food Made Good Hong Kong - The Environment Award
A Foodie World - The Foodie Forks 2020 Sustainability Award
Announcement 
Last seating / Order times: The last seating time is 15 minutes prior to the closing time. The last order time is the same as the closing time.
12 - 4pm (last seating at 1:45pm,
last order at 2pm)

6pm - midnight (last seating at 8:45pm,
last order at 9pm)