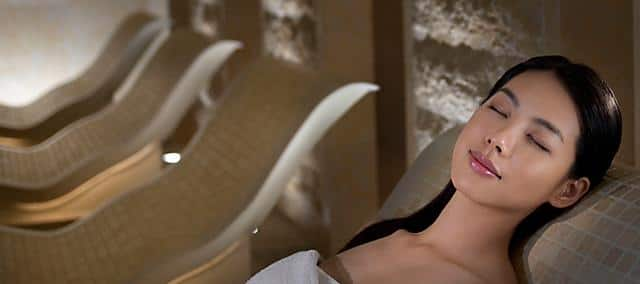 Landmark
Inspired by ancient traditions and designed for your personal needs, every one of our unique treatments has been created to bring equilibrium to your mind, body and spirit
Announcement
Prices are subject to 10% service charge
Relax and revive, from head to toe
Signature
1 hour 30 minutes
Digital Wellness Escape
HKD 1,700

HKD 1,850
Concentrating on the head, eyes, neck, shoulders, hands and feet, this restorative treatment aims to ease stresses and strains resulting from the frequent use of digital devices. Guests are encouraged to enjoy their spa experience and escape from the digital influenced world by releasing themselves from their digital devices.
1 hour 30 minutes
The Year of the Earth Dog Spa Experience
HKD 1,700

HKD 1,850
Chinese New Year 2018 is protected by the compassionate sign of the Dog and the stability of the Earth Element. Designed to ground and relax the body while rebalancing energy, this experience uses in-depth hands on massage techniques combined with hot stones to reduce stress, promote relaxation, ease pain and muscle tension.
Promotion Period: 16 February to 4 February 2019
2 hours
Oriental Qi
HKD 2,200

HKD 2,450
A simple, effective and authentic spa experience. This relaxing, hands-on body massage ritual works on the energy of the meridians using the benefits of essential oils. An in-depth consultation in this ritual will ensure a specialised experience for the guest.
2 hours / 3 hours
Time Rituals
HKD 2,550 / 3,100

HKD 2,800 / 3,600
Book a length of time and enjoy the most holistic experience possible, by allowing our therapists to utilise their individual talents to create and customise treatments to your unique individual needs.
Beauty
1 hour 30 minutes
Perfect Ten Diamond
HKD 2,800

HKD 2,950
The Art of Youth - Unprecedented "Youth Elixir" that provides unparalleled skin rejuvenating effects focused on the science of Skin Age Biomarkers and specific massage techniques. A global skin rejuvenation that restores the youthful definition of the facial contours, improves skin texture and diminishes fine lines and wrinkles in just one session. The LED mask, 24K gold pulse bar and Gold and peptide infused rubber mask provides a truly significant rejuvenation result.
1 hour
Citrus Boost
HKD 1,600

HKD 1,750
A facial ritual created for those looking for global care and well-being. A treatment that provides the perfect combination between the richest products such as Mediterranean citrus and the most exclusive contouring massage techniques. The result is luminous and radiant skin.
1 hour
Oxygen Awakening
HKD 1,600

HKD 1,750
An ideal facial treatment for a frequent traveller, brightens and revitalizes the skin after a long journey, by infusing every pore with a blast of pure oxygen.
Programmes
3 hours 30 mintues
Retreat
HKD 3,900 (per person) / HKD 7,800 (per couple)

HKD 4,050 (per person) / HKD 8,100 (per couple)
Enjoy this wellness experience alone or with family, friends or partners. Reconnect with yourself or spend quality time together while enjoying a half day of wellness, spa and delicacy.
One on one private pilates session
Aroma bath, herbal steam shower in private Sanctuary Suite
Oriental Essence massage or Lymphatic drainage massage
On The Go Facial
Relaxation time in private Sanctuary Suite
Spa Cuisine in the pool cafe
Body
2 hours
Hong Kong Shimmer
HKD 2,300

HKD 2,600

Sparkle like the lights of Hong Kong, this treatment will leave you shimmering and ready for a night on the town. Massage oil with a natural glimmer is used during a personalised massage followed by a facial combining a Diamond Luminous Lightening Mask giving you a head to toe glow.
1 hour 30 minutes
Jet Lag Cure
HKD 1,700

HKD 1,850
A body treatment restores your energy after long distance travel. Choose a reviving or relaxing body treatment according to the time of the day to help your body to get over that sluggish feeling. Includes body brushing, full body massage with blended essential oil and stretches.
1 hour 30 minutes
Smooth Velvet Body Treatment
HKD 1,700

HKD 1,850
Leaving your skin as smooth as velvet, treatment includes full body exfoliation, back massage and body wrap. Ideal treatment for nourishing skin and tension release.
2 hours 30 mintues
Yin and Yang
HKD 4,300 (per couple)

HKD 4,650 (per couple)
Relish some quality time in the luxury of our private sanctuary suite, private steam sauna, and aroma bath which will be followed by Oriental Essence massage. Time for relaxation will be enjoyed with completing the Yin and Yang balance with a Mandarin Oriental landmark fashioned snack.
Facial
1 hour/ 1 hour 30 minutes
Customised Aromatherapy Facial
HKD 1,400 / 1,600

HKD 1,550 / 1,750
Following a consultation to determine your needs and skin type your therapist will select products from our range of Aromatherapy Associates skincare to create a facial experience tailor made for your skin needs in the moment considering lifestyle, health and climate.
1 hour
Pre and Post Nurture Facial
HKD 1,400

HKD 1,550
This luxurious facial harnesses the regenerative properties of Rose to nourish, soften and hydrate all skin types. It is tailor made to soothe the imbalanced and hormonal skin with optimum benefit.
1 hour
Profound Deep Cleansing
HKD 1,700

HKD 1,900
A deeply cleansing and brightening facial using gentle, anti-bacterial high frequency currents to help reduce blemishes and purify the pores, leaving skin clear, clean and bright.
1 hour 30 minutes
Rejuvenation
HKD 2,200

HKD 2,500
A hero treatment that achieves instant, long lasting results. Noticeably lift, tone and firm the skin, leaving a flawless, healthy and younger looking complexion. The power of the micro-currents delivers active ingredients deeper into the skin.
PEDI:MANI:CURE Studio
75 minutes
Bastien Duo - Bastien Gonzalez
This synchronized four hands treatment focuses on your nails, hands, feet, legs and arms. The ultimate in luxury and total relaxation.
Heat & Water
1 hour / Group 2-4 persons
Rasul (For Ladies Only)
HKD 800 / 600 (per person)

HKD 900 / 750 (per person)
Treatment is enjoyed in a private mosaic Rasul chamber, a deluxe skin smoothing treatment which blends mineral rich mud, steam and heat to provide an experience that cleanses, releases toxins and rejuvenates leaving you feeling completely renewed. Book in advance to ensure availability.
1 hour 30 minutes
Hammam (For Gentlemen Only)
HKD 1,350

HKD 1,500
This Hammam experience includes a steam to relax and detoxify the body followed by an application of aroma body soap, a full body scrub using the kese glove, hair washing ritual, scalp massage completed with full body stretching massage and body lotion application. Skin is left feeling hydrated and tension is released.
Book in advance to ensure availability