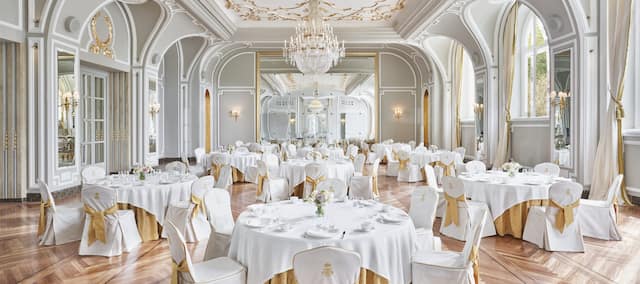 Madrid
General
9am - 7pm (Mon-Fri)
Wedding Planner
mrmad-events@mohg.com
Elegant spaces
The Royal Ballroom is the largest of our public rooms, providing a stunning setting for prestigious events, parties, launches, meetings and fashion shows. With large, high windows, a richly decorated ceiling and views over the Prado Museum, it also features a magnificent parquet floor inlaid with the hotel's logo. The Ballroom can seat up to 240 in a banquet setting and cater for up to 400 guests for cocktails.
Salón Felipe IV and Salón Real have been carefully restored to their former glory to provide the most exclusive and luxurious venues for business meetings, social functions, special announcements or product launches in Madrid. These rooms all enjoy high ceilings, large windows and natural daylight, and have been designed to be multi-functional with advanced audio-visual equipment. Felipe IV can accommodate 90 guests for a banquet setting and up to 180 for cocktails.
The smaller Real Academia meeting room has space for up to 40 guests in a banquet setting and up to 80 for cocktails.
Adjacent to Deessa restaurant a 10-person private dining room is available. Known as Countess Masslov, the room is named after the famous spy Mata Hari who used this nickname when staying at the hotel in 1916.