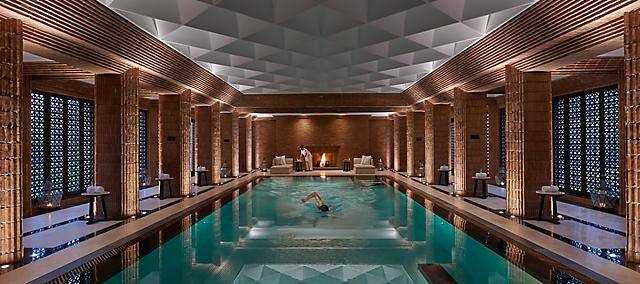 Marrakech
Fitness & Wellness
Fitness & Wellness
From laps in the pool to circuits in the gym, we can help you get fit, feel great and look fantastic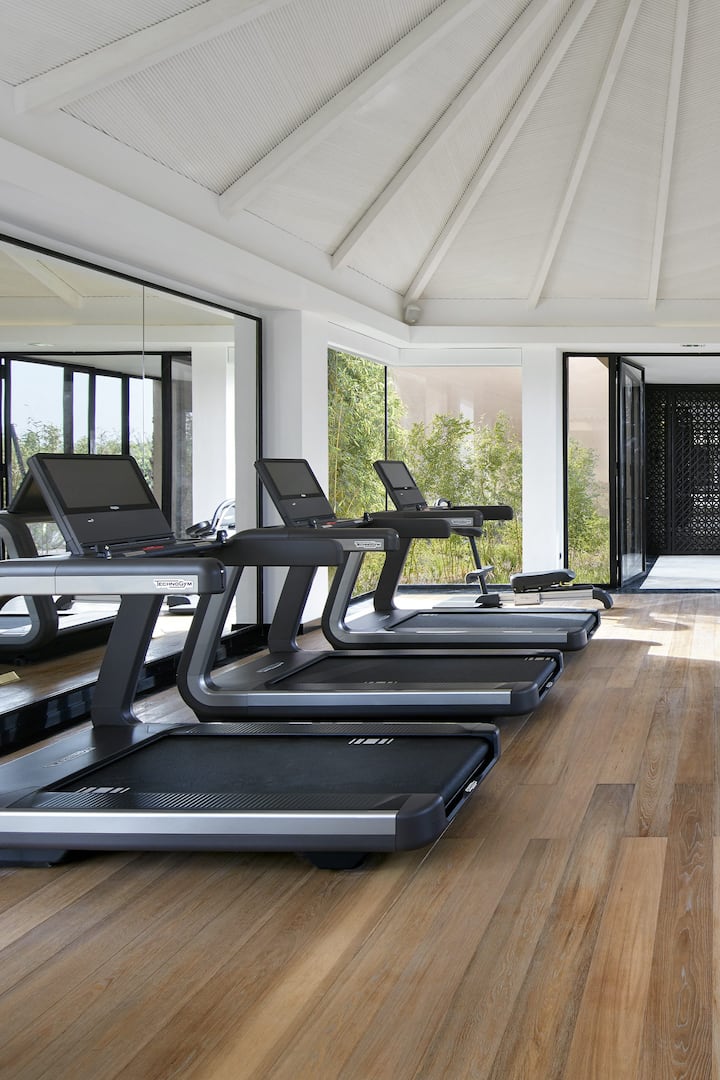 Fitness open for members only
Fitness Centre
Our Fitness Centre is equipped with state of the art results-oriented fitness equipment targeted to achieve your wellness goals. This equipment includes cardiovascular, strength and flexibility equipment. Together with a cutting edge modular cable system "Kinesis" which helps to create strength, flexibility and stability. Our team of dedicated professionals will cater to all levels of experience and current conditioning in a luxurious wellness environment.
Swimming pool
Our 73-foot indoor lap pool is heated to an inviting temperature and surrounded by relaxing chairs and loungers.
Personal training
60 minutes ~ MAD 900 
Whatever your goal, be it to improve overall fitness and wellness, improve endurance or to gain guidance in a lifestyle change, our specialized instructors will work with you to ensure that you focus on appropriate customized exercises to gain optimal results and to help you to reach your potential.
Assisted stretch
30 minutes ~ MAD 300 
Our specialist team has developed a unique stretch combination to revitalize you at the end of your workout session. Receive a one-to-one stretch that will help to increase your suppleness and alleviate muscular aches and pains.
Private yoga class
60 minutes ~ MAD 800 
Awaken your inner senses with this ancient Indian practice of mind, body and spirit. Our specialist yoga instructor will customize your sessions and through a sequence of poses helping to cleanse, purify and energize. A private yoga class with our instructor will ensure you get the most out of each session, however yoga classes for all levels are also available in either our studio or on the garden.
Belly dance
60 minutes ~ MAD 900 
An expressive dance composed of percussive movements (most commonly of the hips), fluid movements (to interpret melodic lines and lyrical sections in the music) and shimmies, shivers and vibrations (small, fast, continuous movements of the hips or ribcage). Belly dance is a non-impact, weight-bearing exercise and is thus suitable for all ages.
Zumba
60 minutes ~ MAD 900 
A dance fitness programme that involves dance and aerobic movements performed to energetic music. The choreography incorporate hip-hop, samba, salsa, merengue and mambo. Because Zumba offers different options, proponents of the Zumba programme claim that it is safe for all ages, meaning that anyone from age 0 to 100 can participate in this form of aerobic exercise.
Become Fitter, Stronger and Healthier with
Our Fitness & Yoga Membership Programmes
Stay active with our new fitness classes and memberships, state-of-the-art equipment and range of diverse classes. Our Fitness Centre is equipped with high technology fitness equipment, targeted to achieve your wellness goals.
Annual Membership
Single
MAD 18,000
Couple
MAD 28,000
Semester Membership
Single
MAD 10,000
Couple
MAD 16,000
Trimester Membership
Single
MAD 7,000
Couple
MAD 12,000
Monthly Membership
Single
MAD 4,000
Couple
MAD 7,000
10-Course Card
Single
MAD 2,000
All memberships include:
Access to the fitness center, the steam room (upon availability) and heated indoor pool
Access group fitness sessions
Personal training and diet advice
One offered Hammam treatment of 60-minute per month, exclusing 10-course card
One guest once a month
30% off on all spa treatments
15% off on all Mandarin Oriental, Marrakech's restaurants, bars and berber lounge
Discounts are applicable excluding promotional offers, gift voucher purchase and during the following periods:
From 19 October to 4 November
From 26 December to 6 January
From 18 to 24 April
Free Hammam sessions can be used from Monday to Friday from 9am to 4pm