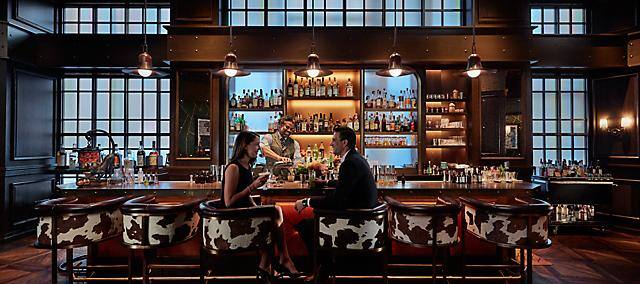 New York
The Office NYC
Tucked away next to The Aviary NYC's Drink Kitchen and accessible only through a hidden passageway, The Office NYC is an intimate speakeasy-style space, which transports guests back in time. Featuring collectors' art and artefacts, as well as an 'extinction' collection of some of the rarest spirits in the world, it is a truly special place.
Showcasing a deep spirits collection, pre-Prohibition style cocktails, signature offerings and classically inspired food and fare, The Office NYC boasts a unique drinks menu. From an extensive vintage Chartreuse collection to mid-20th century Johnny Walker whiskey, the dusty bottle collection offers guests the opportunity to take a sip back in time.
Discover an array of offerings from The Office NYC including The Dusty Bottle Experience featuring vintage classic cocktails paired with culinary delights or the complete Office NYC experience featuring five classic cocktails and dishes.