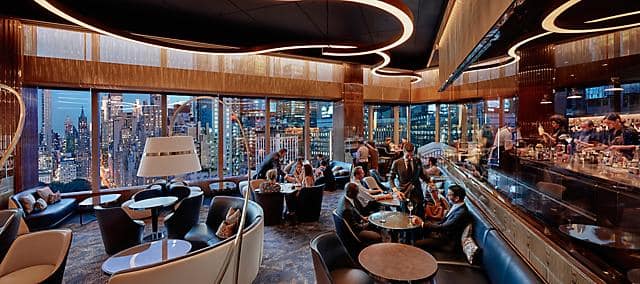 New York
The Aviary NYC
Engaging all of your senses, The Aviary NYC redefines the bar experience. Perched on our 35th floor and offering a bird's-eye view of Columbus Circle and Central Park, The Aviary NYC provides an interactive journey for guests, where inventive cocktails and small food plates complement the experience. Reflecting the core principles of the Chicago flagship, whilst simultaneously incorporating the rich cocktail culture of New York and offering panoramic views of the city skyline, the 90-seat Aviary NYC offers a bar experience like no other.
Dreamed up by Chicago-based Chef Grant Achatz and Nick Kokonas, this innovative restaurant-for-drinks features a glass-enclosed Drink Kitchen where cocktails are masterminded in sight of guests behind clouds of liquid nitrogen. Similar to the Chicago flagship, The Aviary NYC features unique glassware and an ever-evolving small food plate menu that is equally remarkable in terms of presentation.
In advance of your visit, choose from an array of offerings at The Aviary NYC from a la carte and curated multi-course tastings to pairing menus and an unforgettable 8-course Kitchen Table featuring the best views of Central Park, Columbus Circle and the Drink Kitchen.