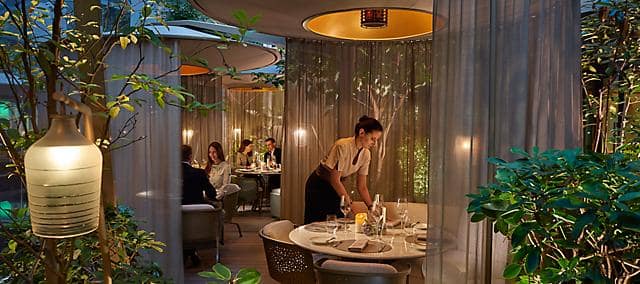 Paris
Dining
Fine dining in the capital of cuisine

Dining
From modern dining in Camélia to the haute cuisine of Sur Mesure, chef Thierry Marx brings you a gourmet experience like no other.
Memorable dining experiences
Avant-Garde Gourmet
Sur Mesure par Thierry Marx
7:30 – 9:30pm (Tue - Sat)
Offering a complete sensory experience for gourmands, our signature restaurant is where Thierry Marx blends the technical and emotional aspects of cooking with sight, sound and taste. With each dish he aims for a profound personal response.
All-Day French
Camélia
Located on the ground floor and open for breakfast, lunch and dinner, Camélia's relaxed ambiance and beautiful design is the perfect setting for Thierry Marx's original take on traditional French cuisine.
Bar 8
Intimate, exclusive and very, very chic, Bar 8 is the perfect place to enjoy a drink.
Cake Shop
With an address named after Saint Honoré, the patron saint of bakers and pastry chefs, Mandarin Oriental, Paris simply had to have a world-class patisserie.
Nutritious detox dishes
L'Honoré
Healthy dishes that are delicious and nutritious.