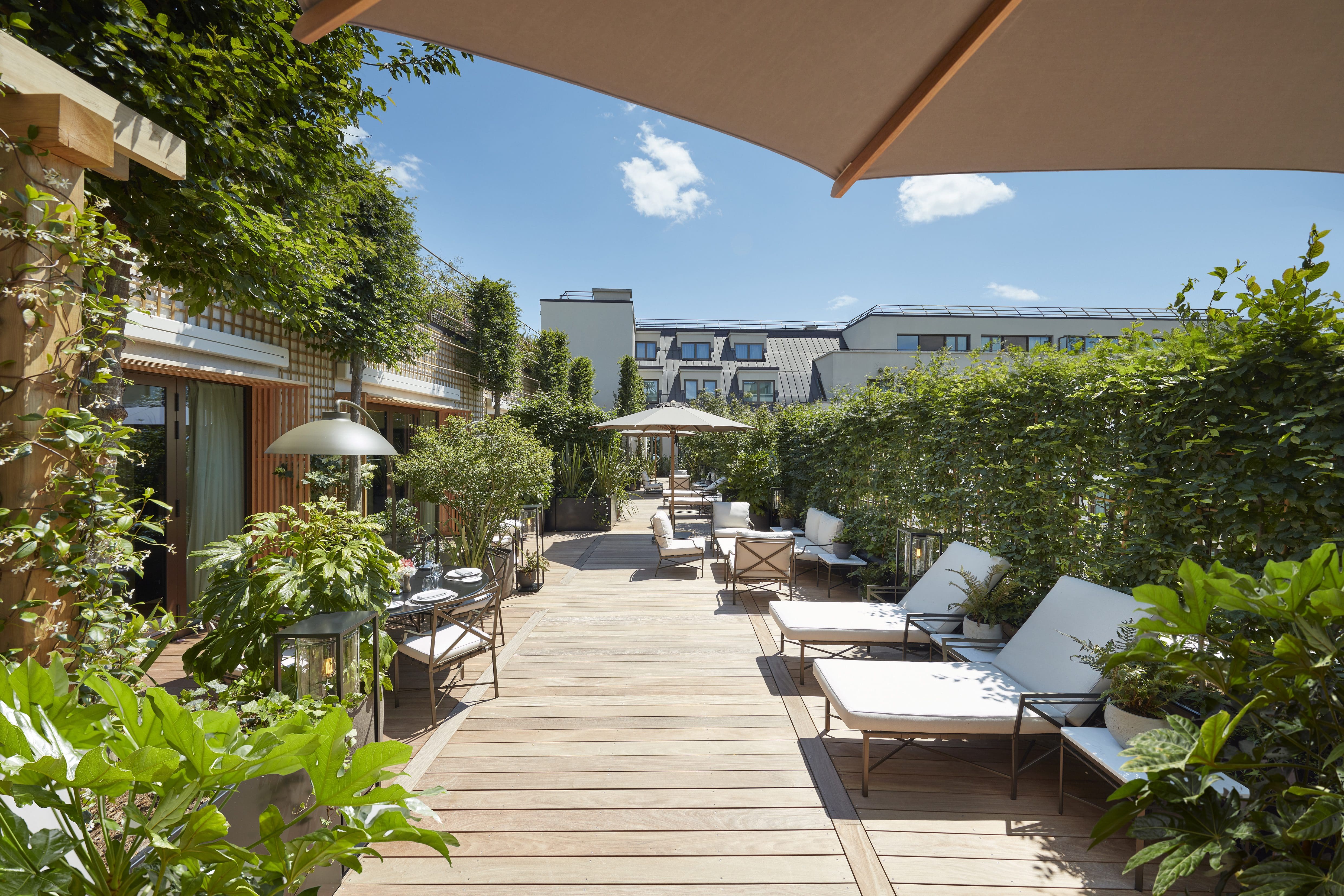 Paris
Oriental Penthouse Suite
Oriental Penthouse Suite
A blend of chic Eastern and Parisian design.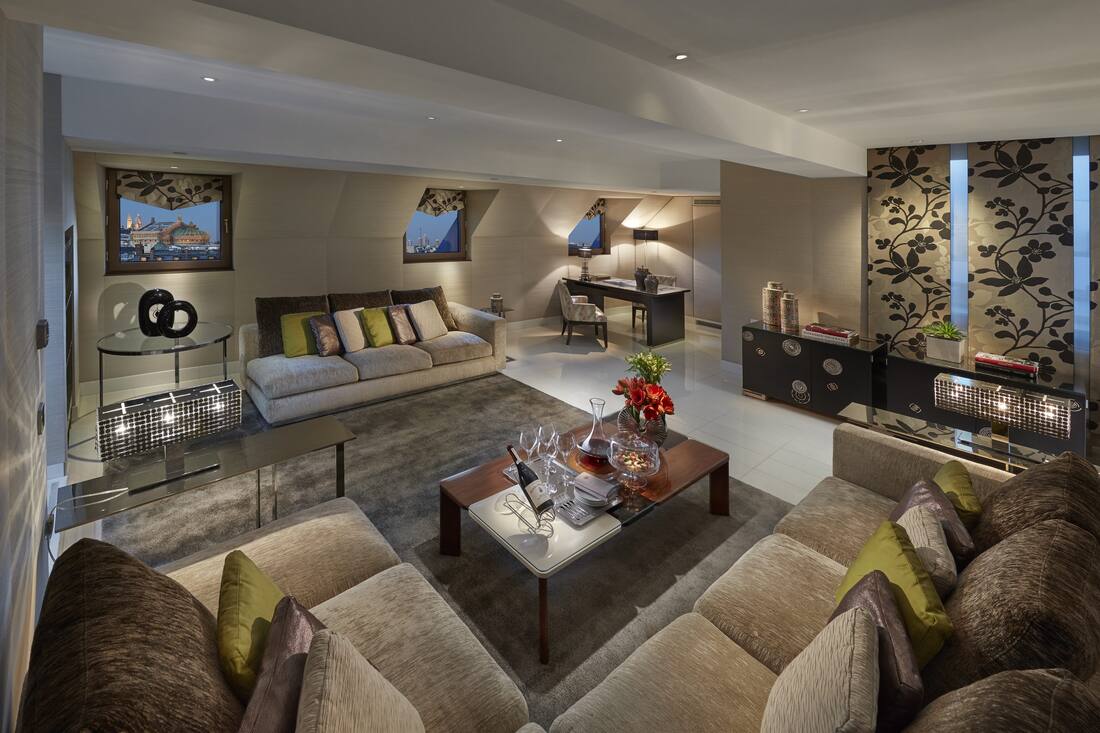 Located on the top floor, our 162 sqm (1,744 sqf) Oriental Penthouse Suite is split over two floors, with a stunning panoramic view of the entire city. The striking décor features a bedroom, bathroom with steam shower and bath, living room and dining area.
The suite enjoys a 75 sqm (807 sqf) terrace with a lounge, dining area, pergola and retractable roof. Subtle vegetation enhances privacy and forms a natural design setting.
With spectacular views of the rooftops and monuments of Paris, including the Opera, Madeleine and Montmartre, this suite is ideal for guests seeking total privacy and exclusivity.
Connect the Oriental Penthouse Suite to our two Panoramic Suites and this space transforms into a breath-taking three-bedroom suite.
Take a closer look at our Oriental Penthouse Suite video.
West pays homage to East in this unique suite
Chic contemporary style
French interior designer, Sybille de Margerie, has given the suite a very unique style with a combination of Oriental and Parisian cultures. The Oriental Penthouse Suite extends over two levels in a harmony of white, beige, black and green shades. Lacquer blends with velvet and ebony with marble for an emotional journey from Paris to the Orient.
Motifs relating to nature run throughout the suite, including hand-painted crocodiles on the bar and Asian-inspired florals on the drapes while the staircase is embellished with sculpted flowers and butterflies.
Upstairs, the oversized bedroom is decorated in elegant shades of bronze, while the adjoining bathroom incorporates a luxurious steam shower and stand-alone bathtub.
A very Parisian terrace
The Terrace
Landscape designers Christophe Gautrand & Associates created an enchanting 75 square-metre terrace with a lounge, outside dining area and elegant pergola which has a removable roof to enjoy the sunshine. Subtle vegetation is used to form a natural setting and enhance the magnificent views over Paris.
Memorable dining experience
Private Dining
Guest will enjoy the delicious in-room dining dishes created by Chef Thierry Marx in the cosy dining room located on the ground floor of the suite or in the outdoor private dining area, overlooking the Opera, Madeleine and Montmartre.
Multiple influences
Unique Artworks
Interior designer Sybille de Margerie has hung the walls with black and white photographies by Jean-Baptiste Huynh, and commissioned the artist Thierry Bisch to paint a quadriptych depicting a cloud of butterflies. Bespoke artworks include beautifully embroidered headboard and furniture by Maison Lesage.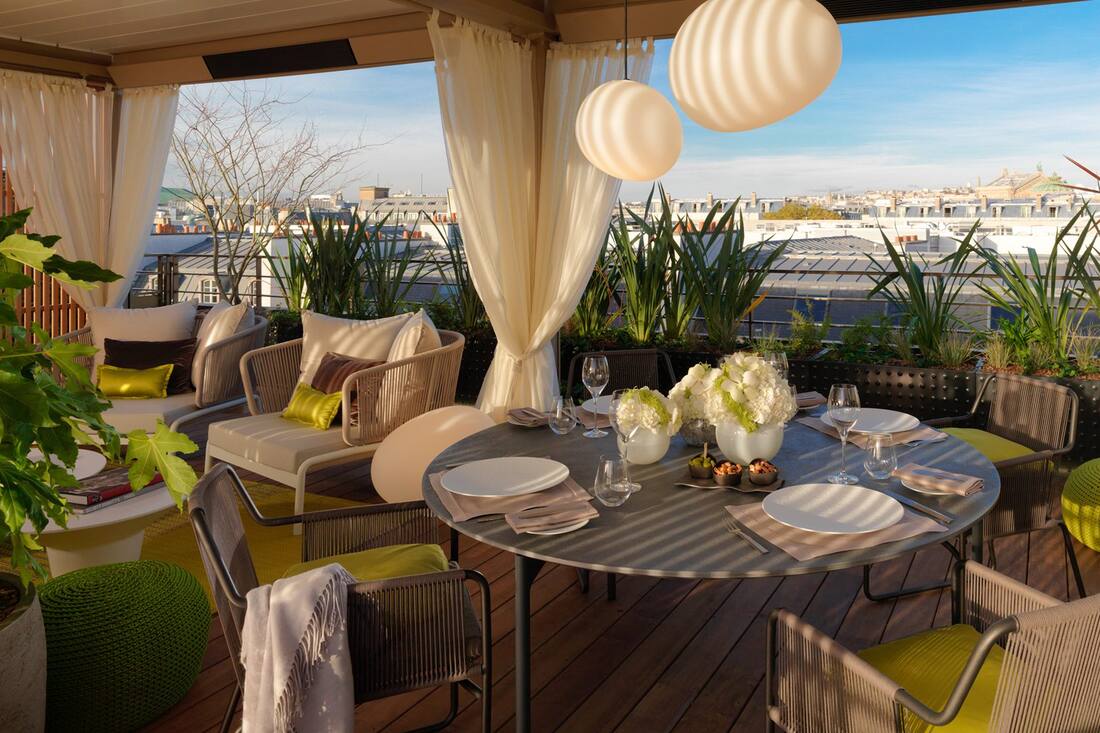 Reserve the Oriental Penthouse Suite
Reservations for the Oriental Penthouse Suite can be made by contacting the reservations office at Mandarin Oriental, Paris on +33 (0)1 7098 7333 or email mopar-reservations@mohg.com
View All Offers