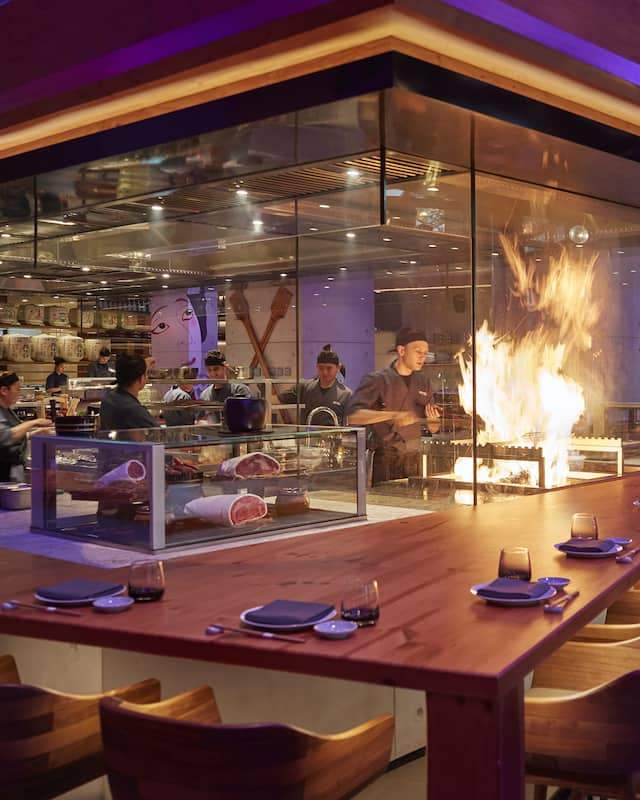 Netsu by Ross Shonhan
Weekend Lunch (Fri & Sat)
12:30 - 4pm
Netsu by Ross Shonhan is our Japanese Steakhouse from acclaimed Chef Ross Shonhan. Showcasing the traditional Japanese cooking technique of Warayaki – straw fire cooking – Netsu serves a tantalising menu of Warayaki style grills, sushi and sashimi platters, and other Japanese style dishes, complemented by stunning interiors and a sophisticated atmosphere.
On balmy nights, take a seat on Netsu's large terrace surrounded by beautiful candle-lit pools of water where you'll also find our outside cocktail bar. Inside, diners enjoy an almost theatrical ambience as flames curve around the kitchen counter as our chef torches the straw.
Our complex food menu is complemented by an extensive wine list, featuring approximately 70 labels and a Japanese-inspired signature cocktail list. We also have a dedicated Sake Sommelier who has chosen a premium selection of artisanal sake, served in unique sake pots.
Weekend Lunch at Netsu by Ross Shonhan
Available on Friday and Saturday, Netsu's Weekend Lunch offers an exciting take on Japanese street food flavours in a theatrical setting. Indulge in a specially curated menu crafted by renowned Chef Ross Shonhan featuring ramen, katsu sandos, baos and much more. To satisfy your sweet tooth, experience the refreshing Kakigori, a traditional Japanese shaved ice dessert with Netsu's signature flavours and unique toppings such as Tropical Mango, Ichigo Strawberry, Crème brûlée, Tiramisu, Chocolate Banoffee, and Caramel Popcorn.
Dress code: Smart casual for lunch / smart elegant for dinner. We respectfully ask guests to refrain from wearing sportswear, beachwear, torn jeans and flip flops for lunch and long pants are required for dinner. National attire is welcome for both lunch and dinner.
For any restaurant reservations, please note that the reservations terms and conditions will apply.
By making a booking or otherwise using the restaurant services, you confirm your agreement to MOHG's Privacy Policy and you consent to the processing of your personal information by MOHG, including the collection, retention and usage of your name, contact details, other personal information (which may include sensitive data, e.g. medical conditions), transaction data and demographics ("PI") in order for MOHG to provide you with the requested services. You have the right to request access to, correction and deletion of, and withdrawal of your consent to processing of, your PI by contacting MOHG's Data Privacy Officer by email at dataprivacyofficer@mohg.com or by post at 8th Floor, One Island East, Taikoo Place, 18 Westlands Road, Quarry Bay, Hong Kong. Any PI you supply is voluntary but if you choose not to supply your PI then you may not be able to access or obtain the services requested. For the purposes of providing you with such services, MOHG will share your PI with MOHG's global network of companies and the service providers that assist MOHG with administering your PI, which may be transferred to, processed in and stored at a country outside your country of residence (including outside the EU/EEA). For any online reservations, please note that a third party vendor's applicable terms will apply.
WOW!!!! Easily one of the best restaurants we have been to in the world!
As someone who works in hospitality and very good at what I do that it takes a lot for someone to impress me, I was extremely blown away with the restaurant structure and decoration ...I will definitely be coming back there. Thumbs up to you all.
SamanthaBoma
It's really difficult to get impressed with the restaurants in Dubai, but I was really impressed with Netsu by Ross Shonhan and I will recommend this place to all my friends who live in Dubai or just on vacay.
848sabinam