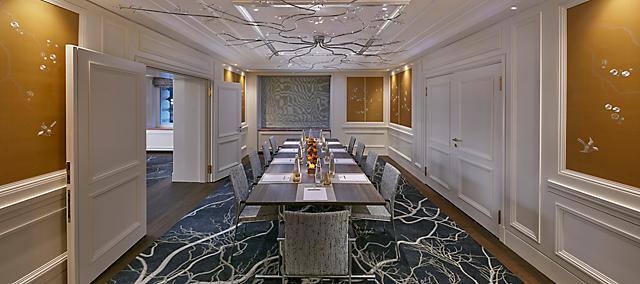 Munich
Business Meetings
Business Meetings
Our excellent facilities and unparalleled service ensure that we are the perfect venue for business in Munich
Technology
We have the technology to bring your plans to life. Wi-Fi is available throughout the hotel and any presentation equipment you require can easily be arranged. We also have a team of onsite experts to help with any technical glitches.
Staff and services
We provide every client with an in-house conference planner to help coordinate every aspect of your event. We can also arrange the following services:
Creative breaks and seminars. We would be delighted to plan a stimulating dimension to your event with a creative break, such as a wine or beer tasting or an introduction to Munich's fine art collections.
Meeting Room Set-up. Desk pads, paper pads, pencils and soft drinks are standard for meeting room set ups.
Delegate Transfer. We can arrange limousine pick-ups, group transportation or car hire.
Our multi-lingual staff is able to help with your interpretation needs. For more extensive translation needs, we can arrange assistance at an added cost.