Your essential guide to Paris
By Katie Gatens
A writer and digital editor living between London and Paris, Katie's writing has been published in titles including British Airways' High Life, Grazia and the Huffington Post.
Find your bearings
There are few postcodes in the world as exclusive as Paris's 1st arrondissement, home to Mandarin Oriental, Paris in the city centre. The manicured lawns of Tuileries Garden are just a street away and the Louvre's glass pyramid shimmers nearby.
Feed your mind
If you're short on time, get a taste for the city with a visit to two small galleries nearby in Tulieries Garden. The impressionist Musée de l'Orangerie, showcases panels of Monet's Water Lilies, while the contemporary photography museum Jeu de Paume shows work by both French and international artists. Nearby in Le Marais district, the Richard Rogers and Renzo Piano-designed iconic Centre Pompidou is one of the world's most characterful galleries. Equally recommended are the contemporary art temple of the Palais de Tokyo and the indigenous art of the musée de quai Branly, both of which are fairly close to the Eiffel Tower, while Frank Gehry-designed Fondation Louis Vuitton is located in the Bois de Boulogne.
Musée de l'Orangerie
Immerse yourself in a world of French Impressionism at the Musée de l'Orangerie. Photography by Getty images.
Jeu de Paume
Explore modern art forms at the iconic Jeu de Paume gallery. Photography by Adrien Chevrot.
Palais de Tokyo
Discover trail-blazing exhibitions at the Palais de Tokyo.
quai Branly
Specialists in indigenous art, quai Branly is a unique museum neighbouring the Eiffel Tower. Photography by Getty Images.
Shop like a local
Paris isn't known as the world's fashion capital for nothing, and whether it's boutiques or brands, Mandarin Oriental guests couldn't be better located to shop for something chic. Fashion houses Alexander McQueen and Balmain sit opposite the hotel on the Rue Saint-Honoré. Chanel's flagship store, with its incredible sweeping staircase, is nearby on Rue Cambon and a little further afield, Boulevard Haussmann is home to beloved department stores Galeries Lafayette and Printemps.
Only in Paris...
"Built by Charles Garnier and completed in 1875, the Palais Garnier is one of the greatest architectural works in the city. Originally designed for the Paris Opera, visitors today can still visit the exquisite building to see opera, ballet and musical performances, all of which can be organised through our concierge desk, as are private backstage tours. With enough advanced notice, our guide can even guide visitors to the subterranean lagoon beneath the monument."
Victor Rego, Chief Concierge, Mandarin Oriental, Paris
See some sights
The spectacular Beaux-Arts building of the Palais Garnier, home to the Paris Opera, is just a short walk away from Mandarin Oriental, Paris, so if you're in town for a few days, browse its packed programme of ballet and classical music. Meanwhile, the buzzing medieval district of Le Marais, with its cobbled lanes full of crêperies and pavement cafés, is brimming with bohemian charm. Make time to visit the oldest square in Paris – Place des Vosges. (Victor Hugo wrote Les Misérables at number six.) If you've got time to go further afield, the up-and-coming area around the picturesque Canal Saint-Martin is peppered with boutiques. For parks, take a stroll around the regal Jardin du Luxembourg with tree-lined promenades, rolling lawns and classical statues.
Toast your arrival
Sip a cocktail in the lush foliage of the terrace of Bar 8 at Mandarin Oriental, Paris. The Once Upon a Time…Paris is a mix of Roederer Champagne, Chambord, Martell VSOP Cognac and Tobacco Liquor.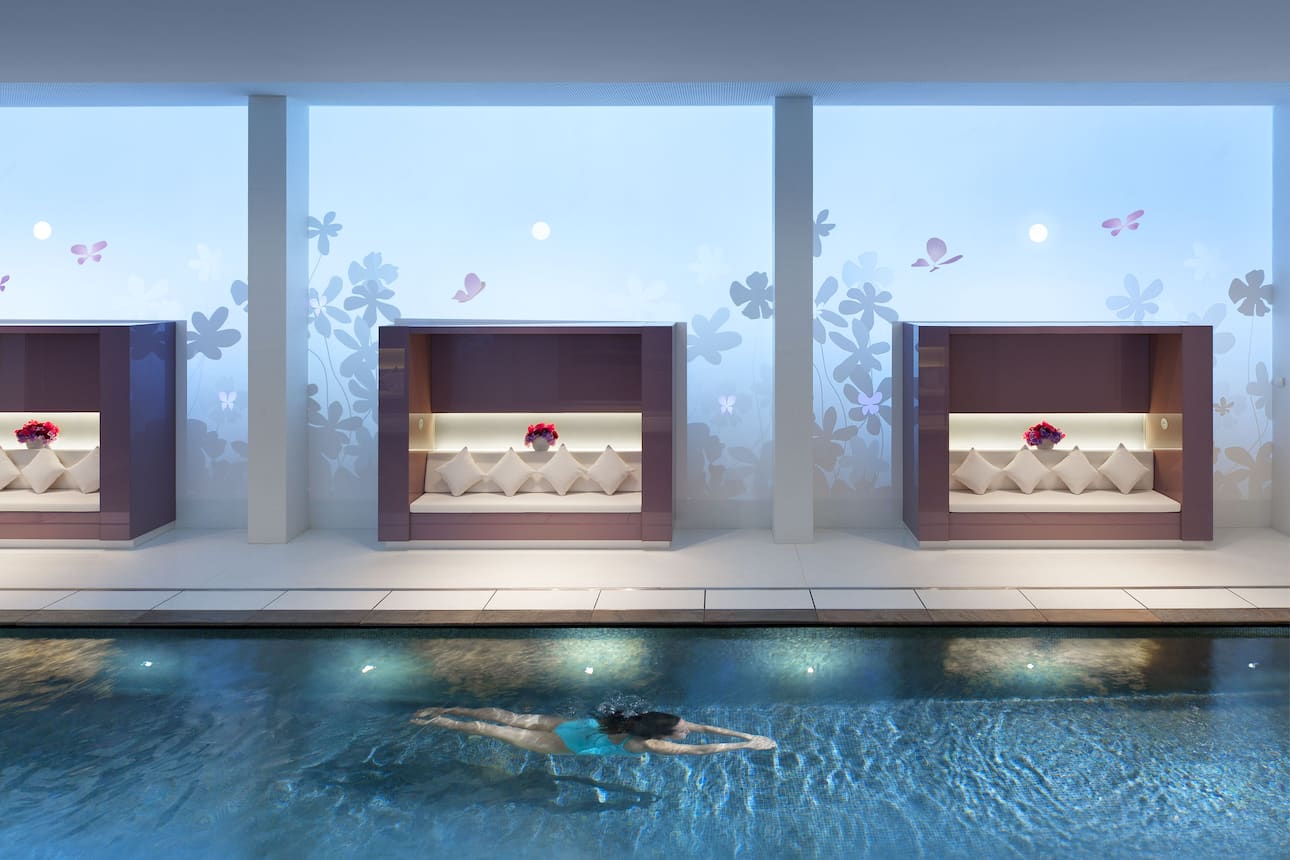 Make time to unwind
Spa & Wellness
Treat yourself to a day at The Spa at Mandarin Oriental, where the menu includes the signature Digital Wellness Escape – a restorative treatment that focusses on the head, eyes, neck, shoulders, hands and feet to ease stresses and strains resulting from the frequent use of digital devices. Nearby, a relaxing walk along the Seine will help ease tired minds and combat any jet lag – plus you'll get to admire the illuminated centre of Paris by night.
Learn More
Dine in style 
The two Michelin-starred Sur Mesure by Thierry Marx draws guests and locals alike to dine at the hotel. A white canvas of a restaurant artfully showcases Marx's haute cuisine. Quintessentially French, Mandarin Oriental, Paris also has its own patisserie serving delicious, fresh concoctions daily. And where could be more appropriate to try a choux bun than on Rue Saint-Honoré, the patron saint of bakers?
Sur Mesure by Thierry Marx
For ultimate opulence, try one of the stunning set menus at Sur Mesure by Thierry Marx.
Learn More
Sur Mesure by Thierry Marx
Sur Mesure by Thierry Marx is the signature luxury restaurant at Mandarin Oriental, Paris.
Learn More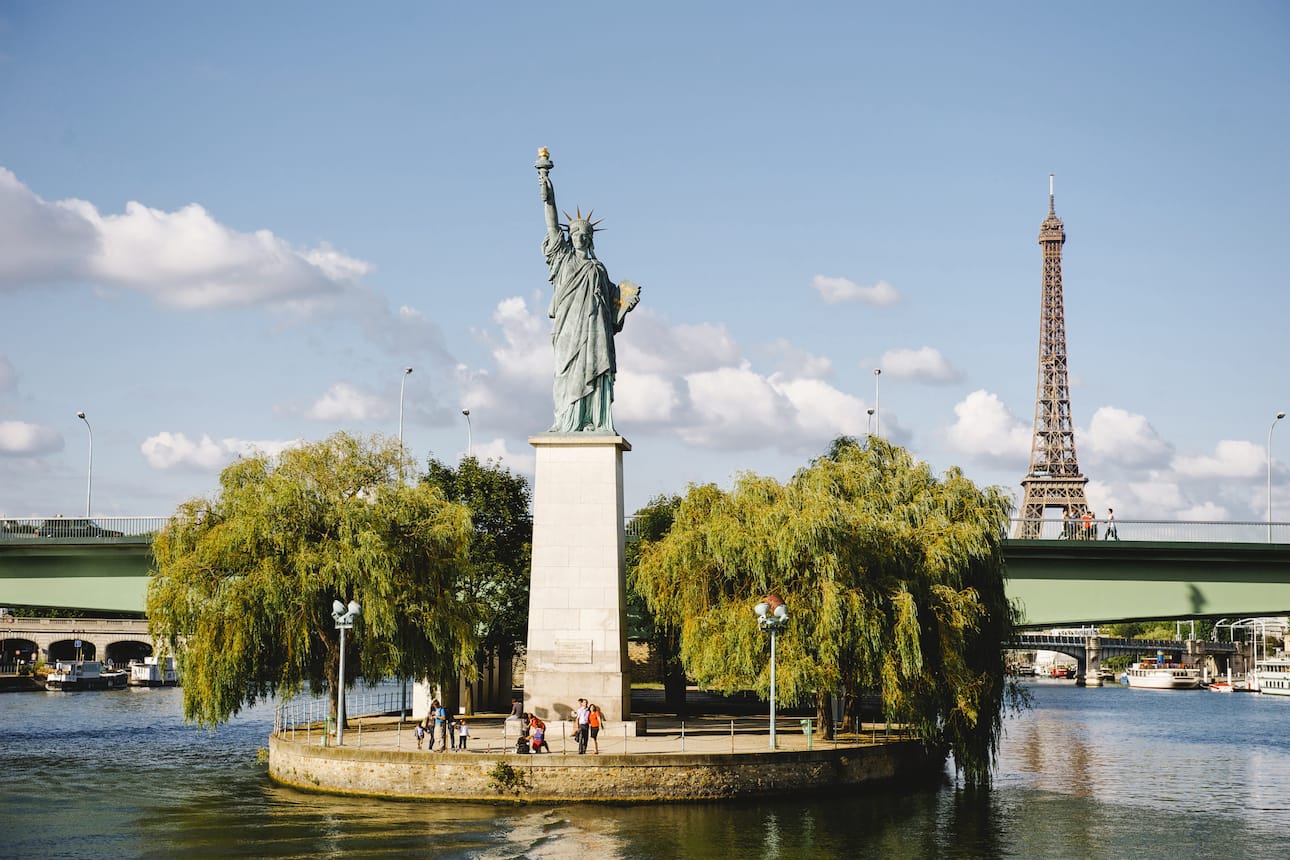 Time travel
In 1889, the American community in Paris presented the city with a replica of the Statue of Liberty (the original of which was a gift from the French to New York). The replica statue sits on an island in the middle of the Seine, facing the Atlantic, as a symbol of friendship between the two countries.
And finally
Make time to explore Petite Ceinture, an abandoned railway line that circles Paris. Certain parts are overgrown with colourful flora and fauna which looks particularly striking against the graffiti and street art.
Paris's most spectacular museums
Pompidou Centre
The Pompidou Centre is the work of architects Richard Rogers and Renzo Piano, working together in 1977. Photo: David Clapp, Getty Images
The Grand Palais
The Grand Palais was constructed in advance of the Universal Exposition of 1900. Photo: Getty Images
Fondation Louis Vuitton
The Frank Gehry-designed art and cultural centre opened in 2014. Photo: Getty Images
The Louvre
Perhaps the best known and loved of all Paris museums: The Louvre. Photo: Gallery Stock
Musée d'Orsay
A view through the clockface at the legendary Musée d'Orsay. Photo: Arthur Meyerson, Getty Images