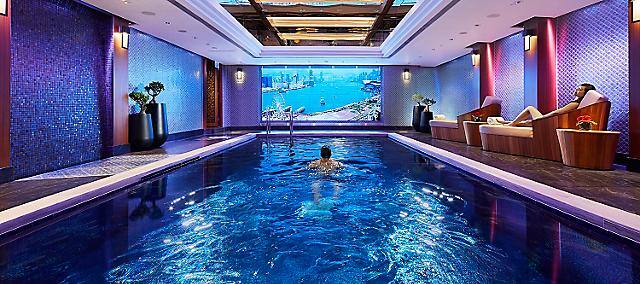 Hong Kong
Fitness & Wellness
Fitness & Wellness
With a twin-lane swimming pool and fully-equipped fitness centre, there's more than one way to stay in shape
6am – 10pm (Public), 24 hours for hotel guests
Fitness Centre
Our fully equipped Fitness Centre offers a range of state-of-the-art technology including various Technogym cardio machines and a TRX Suspension Trainer. There are also a technogym wellness system and an inBody composition analyser to help analyse and track your fitness performance. In addition, our highly qualified instructors can offer lifestyle consultations and bespoke physical fitness and wellness programmes to be followed independently or in private training sessions.
We also offer outside guests unlimited access to our Fitness Centre, spa and pool through exclusive membership. Membership also includes a host of additional privileges including complimentary fitness sessions, beauty and wellness treatments, and discounts at our award-winning spa and restaurants throughout the year.
Change your game
To bring our hotel guests and fitness members with more fitness excitement, our team is pleased to introduce a new area out fitted with equipment to "Change Your Game". We will be introducing new fitness equipment or training tool to benefit fitness enthusiasts wishing to keep their training fresh. Whether looking to stay fit or burn calories, do come by to "Change Your Game".
Swimming pool
Our swimming pool is set to offer our guests an elevated swimming experience with an array of technologically advanced features. A counter current jet system installed in one of the three lanes allows guests of all swimming levels to enjoy an exceptional swim. We also showcase a video wall where guests can enjoy the magnificent views of Victoria Harbour among many other scenic settings, accompanied with mood lighting and an underwater sound system, creating a comprehensive and relaxing ambiance. The electrical sunblind on the ceiling allows natural light to flow into the newly refurbished venue, reflective of the earthy décor. This new design is complementary to the fibre-optic lighting on the bottom of the swimming pool which is adorned with multi-coloured mosaic tiles. Featuring a waterfall and stylish loungers on the sides, the striking swimming pool experience provides our guests with holistic rejuvenation and relaxation.
More splash time!
We welcome children and families to enjoy our swimming pool during 3 to 4pm every Friday to Sunday and on Public Holidays. Get those little flippers ready as it's time to splash! Children of all ages must be accompanied by an adult.
Our certified personal trainers
Here to assist you
With 17 years of experience, Paolo Lobo is a certified personal trainer and dedicated bodybuilder. With his passion for fitness, he regularly competes in bodybuilding contests worldwide and has been awarded with a number of accolades. Paolo provides integrated training programmemes with advice on nutrition designed to achieve his clients' fitness goals.
Since becoming a certified personal trainer in 1999, Cherry's specialities include weight management, functional training, body toning and myofascial release, which incorporates massage and fascia manipulation to improve posture and alignment. To ensure that every workout is exciting and dynamic, Cherry designs personalised training programmemes for each client with a combination of cardio and resistance training.