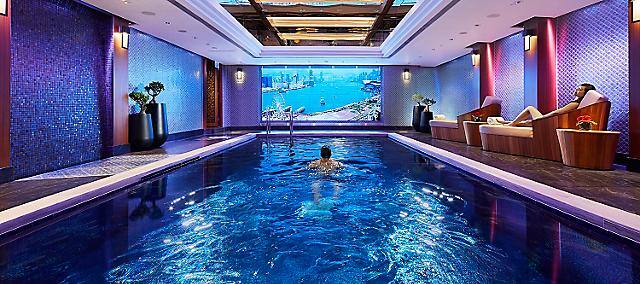 Hong Kong
Fitness & Wellness
Fitness & Wellness
With a twin-lane swimming pool and fully-equipped fitness centre, there's more than one way to stay in shape
Fitness Centre
Our fully equipped Fitness Centre offers a range of state-of-the-art technology including various Technogym cardio machines and a TRX Suspension Trainer. There are also a technogym wellness system and an inBody composition analyser to help analyse and track your fitness performance. In addition, our highly qualified instructors can offer lifestyle consultations and bespoke physical fitness and wellness programmes to be followed independently or in private training sessions.
We also offer outside guests unlimited access to our Fitness Centre, spa and pool through exclusive membership. Membership also includes a host of additional privileges including complimentary fitness sessions, beauty and wellness treatments, and discounts at our award-winning spa and restaurants throughout the year.
Change your game
To bring our hotel guests and fitness members with more fitness excitement, our team is pleased to introduce a new area out fitted with equipment to "Change Your Game". We will be introducing new fitness equipment or training tool to benefit fitness enthusiasts wishing to keep their training fresh. Whether looking to stay fit or burn calories, do come by to "Change Your Game".
Swimming pool
Our swimming pool is set to offer our guests an elevated swimming experience with an array of technologically advanced features. A counter current jet system installed in one of the three lanes allows guests of all swimming levels to enjoy an exceptional swim. We also showcase a video wall where guests can enjoy the magnificent views of Victoria Harbour among many other scenic settings, accompanied with mood lighting and an underwater sound system, creating a comprehensive and relaxing ambiance. The electrical sunblind on the ceiling allows natural light to flow into the newly refurbished venue, reflective of the earthy décor. This new design is complementary to the fibre-optic lighting on the bottom of the swimming pool which is adorned with multi-coloured mosaic tiles. Featuring a waterfall and stylish loungers on the sides, the striking swimming pool experience provides our guests with holistic rejuvenation and relaxation.
More splash time!
We welcome all in-house guests, including children of at least two years old and without the use of diapers for hygiene purposes that are accompanied by an adult, to enjoy our swimming pool. We provide a child-friendly environment with water toys and we play cartoons on a video wall from 3:30 to 4:15pm every Friday to Sunday. Get those little flippers ready as it's time to splash!
Private Swimming Class
The Mandarin Spa is delighted to offer private swimming lessons for all ages and skill levels. Swimming is an essential life skill, a fun aerobic exercise and a great way to keep fit. Our certified instructors will personalise a training plan and ensure each session is effective and enjoyable. A one-hour session is priced at HKD 400 per person for spa members and in-house guest or HKD 900 per person for non-members. Available from 10am to 8pm, Monday to Sunday. Click here for more information.
Aquafit Float Class
A dynamic summer workout from the Fitness Centre at The Mandarin Spa, Aquafit Float utilises a floating mat on the water, with our experienced fitness instructors guiding you through a series of stretching exercises that use breathwork to strengthen the core and related muscles. A balance and movement class for all fitness levels and is suitable for both swimmers and non-swimmers. Click here for more information.
Online Personal Training Sessions
Book a customised online training session with one of our certified trainers in the comfort of your own home. A one-hour session is priced at HKD 500. Purchase a series of 10 sessions and receive 20% off for members and 15% off for non-members.
Body Transformation Programme
Reach your fitness goals with our Body Transformation Programme where our certified trainers will personalise a training plan, provide nutritional and diet advice and keep you motivated with weekly weigh-ins and assessments. Try our 8-week package priced at HKD 20,000 with two personal training sessions per week. Click here for more information.
Our certified personal trainers
Here to assist you
Jason is a very active and disciplined person who enjoys various sports such as Triathlon, Marathon and Bodybuilding. He has been entering bodybuilding competitions since 2016 and was the Men's Physique Champion in 2020.
Areas of his expertise include muscle building, fat loss and functional training. His specialty is designing tailor-made programmes that enable his clients to reach their full physical potential.
Inspired by his active involvement in sports at a young age, Adrian took his passion for health and fitness and transformed it into a career. He is a professional fitness instructor and coach, focusing on resistance training and combat sports. Adrian is the ideal choice to those looking to make a change.
Michael is a goal-oriented fitness professional who uses scientific knowledge to train and improve one's fitness abilities. He tailors training programmes, providing dietary guidance to foster a healthy eating habit and lifestyle.