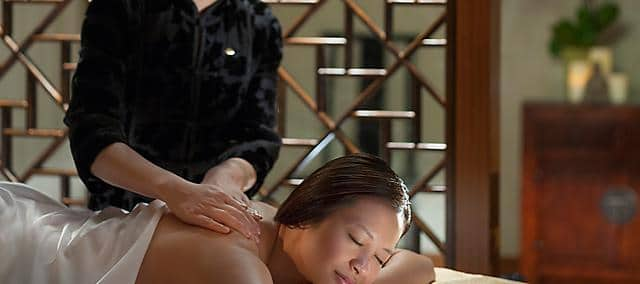 Hong Kong
We offer an extensive range of treatments including a wide choice of therapies drawing on the philosophies of traditional Chinese medicine. At The Mandarin Spa, embark on a holistic sensory journey that will transform the body, mind and spirit.
Relax and revive, from head to toe
Signature
1 hour 30 minutes
Inner Strength
HKD 1,700 / 2,200

HKD 1,880 / 2,400
Using a blend of healing and balancing aromatherapy oils, this nurturing treatment uses massage to ease physical tension and emotional anxiety resulting from a traumatic experience or stressful time in one's life.
1 hour 50 minutes
Oriental Harmony
HKD 3,400

HKD 3,960
Two therapists work together in time and movement; first providing a warm scrub that soothes the skin and later a harmonious massage that balances the body. Ideal for those suffering from jet lag.
1 hour 50 minutes
Oriental Qi
HKD 2,150

HKD 2,500
Mandarin Oriental's signature spa therapies have been devised to address guests' increasing desire for simple, effective and authentic spa experiences. Developed in consultation with specialists in Traditional Chinese Medicine (TCM) and master aromatherapists, each signature therapy consists of a relaxing, hands-on body massage ritual that combines the powerful effects of oriental meridian massage with the therapeutic benefits of custom-blended essential oils, created uniquely for Mandarin Oriental.
2 hours / 3 hours
Time Rituals
HKD 2,500 / 3,180

HKD 2,880 / 3,750
Mandarin Oriental's bespoke "Time Rituals" encourage guests to book time rather than specific treatments, so that services can be tailor-made to meet individual needs.
Massage
1 hour / 1 hour 30 minutes
Oriental Essence Massage
HKD 1,300 / 1,650

HKD 1,380 / 1,780
This massage is a part of the Mandarin Oriental's signature spa therapies and has been designed for the tired traveller, stressed executive or someone who just wishes to relieve neck and shoulder tension.
Chinese
1 hour / 1 hour 30 minutes
Chinese Meridian Massage
HKD 1,350 / 1,770

HKD 1,400 / 1,820
Focus is on acupressure points and directional flow of the Qi in the body. Chinese Meridian Massage is more than a system of relaxation and tension release.
45 minutes
Chinese Doctor Consultation
HKD 1,350

HKD 1,400
In order to strengthen and optimise overall health, our Chinese doctor will personally discuss with you your specific areas of concern.
1 hour / 1 hour 30 minutes
Chinese Foot Reflexology
HKD 1,350 / 1,770

HKD 1,400 / 1,800
This method dates more than 2,000 years and involves gentle stimulation of acupressure points in the feet that have a direct connection to the various organs and glands in the body.
Beauty
1 hour / 1 hour 30 minutes
Five Elements
HKD 1,450 / 2,050

HKD 1,650 / 2,250
Optimal Skin Facial, please put at top Based on the five elements - fire, wood, earth, metal and water - to help restore your skin's balance using natural products and manual massage techniques. Your facial uses products from Elemental Herbology for your specific element for very personalized results and is suitable if your skin lacks clarity, luster, is dry for breakouts.
1 hour
Active Vitamin Infusion Facial
HKD 1,600

HKD 1,800
This ENVIRON treatment is essential for the maintenance of healthy youthful skin. The most active forms of Vitamin A, C and anti-oxidants are driven into the lower layer of the skin using the DF II MACHINE.
1 hour / 1 hour 30 minutes
Eve Lom Facial
HKD 1,450 / 2,050

HKD 1,650 / 2,250
This deep cleansing facial starts with a paraffin wax mask to open the pores, allowing for easier and more thorough extraction. This is followed by lymphatic drainage and an acupressure massage to the chest, arms, back and face to encourage decongestion.
1 hour 30 minutes
Optimal Skin Facial
HKD 2,200

HKD 2,500
Designed to effectively treat a wide range of skin care concerns, this dynamic treatment provides intense penetration of active ingredients for visible results.
Suite Experiences
3 hours
Mandarin Spa Suite Experience
HKD 6,430

HKD 7,200
Couples can indulge in a two-hour treatment experience in the privacy of our luxurious Kukui or Jasmine Suites. This extended experience begins with a relaxing vitality pool blending warming ginger and balancing mandarin essential oils and a steam shower to ease away the stresses of the day. A light Asian-inspired spa meal served in the privacy of the suite concludes this treatment.
2 hours
Afternoon Tea and Therapy
This unique weekday experience allows friends and loved ones to enjoy a 'Time Together' spa experience, before indulging in our famous Classic Afternoon Tea in the Clipper Lounge.
2 hours
Time Together
HKD 4,560

HKD 4,850
This 'getaway' begins with a Quintessence Body Scrub to smooth and soften the skin, followed by a relaxing customised massage.
Programmes
2 hours 30 minutes
Detox and Pamper
HKD 3,050

HKD 3,300
We invite you to detox and pamper your body
Himalayan Detox Salt Scrub
Thermal Detox Clay Body Mask
Lymphatic Massage
On the Run Facial
3 hours 30 minutes
Indulgence
HKD 4,450

HKD 4,980
A top-to-toe experience, this all-encompassing face and body programme is designed to provide immediate, visible results and extreme relaxation.
Quintessence Salt Scrub
Full Body Massage
Five Elements Facial
Foot Massage
Light Asian Inspired Spa Meal
2 hours 15 minutes
Soothing Ritual
HKD 2,600

HKD 2,950
This ritual begins with an invigorating sea salt and essential oil body scrub to stimulate circulation and promote smooth skin. This is followed by an Ultimate Body Massage and our renowned On the Run Facial to balance the mind and invigorate the skin.