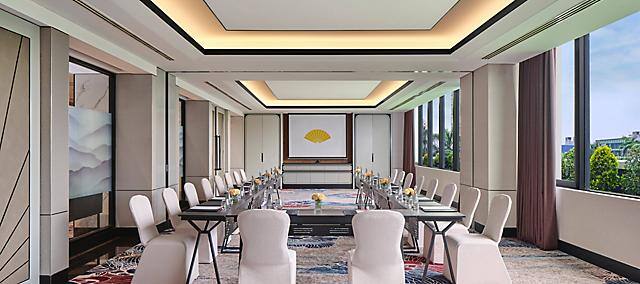 Jakarta
Business Meetings
Business Meetings
As the most centrally located venue in Jakarta, we offer an unrivalled setting for business
At Mandarin Oriental, Jakarta, we know that when it comes to holding a meeting, you expect excellent support all the way. With the fastest internet connection in the city, we offer first-rate technology, expert event planners and private meeting rooms.
Service
To ensure that your meeting or event goes as smoothly as possible, we offer a dedicated on-site planner to manage every aspect of your visit. Available to arrange and assist with the planning of your event, our on-site planner will work with you from the moment you book with us. In addition, we will also supply a meeting concierge, a contact from our service team who is available to help with any questions regarding operations on the day.
Technology
As well as our incredibly fast internet connection, we also offer ceiling projectors, built-in screens and high quality surround sound. Needless to say, we also provide expert technological support.
Business centre
Our well-equipped business centre is open 24 hours a day and provides all the necessary services you could wish for. We offer secretarial support including photocopying and translation, and can also arrange couriers. The centre also offers two executive meeting rooms accommodating up to 10 people and four workstations with high-speed internet access.