Worldwide
The world's best bars
Mandarin Oriental is home to some of the best bars – and cocktails – in the world. But don't take our word for it. Leading bar managers from across the Mandarin Oriental portfolio, and further afield, reveal their favourite Mandarin Oriental bar concept – and what to order once you're there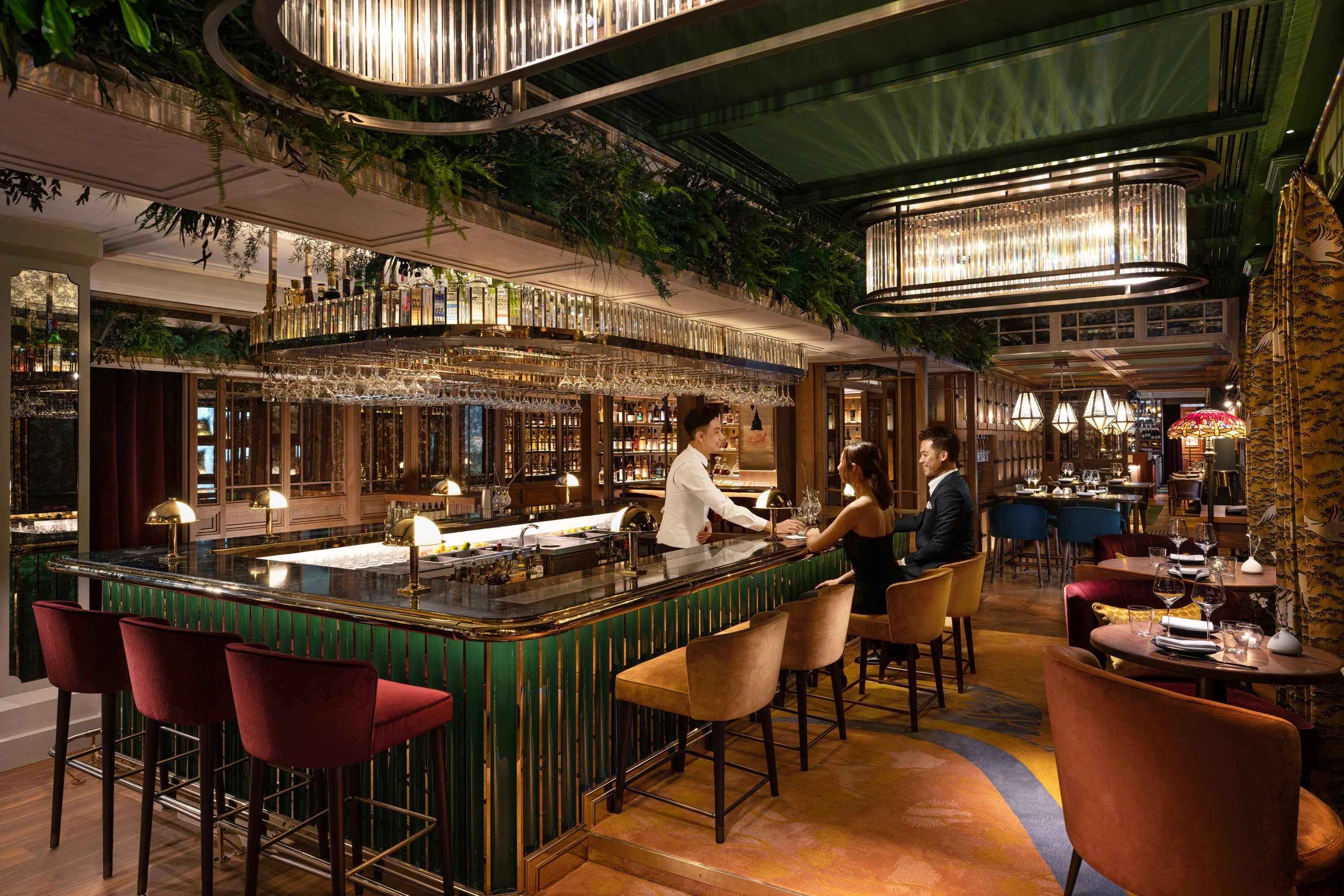 The Aubrey at Mandarin Oriental, Hong Kong
Says… Jay Khan, professional bartender and co-founder of COA and Mezcal Mission, Hong Kong 
The concept… The Aubrey at Mandarin Oriental, Hong Kong (pictured above) marks the latest chapter in the hotel's glamorous food and beverage journey. Located on the 25th floor, with spectacular views of Victoria Harbour, the newly unveiled 'eccentric Japanese izakaya' – encompassing three unique bar experiences, drawing room and curio lounge – is quickly becoming a must-visit destination. Leading The Aubrey's bar programme is Devender Sehgal (most recently Bar Manager at the Michelin-starred Otto e Mezzo) whose first menu – served at The Main Bar – nods to the popular Netflix show The Queen's Gambit, with chess-inspired tipples based on a singular Japanese ingredient. Meanwhile, the Omakase cocktail bar takes guests on a unique journey of discovery of vintage whiskies and sought-after spirits, while The Champagne and Sake Bar celebrates the tradition of oysters and sparkling beverages, and reflects the heritage and cultural exchange that Mandarin Oriental, Hong Kong has become known for. 
What to order... Green Leaf. This seasonal cocktail is created using Japanese strawberries that are puréed and shaken with chilli umeshu (plum liqueur), lime juice, red perilla, strawberry cordial and tequila blanco over ice. Strained twice with a sieve and garnished with a nasturtium leaf, this cocktail is both visually impactful and big on flavour.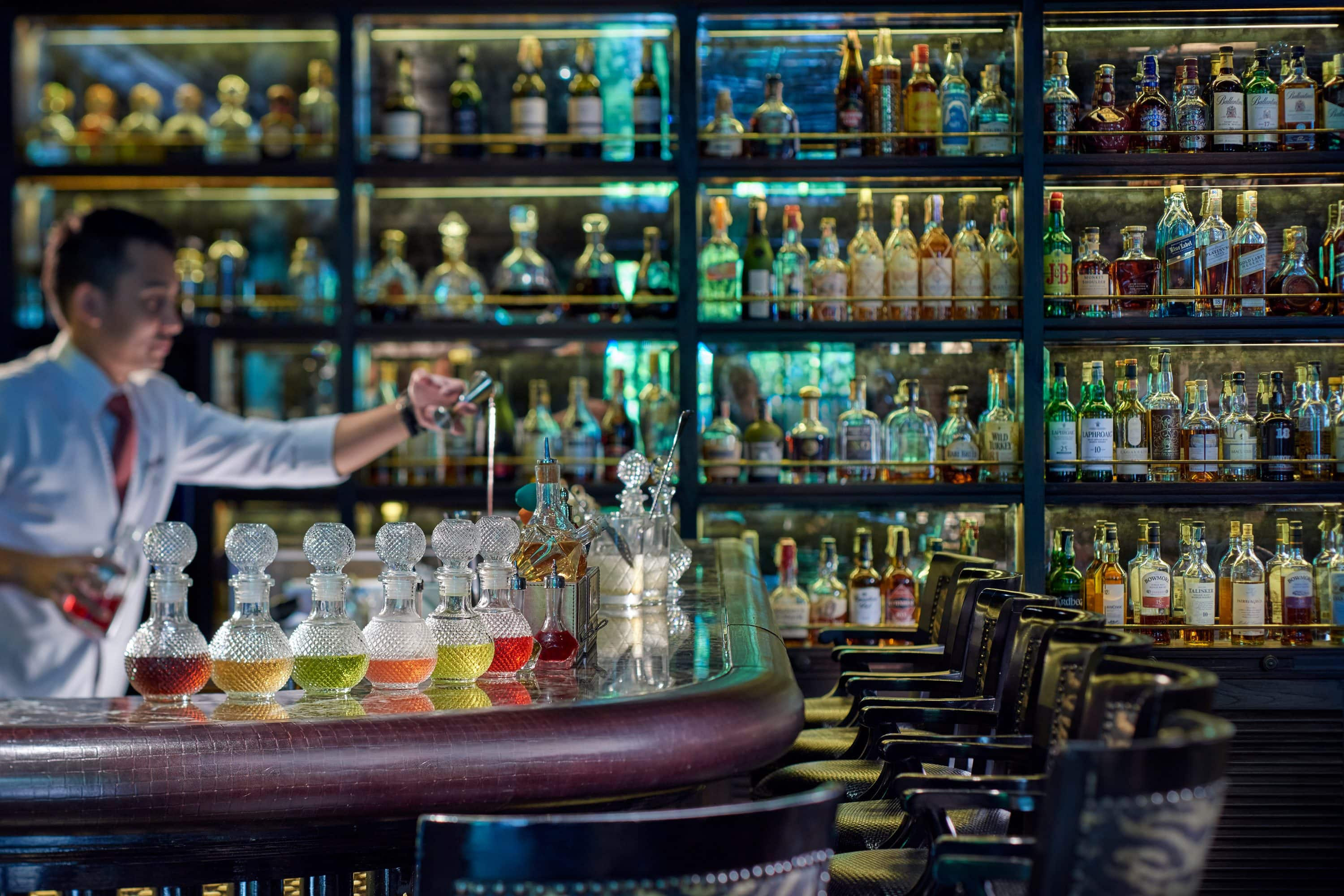 The Bamboo Bar, Mandarin Oriental, Bangkok
Says... Ondrej Pospichal, professional bartender and 'spirit evangelist' at Proof & Company
The concept... ​​​​​​​The Bamboo Bar at Mandarin Oriental, Bangkok (pictured above) has established itself as an extraordinary cocktail destination, leading the city's hotel bar scene. Delicious, visually beautiful cocktails are served in the finest vessels, and with a sense of humour to remind you that you should not take drinking them that seriously. There is stunning Southeast Asian colonial-era décor, live music every day and a cigar room. Everything you need to escape the busy streets of Bangkok. This bar has become even more extraordinary since Jamie Rhind joined as head mixologist from an award-winning bar in London. Jamie's team is one of the best in the city.
What to order... An aged Negroni. A classic Negroni is one-part gin, one-part vermouth rosso, and one-part Campari, garnished with orange peel. The Bamboo Bar remixes this, adding slightly more gin and Campari before aging the cocktail in a barrel that's been primed with port. The port is kept in the barrel for two months before being drained; the cocktail is then aged in the barrel for four to six weeks before it's ready to be served.
Origen at Mandarin Oriental, Santiago
Says… Víctor Gómez, Head Bartender at Origen and instructor at Mundobar bartending academy, Santiago
The concept… Origen at Mandarin Oriental, Santiago (pictured above) is located in the Las Condes neighbourhood – known for its chic and lively bar scene – and has panoramic vistas of the city and Andes beyond. Specialising in signature and classic cocktails created by a passionate team of mixologists, the drinks menu is inspired by national and imported flavours combined with a variety of floral, citrus and herbaceous ingredients. Leading the charge is Head Bartender Víctor Gómez, whose passion for mixology and service led him to be crowned as local winner of the Bacardi Legacy competition in 2020. This year he will represent both Chile and Origen in the finals in Miami, furthering the reach of Origen as the place to be seen in the Chilean capital.
What to order... Pioneer is a classic cocktail with an after-dinner profile designed to bring elegance to the luxury hotel setting and everything that a world-class bar experience includes. Comprising Bacardi Reserva Ocho Rum – made from a special selection of barrel-aged rums and showcasing flavours of dried stone-fruit – with the sweet and silky Néctar Pedro Ximénez wine, apricot liqueur, Benedictine and chocolate bitters, this perfect post-meal libation just so happens to be bartender Gómez's entry for the finals of Bacardi Legacy.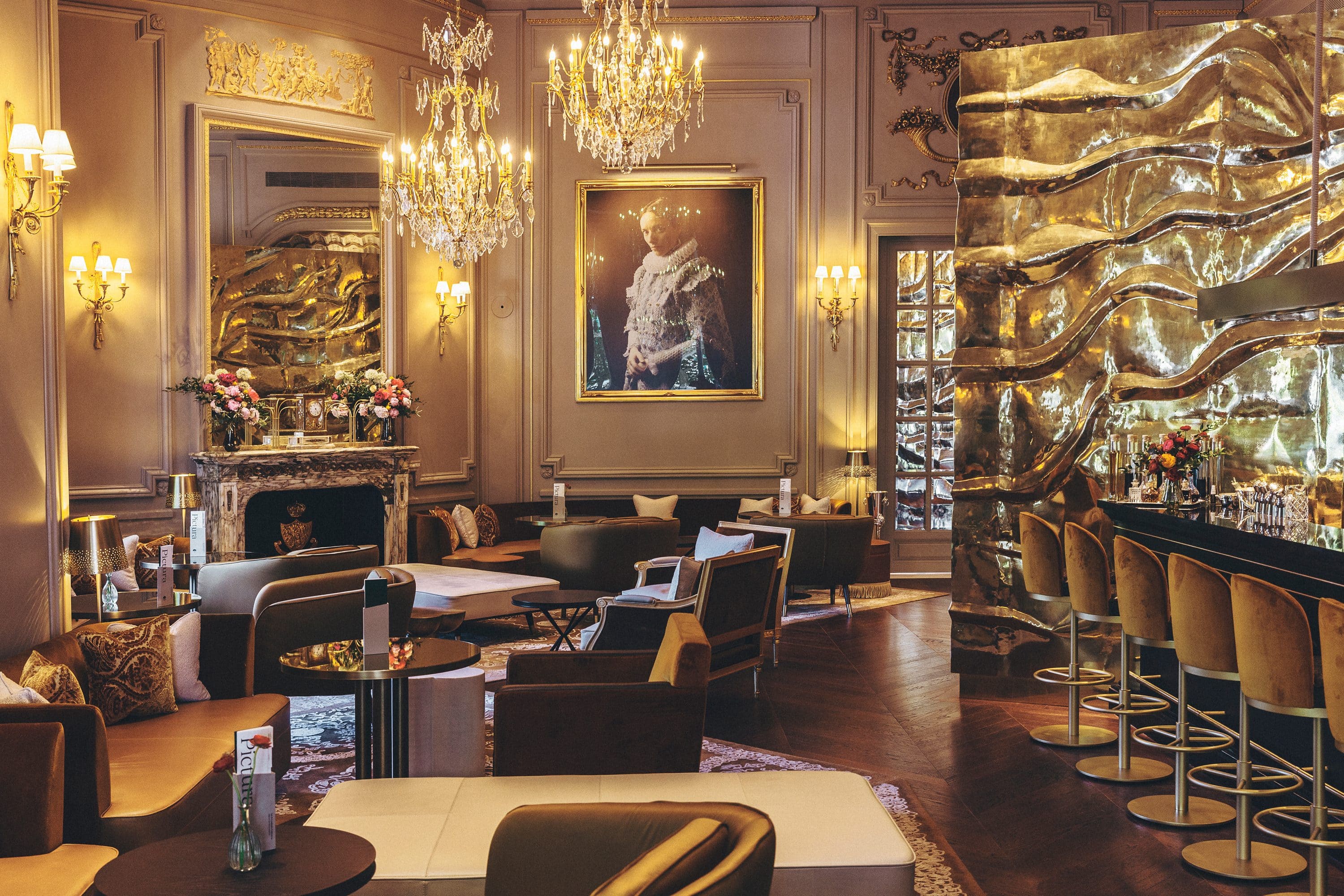 Pictura at Mandarin Oriental Ritz, Madrid
Says… Jesús Abia, Head Bartender at Pictura
The concept... Pictura at Mandarin Oriental Ritz, Madrid (pictured above) evokes the idea of a museum from a contemporary perspective, with a background gallery of portraits from well-known Spanish artists and designers. While the bar remains faithful to classic cocktail combinations, it also offers some original and daring creations, which herald a new era in the hotel's mixology skills. Here, Head Bartender Jesús Abia joins forces with acclaimed chef Quique Dacosta to create a ground-breaking concept they call 'liquid cuisine': a collection of cocktails created using culinary techniques, such as infusion, so that their ingredients retain a link with the 'bites' that they are designed to accompany. Also tapping into the growing NoLo trend, the bar's Free-Spirits menu offers original creations based on natural products, providing healthy, sophisticated options also based on the science of mixology.
What to order... Diamond. One of eight cocktails on the Liquid Cuisine menu, Diamond involves an infusion of lemongrass and Granny Smith apple with Calvados rested for 48 hours, before being mixed with Pisco, lemon juice and a froth of lima kefir. Elsewhere, Phoebe's Moon – an homage to alcohol-free piña coladas – brings together clementine syrup and mango purée mixed with lemon juice and coconut.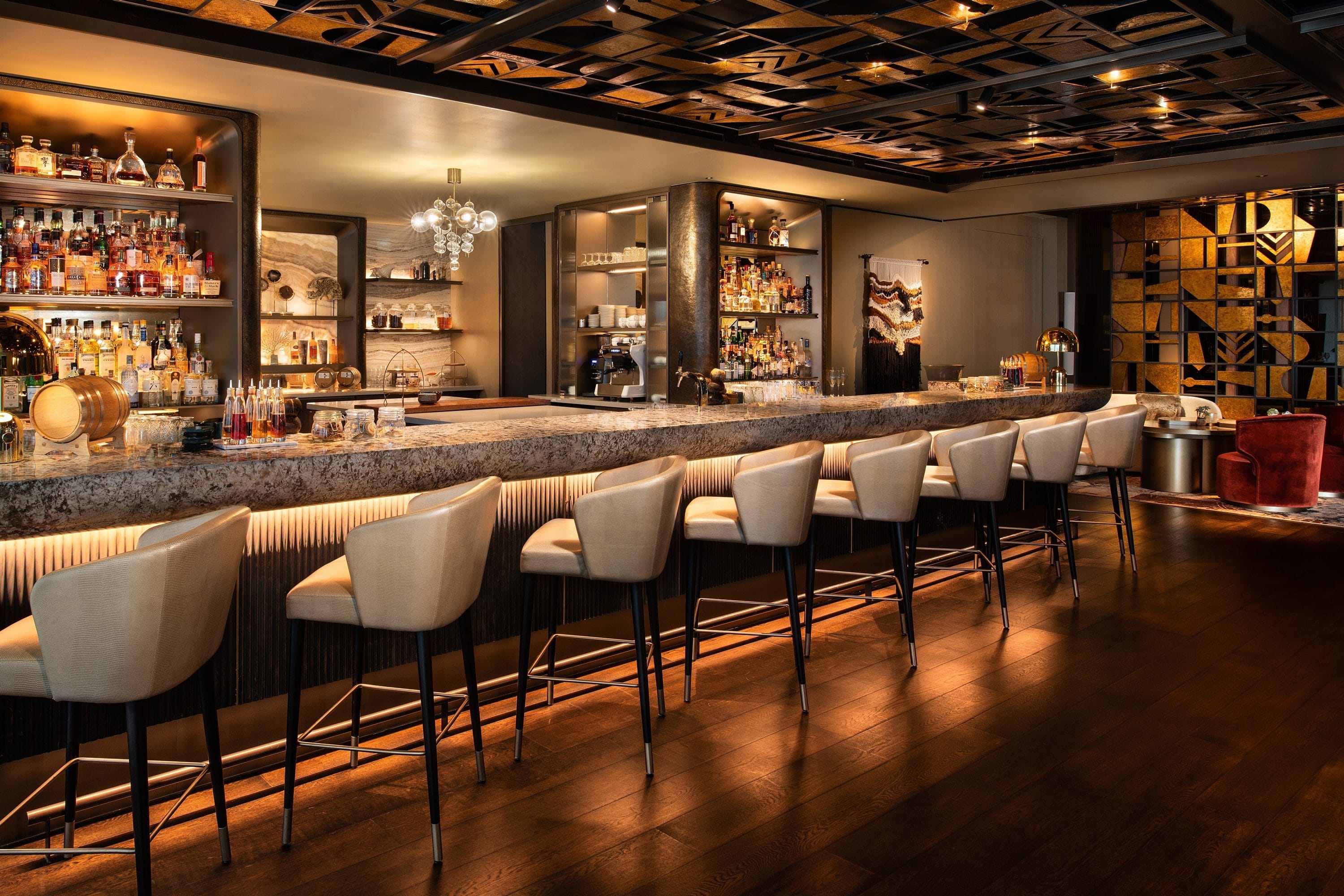 MO Bar at Mandarin Oriental, Singapore
Says… Tom Hogan, General Manager, Proof and Company, Asia Region
The concept... MO Bar, Mandarin Oriental, Singapore (pictured above) was recognised as one of Asia's 50 Best Bars in 2020 and is inspired by the Pacific Ocean, rich culture of Asian ports and the travellers who journey between them. The bar's luxurious ambience is set by an earthy palette of warm brown and olive green accentuated by splashes of nomadic furnishings, which – extending to the distinctive bar counter and open concept – give guests a glimpse into the bartender's world of mixology. Authentically celebrating the colours, flavours and aromas of the region, its latest drinks selection draws inspiration from the bar team's time spent with its regional partners in Bangkok, Seoul and Manila. Following the format of previous menus, an illustrated star map introduces the collection of cocktails, with symbols indicating the strength of each drink as well as its serving style.
What to order... Thunder. "It's never an easy task encapsulating your home turf with a single cocktail," says Hogan. "I've seen my fair-share of laksa- or bak kut teh-inspired cocktails, but this is the first time I've seen thunder tea rice  – a traditional Singapore dish originating back all the way to the Qing Dynasty of China." Brass Lion Singapore Dry Gin is the backbone to the drink, taking on a martini-esque structure. "What I love is how each element of the thunder tea rice experience is extracted using multiple techniques such as fat washing, foams and dusts, which give the cocktail a life all of its own," adds Hogan. "Each ingredient is so considered that, whether you know thunder tea rice or not, you're in for a rewarding experience."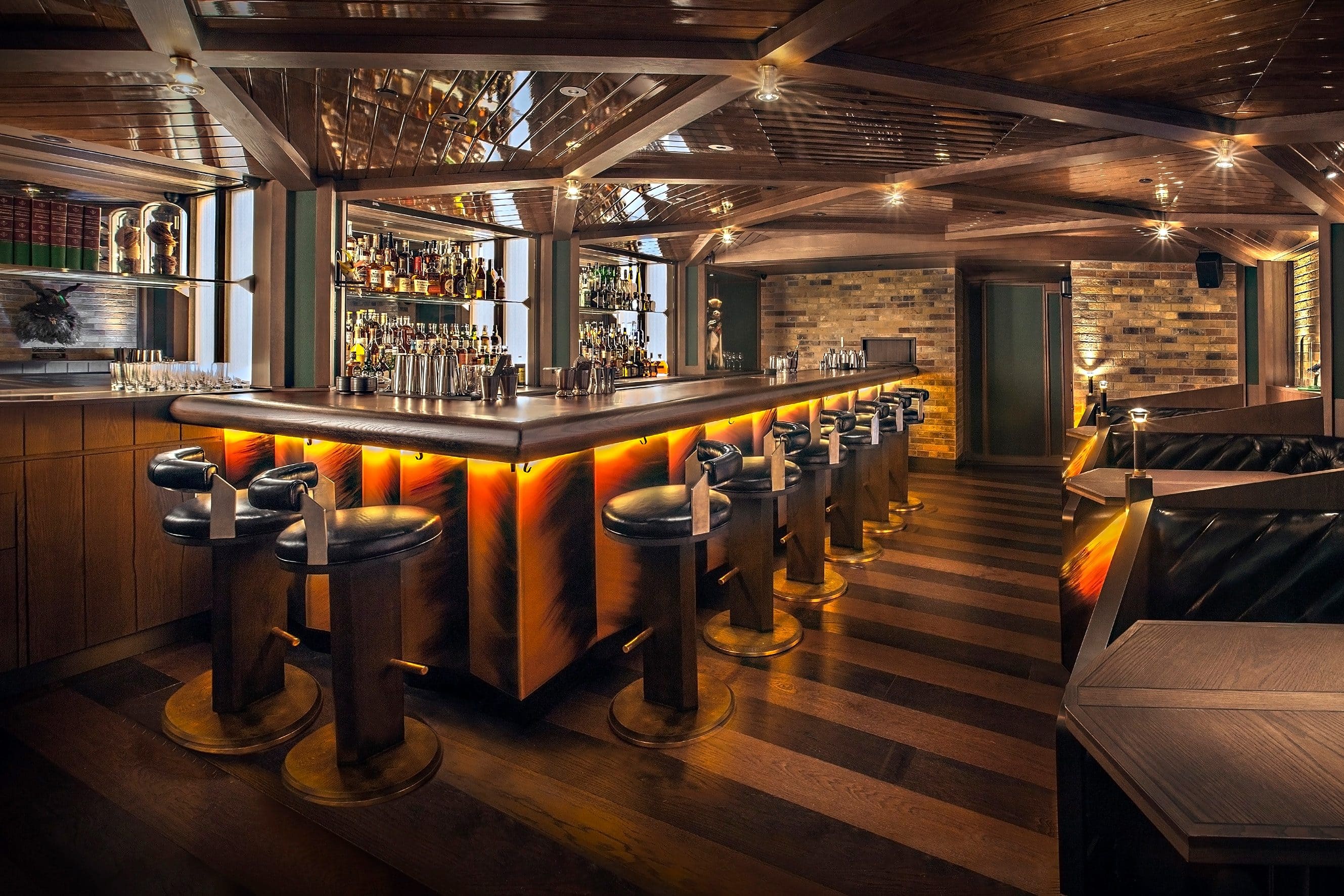 PDT (Please Don't Tell), The Landmark Mandarin Oriental
Says... Dave Jony, Proof & Company, Hong Kong
The concept... Please Don't Tell (pictured above) is located in The Landmark Mandarin Oriental. Like its predecessor in New York, co-founders Jim Meehan and Jeff Bell have recreated an intimate bar oozing with charm, complete with a signature telephone booth as you enter, which was once a hidden entrance. The heart of any bar is the team, here you'll find PDTNY alumni Malaika Suarez and Adam Schmidt, joined by Chanel Adams, formerly of Hong Kong's Happy Paradise. Warm hospitality is ensured on any given day, whether you are seated at the bar or tables.
What to order... Delicious cocktails true to their American pedigree, including firm favourite Paddington: a mix of rum, orange marmalade, grapefruit, absinthe and Lillet Blanc.