Tips
Fantastic recipes to try at home
While many of our restaurants continue to be temporarily closed for the health and wellbeing of our guests and staff, our chefs from across the globe have been busy preparing easy-to-follow recipes for some of their favourite dishes for you to recreate at home. Here are just a few Fantastic Recipes to whet your appetite, from indulgent breakfasts and light lunches, to comforting dinners and classic cocktails
Indulgent breakfasts
There's nothing quite like a hotel breakfast, whether that means pulling up your chair to a pristinely laid table for perfectly poached eggs or enjoying a spot of freshly brewed coffee and a buttery croissant in bed. Why not make breakfast time a little bit more special with chocolate pancakes from Chef Naomi Kilpatrick at Mandarin Oriental, Doha? Made with cocoa and vanilla, they're delicious topped with fresh berries and a dollop of crème fraîche or laced with rich chocolate sauce.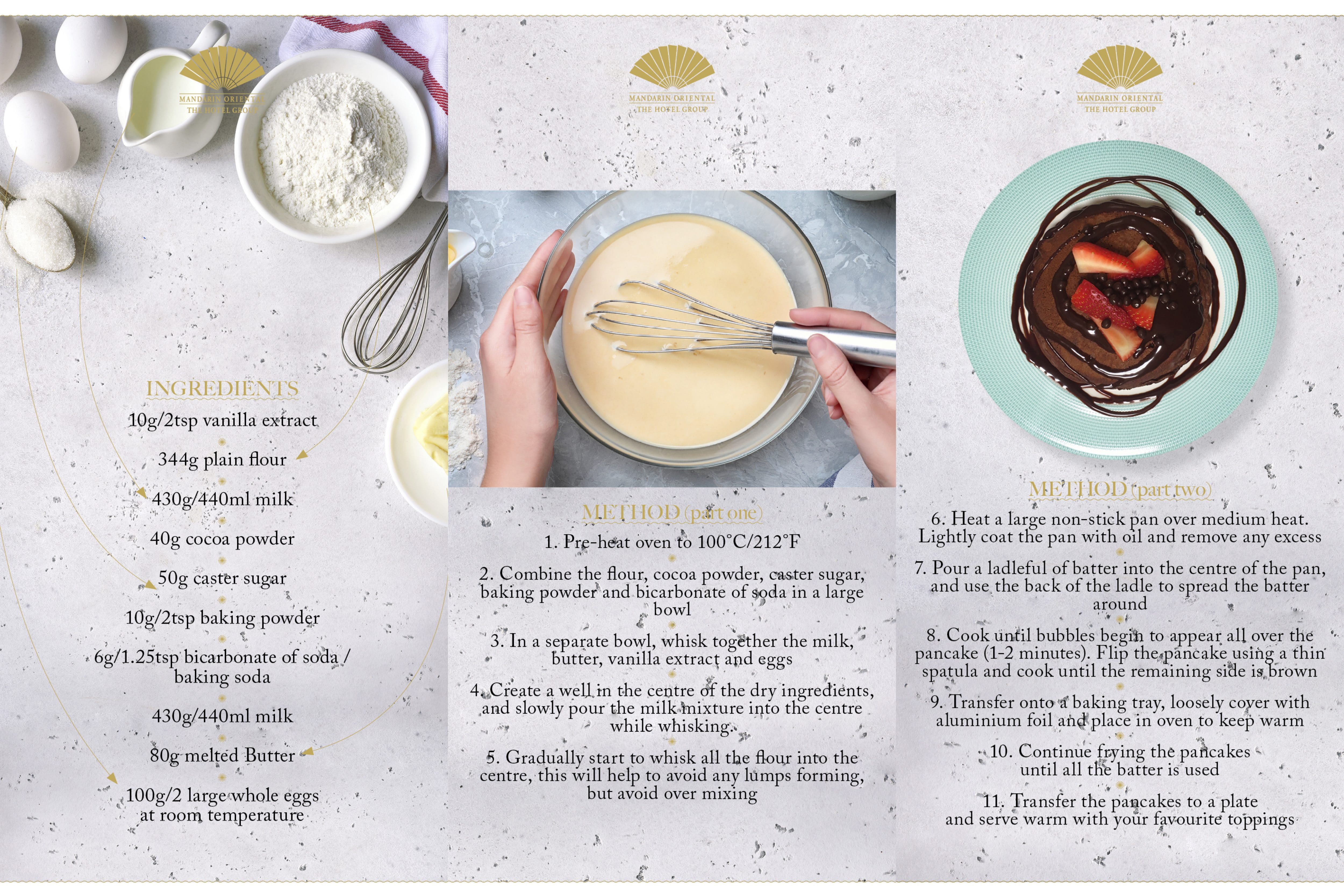 Light lunches
Lunch, whether taken at your office desk or kitchen table, is often – through lack of time or facilities – a simple affair. But with just a little effort and the help of our chefs, you can create delicious light lunches to stop those mid-afternoon cravings and make the meal something to look forward to. Upgrade your salad or sandwich with tips from the chefs at The Landmark Mandarin Oriental, Hong Kong. Try this refreshing feta, fruit tomato, watermelon and basil salad by Chef Mario Paecke, or a traditional Maine lobster roll with zingy lemon mayo from Chef Matthew Kirkley.

Delicious dinners
Dinner is often a time of celebration and togetherness and, in the current climate, making your evening meal extra special can be a real mood booster and give you – and your loved ones – an occasion to anticipate with pleasure each day. That doesn't mean what you cook needs to be complicated. Chef Mario Cittadini at Mandarin Oriental, Singapore shows us how to make a classic Italian risotto with mushroom ragout using wonderfully nutty-tasting dried porcini mushrooms. Or learn to make a versatile beef ragù under the instruction of Chef Alfonso Crescenzo from Mandarin Oriental Jumeira, Dubai – it's perfect to use as a base for lasagne or moussaka or with spaghetti.

Decadent desserts
We all deserve a treat from time to time and this delicious dessert is a decadent delight. Watch here as Chef Sébastien Bernis at Mandarin Oriental, Macau demonstrates how to make his own version of chocolate mousse – laced with intense dark chocolate and topped with fresh raspberries.

Creative cocktails
If you prefer your indulgences in liquid form, or if you're hosting a virtual party, our expert mixologists are here to show you how to shake up your favourite cocktails, from the classic to the curious. And they don't come much more classic than a Manhattan (bitters, sweet vermouth and bourbon), expertly made at MO Bar at Mandarin Oriental, Singapore. If you seek something a little more fragrant, take a tour of the garden with our master mixologist at Mandarin Oriental, Marrakech and see how its fresh ingredients are used in a Verbena Cube cocktail.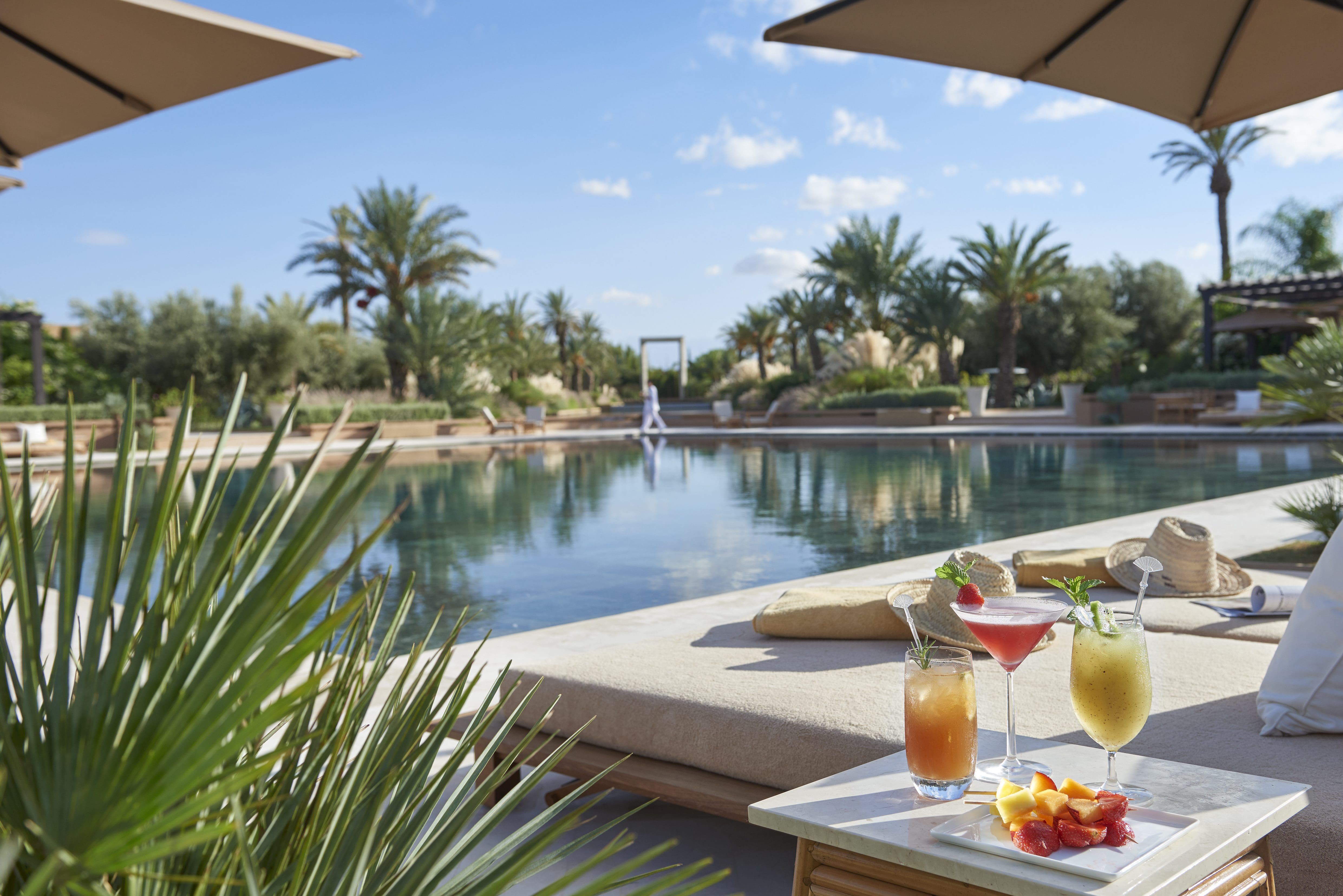 Let us cook for you
While it is nice to take time to prepare your own meals, sometimes there's nothing quite like eating out. Why not set up a restaurant in your own home and let us cater? You can now shop MO food and drink at Mandarin Oriental, Singapore – try the Cherry Garden Dim Sum Brunch, Mandarin Oriental, Kuala Lumpur – treat yourself to Malaysian afternoon tea, and Mandarin Oriental, Hong Kong – indulge in a Café Causette three-Course set dinner for two with two glasses of Champagne.
Discover more recipes and ideas on our Fantastic Recipes YouTube playlist or on our Pinterest board.