Worldwide
Celebrating Eid: Ten essential eats for families
After a month of fasting from dawn until sunset, the meal consumed at Eid – the celebration at the end of the month of Ramadan marked by the sighting of the new moon – ranks among the year's most important. Whether you're dining with family, friends or on your own, every aspect will be cherished and remembered for the year to come, from the food to the atmosphere and the setting. Finding a restaurant that meets all criteria can be a challenge, but each of these ten restaurants has risen to it, combining stunning locations with delicious dishes, and celebratory surroundings.
Talea, Abu Dhabi
For a lavish Eid experience, head to Emirates Palace in Abu Dhabi. This awe-inspiring building has 114 domes, with the central dome 72.6m above ground, meticulously crafted with gold, mother of pearl and crystals, and contains 1,002 chandeliers, not to mention 100 hectares of gardens, all of which are guaranteed to make Eid feel special. Italian restaurant Talea will have an authentic sharing menu that ties into its ethos of serving up family-style cuisine, with highlights that include unctuous ravioli, burrata and ossobuco.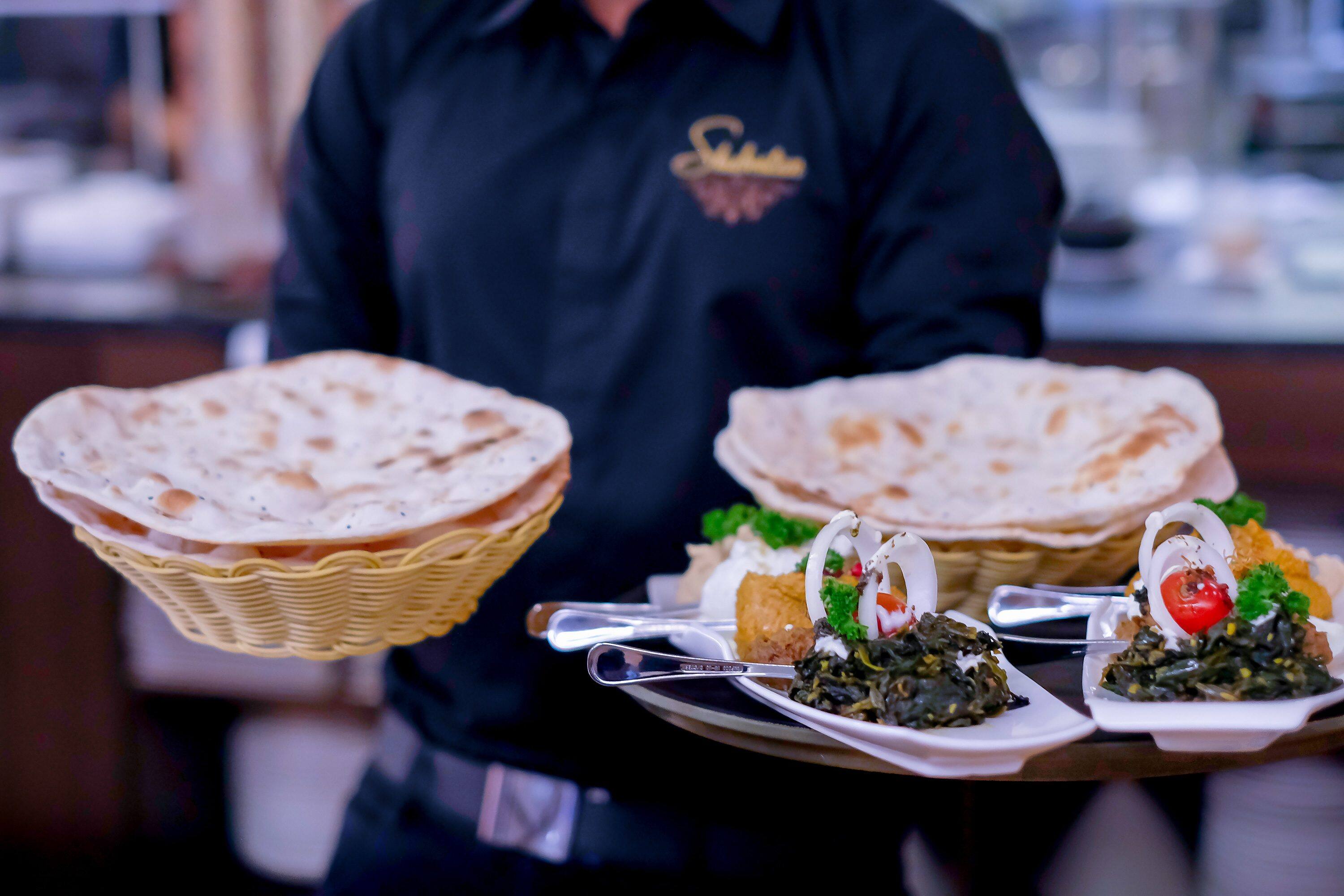 Shabestan, Singapore
Just a short taxi ride away from Mandarin Oriental, Singapore is Shabestan, an award-winning Persian restaurant. Located on the riverside at Robertson Quay, the restaurant is offering a spring sunset dinner, consisting of six courses, which runs until 2 May. Menu choices include shah pasand chicken, a special recipe from the Gulf of tender boneless chicken breast marinated in saffron and herbs, and kebab-e-mahi, red snapper charcoal-grilled in the chef's saffron sauce.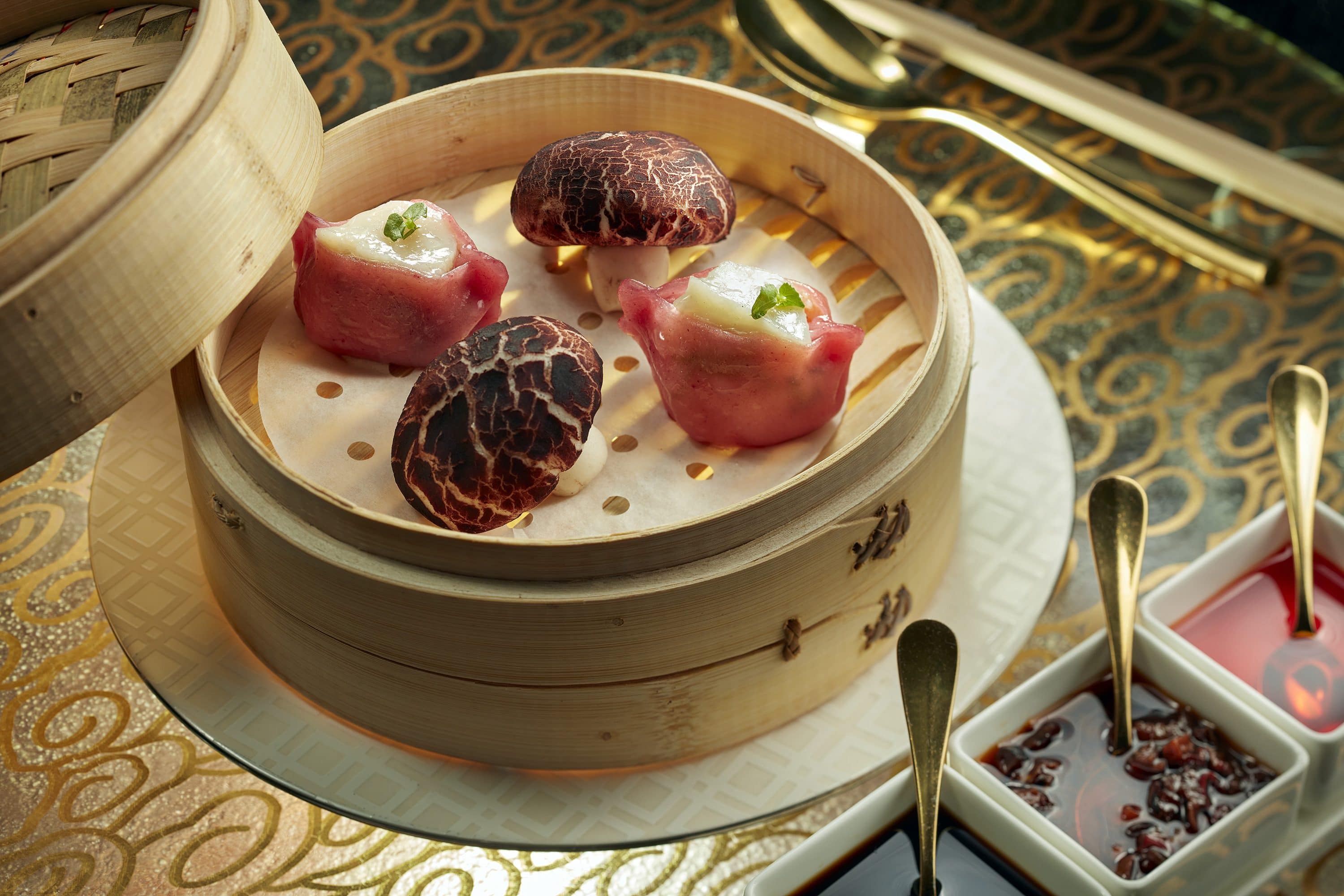 Liang, Doha
In Chinese, the word liang translates to the beam of light reflected by the moon, making Liang at the Mandarin Oriental, Doha a symbolically perfect place to celebrate Eid. The restaurant serves authentic Chinese cuisine, overseen by executive chef Thomas Fong Chin Fan. Menu highlights include signature Wagyu beef short ribs braised with Sichuan chilli, Kung Pao tiger prawns in a sweet chilli sauce and wok-fried spicy chicken. Follow dinner with a visit to The Mandarin Cake Shop at the hotel, which has a signature cake for Ramadan and Eid – a rich blueberry mousse, mango and passion fruit curd, wild blueberry and vanilla sponge – and features a distinct design inspired by Qatari heritage.
Haandi, London
Haandi first opened in East Africa in 1991, and its London branch is located less than ten minutes' walk from Mandarin Oriental Hyde Park, London. Top menu picks include Haandi's chicken makhini, tandoor-roasted boneless chicken in a rich tomato-based gravy, and mango kulfi, while the restaurant's glass-fronted kitchens mean diners can watch dishes being cooked to order. Whether this adds to the anticipation or makes it harder to wait for your food to be ready, we couldn't say…
Kyoto, Madina, Saudi Arabia
Any Muslim – however practising – would be hard pressed to find a more spectacular and spiritual view for an Eid meal than the one offered of the Al-Masjid an-Nabawi, also known as The Prophet's Mosque, by Kyoto. The Japanese eatery at The Oberoi, Madina, is the city's first ever Japanese restaurant and Kyoto is running a Japanese festival menu, available over Eid, which includes gorgeous teppanyaki dishes and moreish tempura salads. For those who want to push the boat out or are part of a big group, Kyoto also offers a private dining room attended by your own personal chef.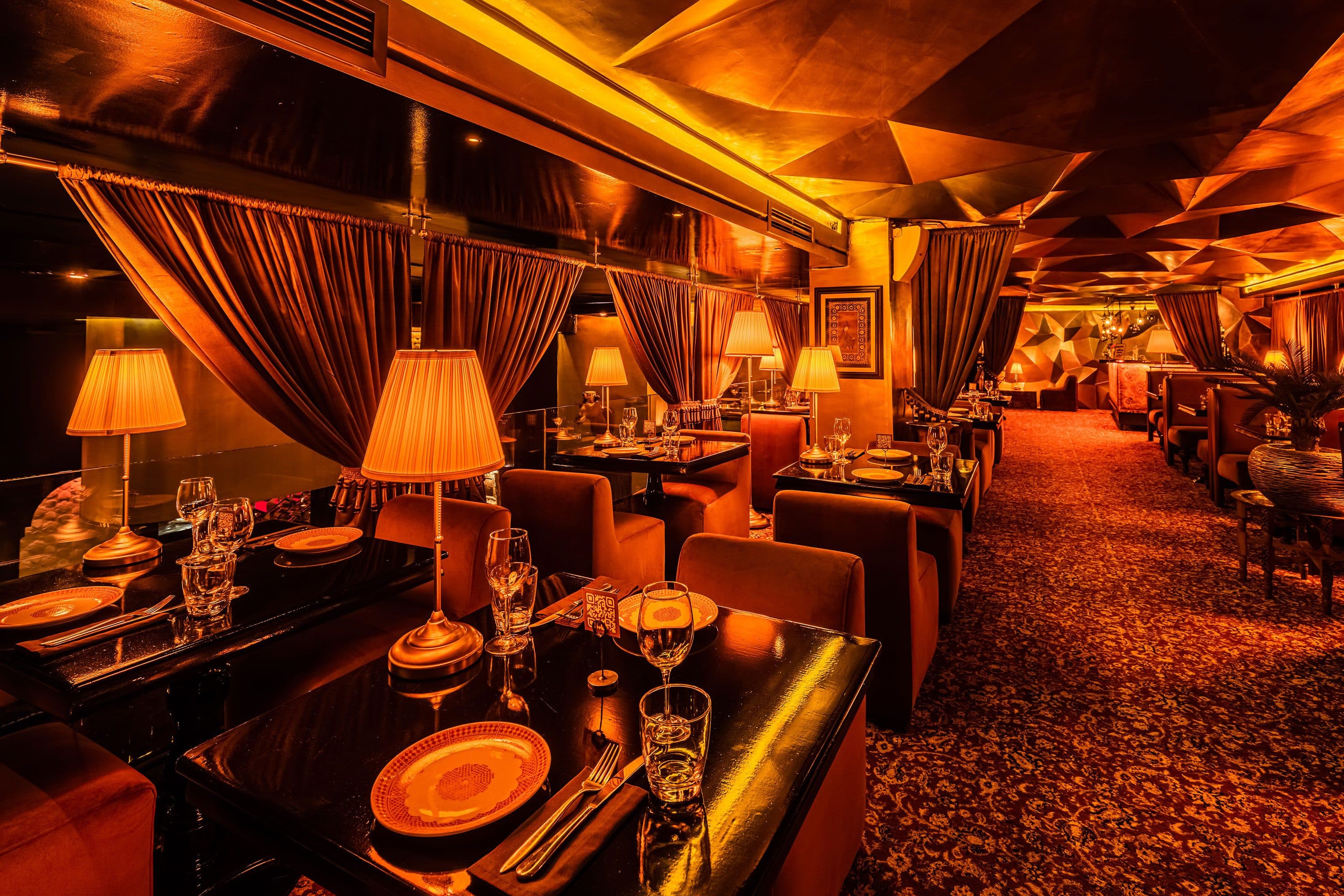 Azar, Marrakech, Morocco
Slightly hidden away down a small street, Azar is worth searching out. It offers Levantine, Moroccan and Mediterranean cuisine, with everything from a roll of browned sheep's cheese and warm bread fresh out of the oven, to spit-roasted shawarma. All vegetables are organic and grown in Ourika, just outside of Marrakech, and its tagines are slow cooked in earthenware pots, which the restaurant is famous for. Not far from Mandarin Oriental, Marrakech, visit it on a weekend for live music, or earlier in the week for a quieter family meal.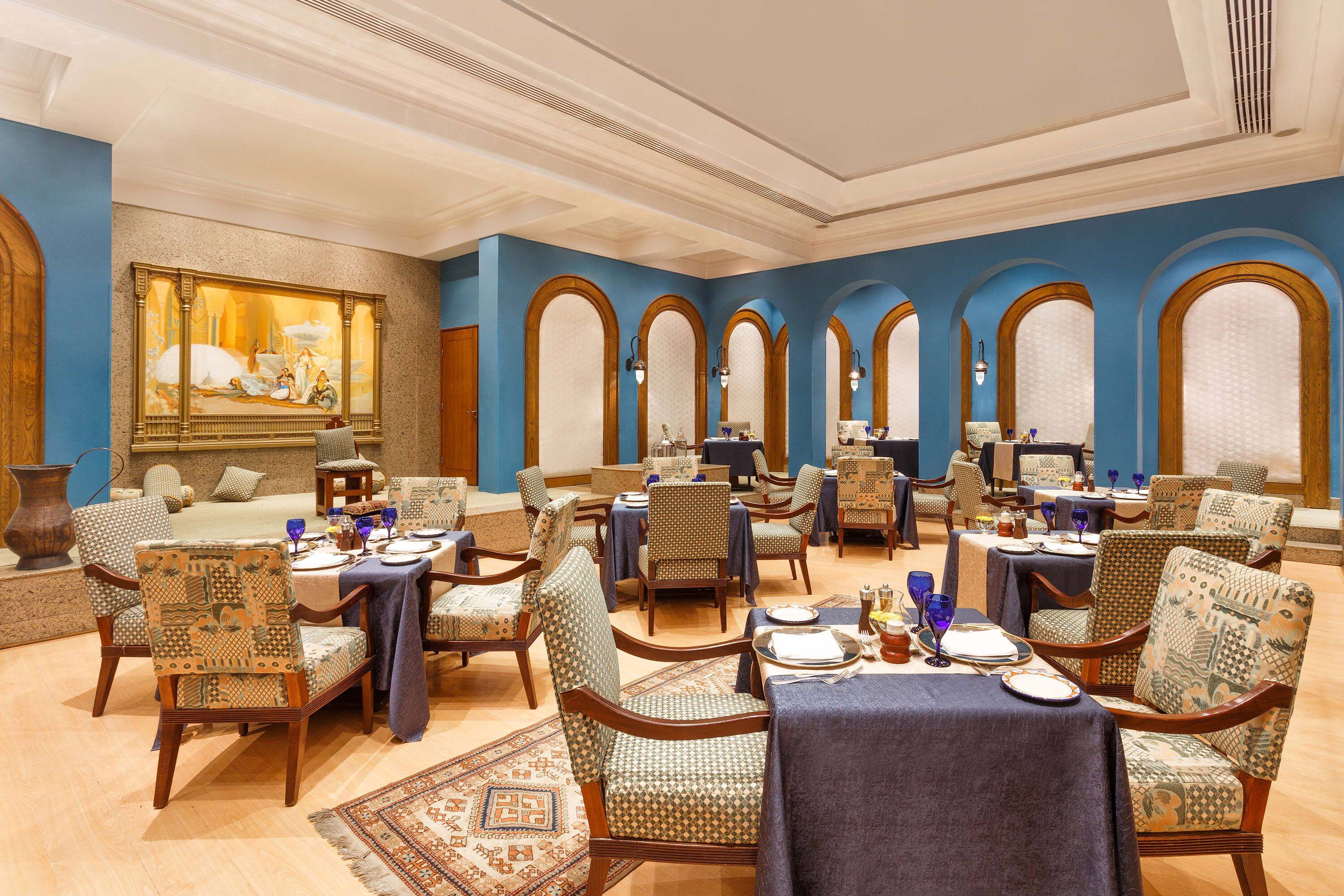 Zaafran, Sahl Hasheesh, Egypt
Follow up a day at the beach with a visit to Zaafran at The Oberoi Beach Resort, Sahl Hasheesh, Egypt. Sure to satisfy hungry appetites and soothe everyone after hours in the sun, Zaafran serves authentic Indian cuisine at candlelit tables, under a silver leaf ceiling dotted with tiny spotlights that glitter like stars.
Les Grands Enfants, Paris, France
One of the most famous halal restaurants in Paris and a 30-minute drive from Mandarin Oriental, Paris, Les Grands Enfants provides a rare chance for people following halal diets to try top-notch French cuisine, serving up dishes such as duck breast, foie gras and beef tenderloin. There is also a range of non-alcoholic cocktails on offer, from the delightful Eternal Diamond (banana, coconut milk, guava and strawberry syrup) to classics such as the mojito (available in its standard lime and mint, or in raspberry, apple or coconut flavours).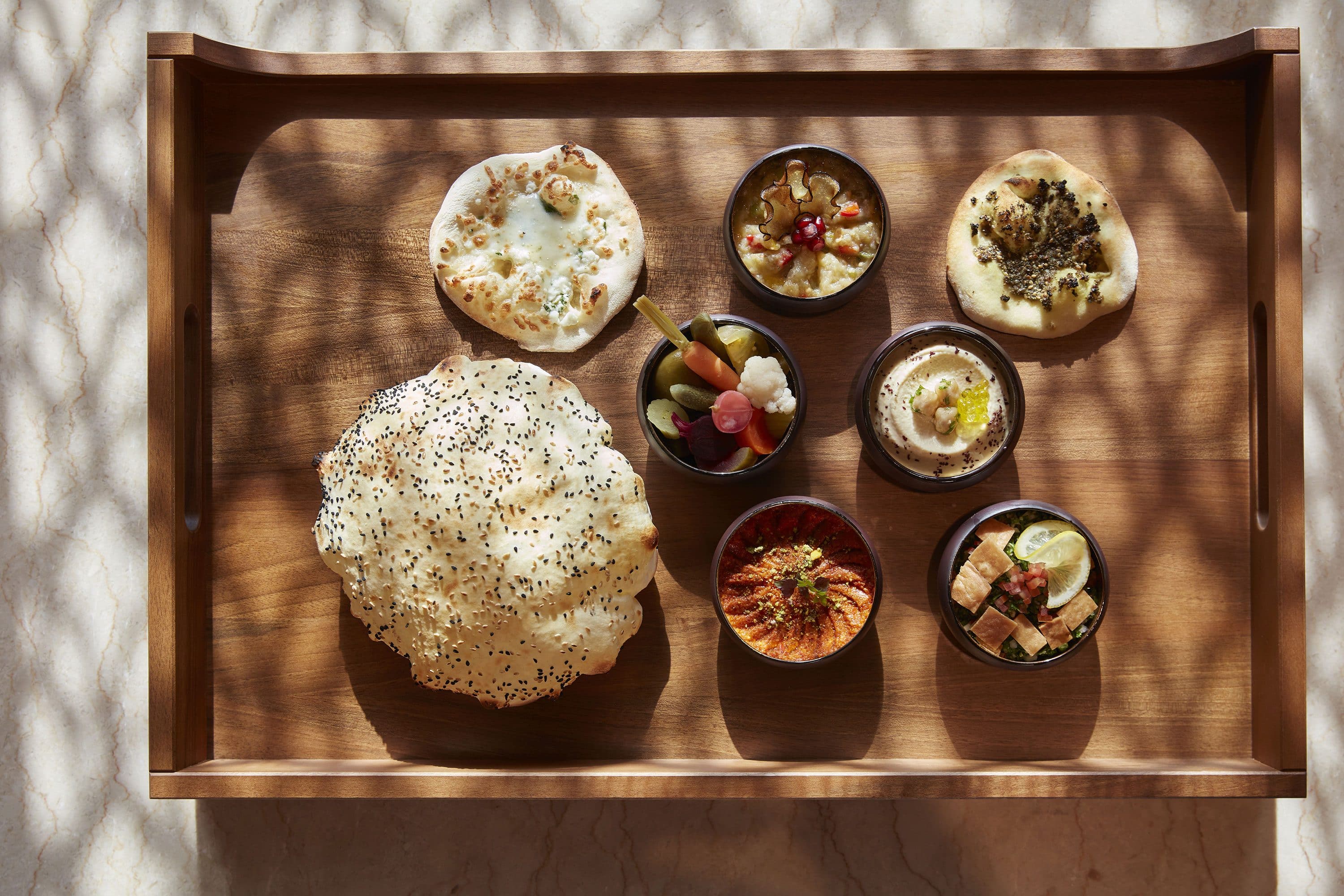 Mosaic, Kuala Lumpur
Combining delights from the Middle East with Malaysia's signature dishes is the Selera Malaysia dan Timur Tengah buka puasa buffet at the Mandarin Oriental, Kuala Lumpur. Guest chef Amjad Karkazan, along with sous chef Nor Saiful, has put together a menu that combines dishes from both cultures, running at Mosaic and Lounge until 2 May. After (or before) eating, take a stroll through the hotel grounds to take in the decorations of Arabic motifs, along with a magnificent Islamic arch at the entrance of Lounge on the Park.
Al Beiruti, Dubai
Al Beiruti, located on Sheikh Zayed Road just a short taxi ride away from Mandarin Oriental Jumeirah, Dubai, brings a little taste of Beirut to Dubai. It's a combination of restaurant and café – a staple of the Lebanese dining scene. The restaurant is ideal for a daytime family meal, but you won't want to miss the games of tawlé (backgammon) played here in the afternoon. Either way, the bright and clean layout of the restaurant is welcoming, as are the chefs who prepare food in full view of the diners.