Singapore
Six cocktails to sip in Singapore
Strangers won't feel lost MO BAR at Mandarin Oriental, Singapore, Bar Manager Michele Mariotti has channelled Singapore's multicultural mix into a menu where each drink is a stop on a fictional journey around the Pacific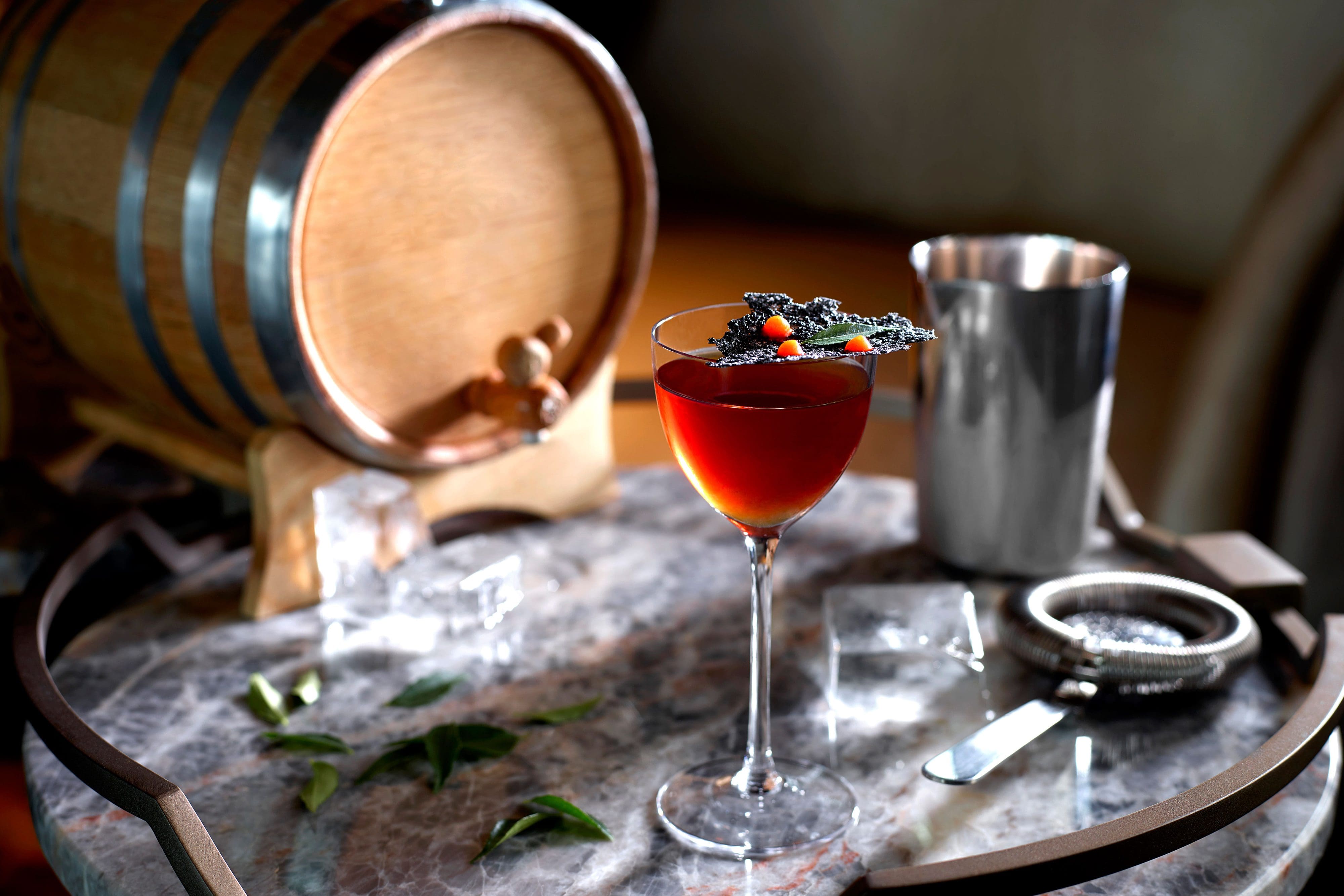 Rough Waters by the Coral Sea
Best time to drink? Before dinner – the saltiness gets the appetite going
The inspiration: Coral reefs and the classic Manhattan
"Imagine you're trapped on an old-school sailing ship in a storm, and all there is to do is open the casks of your cargo and drink them. That's what this is like," Mariotti explains. Featuring cognac, vermouth and bitters, the full cocktail (pictured above) is made and then aged in two separate American Oak barrels – one of which has been soaked in salt to help speed up the process – for 24 hours. The result is a crisp drink with a beautiful minerality, served in a small coupe.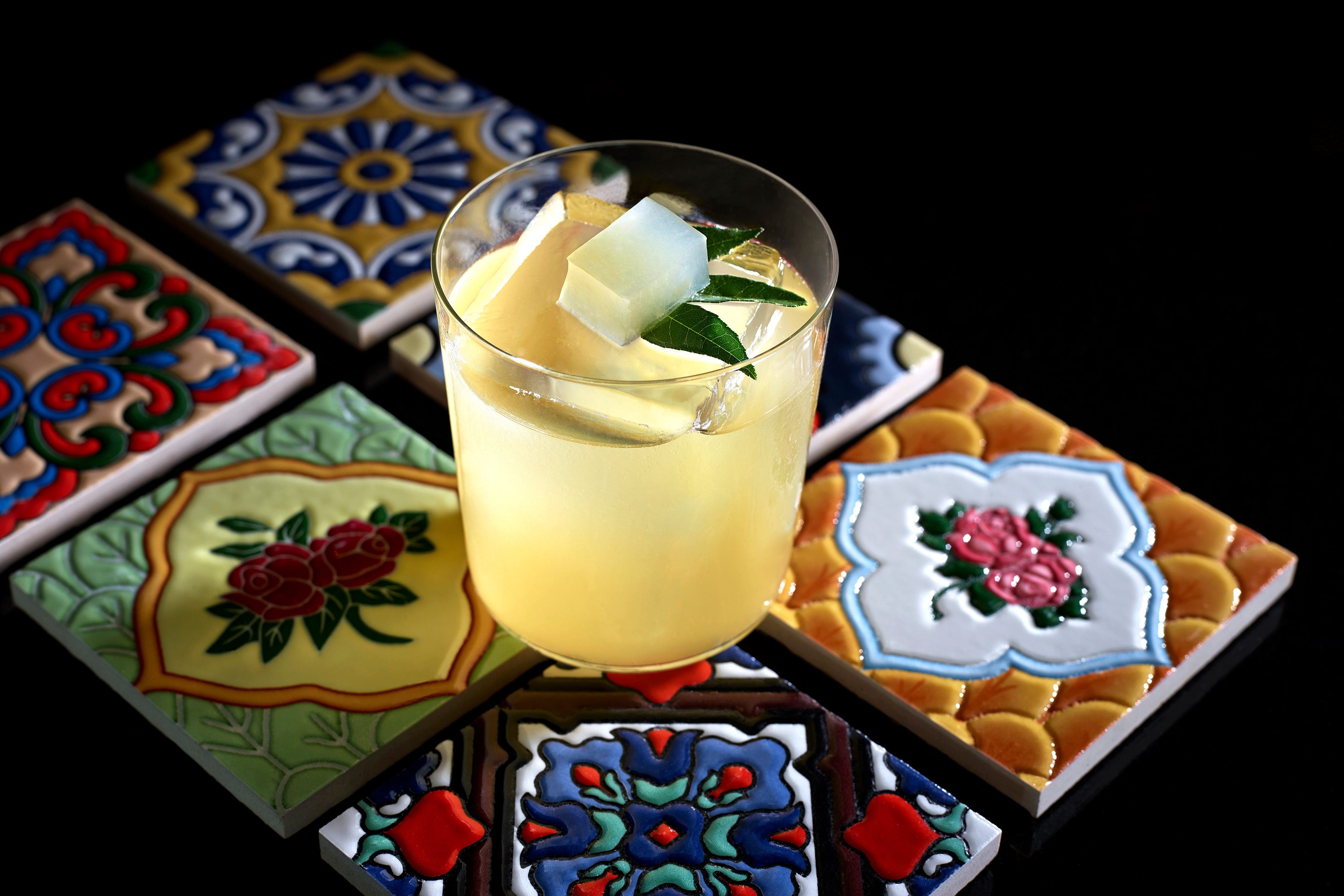 The Roaring City
Best time to drink? As a midweek refresher
The inspiration: Singapore's multicultural community
The whole world comes to Singapore and is here in one glass. Vermouth from Italy, sparkling wine, a Mexican drink called tepache, which is made from the fermented centres of pineapples, and Asian spices come together to make this punchy low ABV thirst quencher (pictured above). Strained and poured over a single large cube of ice, and garnished with a curry leaf and pineapple jelly, "it's a wealth of flavour in a light, fresh glass of bubbles", says Mariotti.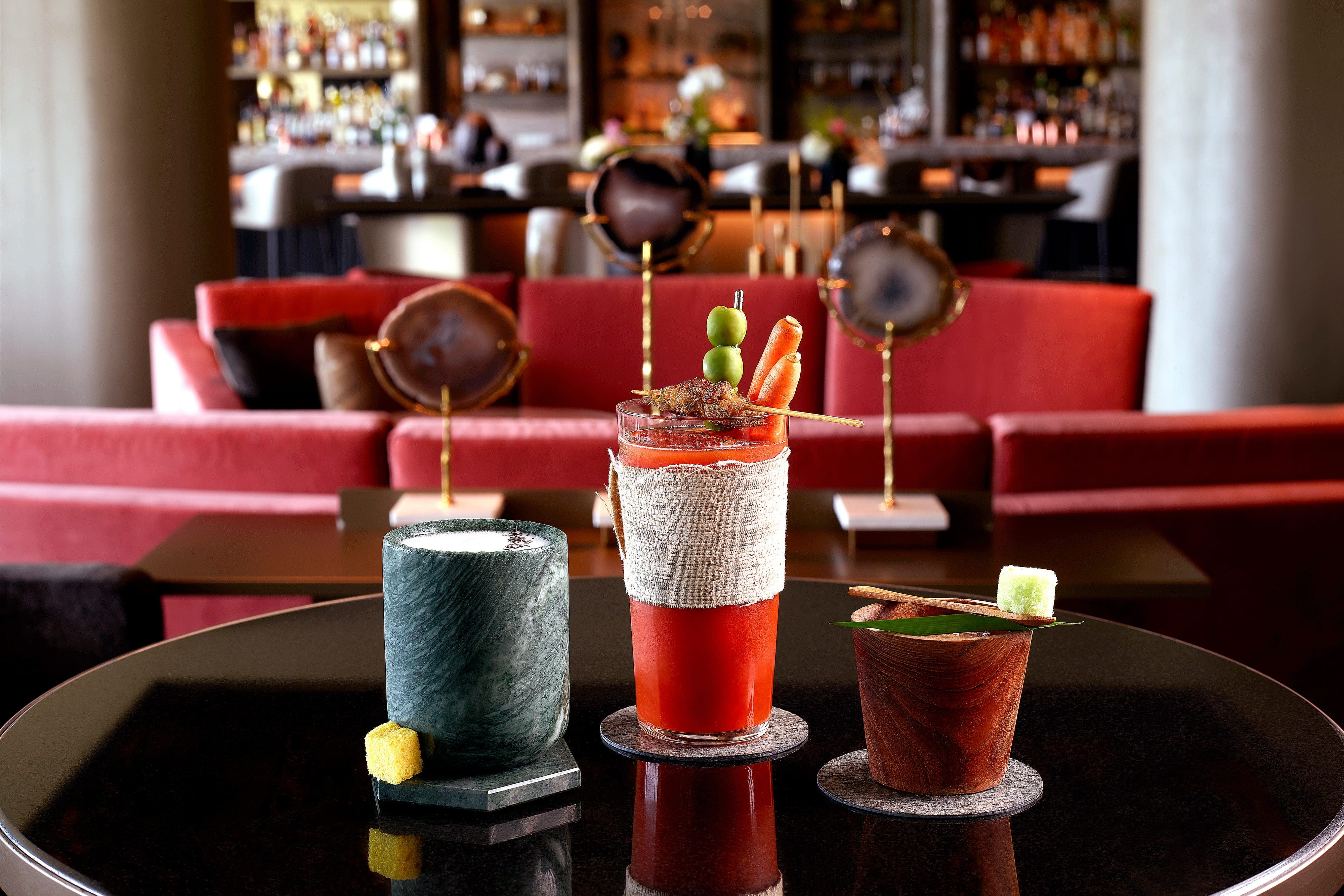 Tea Time
Best time to drink? For afternoon tea
The inspiration: Tea ceremonies and the whisky sour
There's no skipping on the ceremony here. A marble glass on a marble coaster, gives this drink (pictured above) real presence. "It's a whisky sour in its DNA, but the base is split between bourbon and arrack distilled from the sap of coconut trees," explains Mariotti. "Added to that is black tea, citrus, and a syrup made from roasted cashews to give the drink a beautiful creaminess." With a touch of egg white, the whole thing is blended and whipped together, and served with a small cube of cake on the side.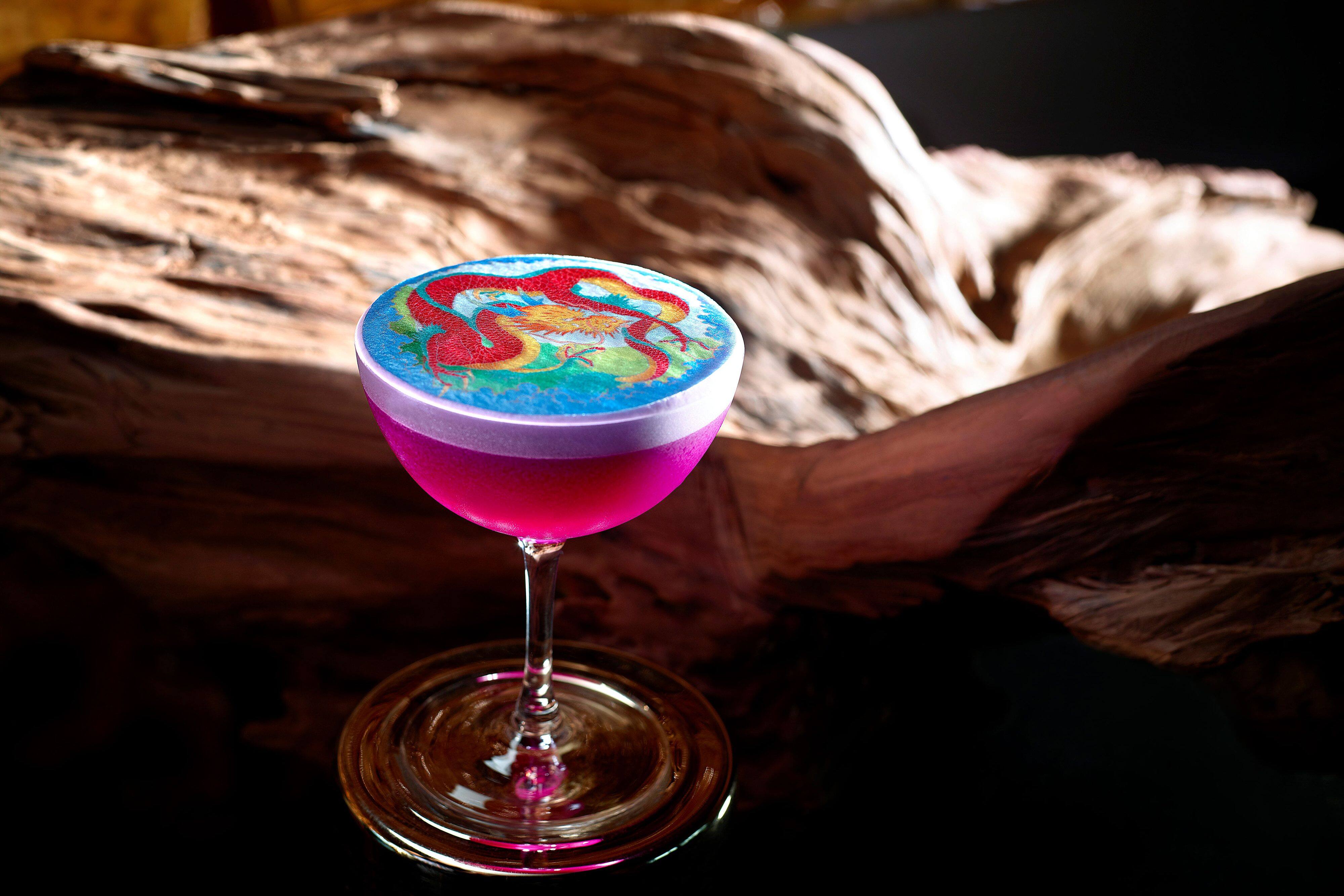 Mother of Dragons
Best time to drink? When you want some attention, with brunch – or both
The inspiration: The ancient dragons of Vietnam's Ha Long Bay
"When we make one, we make a thousand," Mariotti says of his eye-catching purple creation (pictured above). It's inspired by the legend of Ha Long, where a group of dragons, tired of warring local factions, intervened with mankind and flew in to stop the fighting, and their mother made it her home. The striking colour comes from cachaça-infused dragon fruit juice, mixed with aloe vera and a bit of citrus to make it a sour. It's a fruity concoction decorated with a dragon design made from edible paper.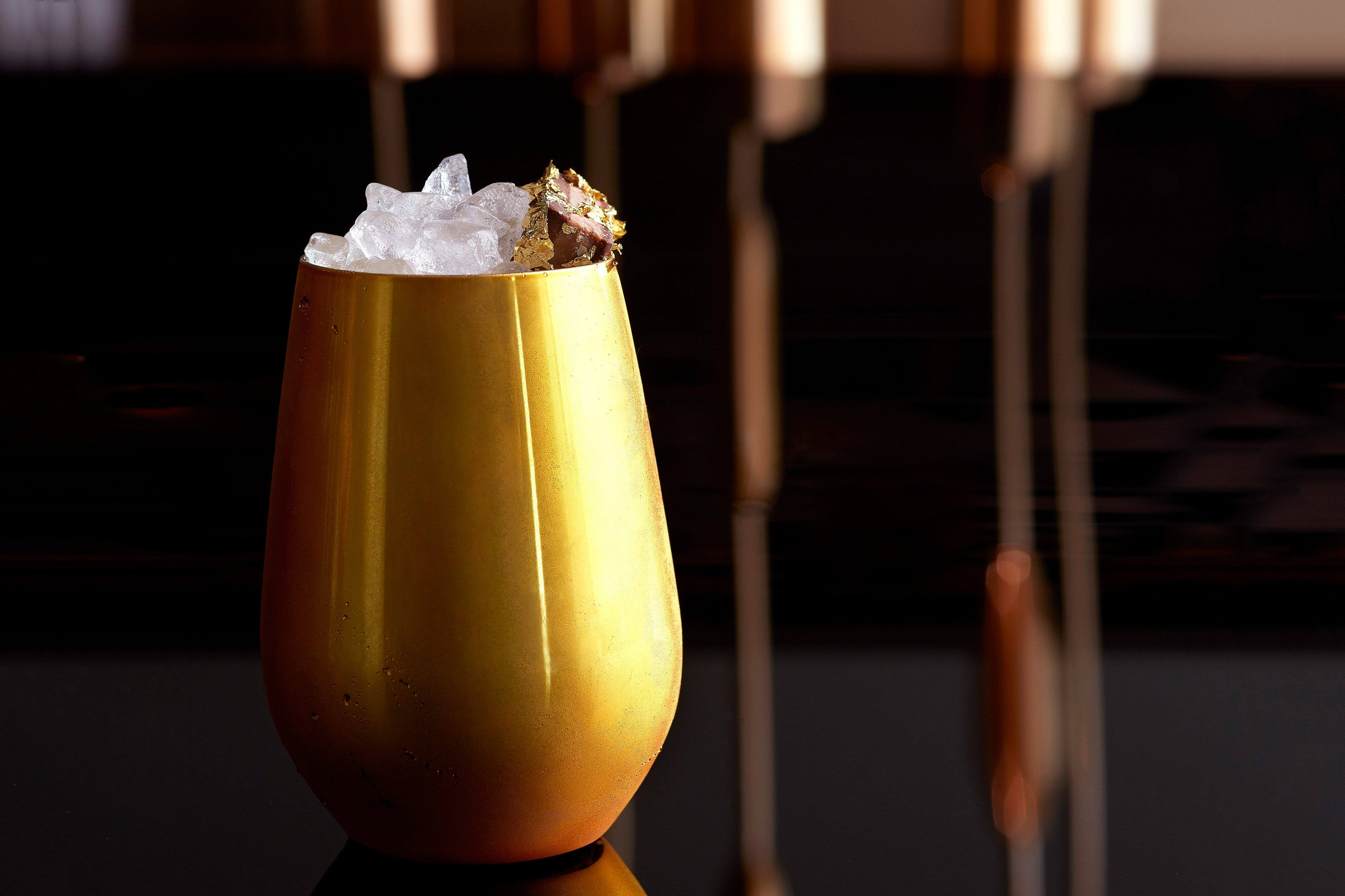 Borocay Bling
Best time to drink? When you want to be top dog
The inspiration: White tropical sands and the mint julep
With gin infused with mint and with branca menthe – a minted version of Fernet Branca – the Borocay Bling (pictured above) is super fresh. A touch of pepper and chocolate take the edge off and will send your imagination to the dreamy white beaches of the Philippines. But it's the glass itself that turns heads – "it's gold plated, with a gold-wrapped chocolate. It's bling 2.0", says Mariotti.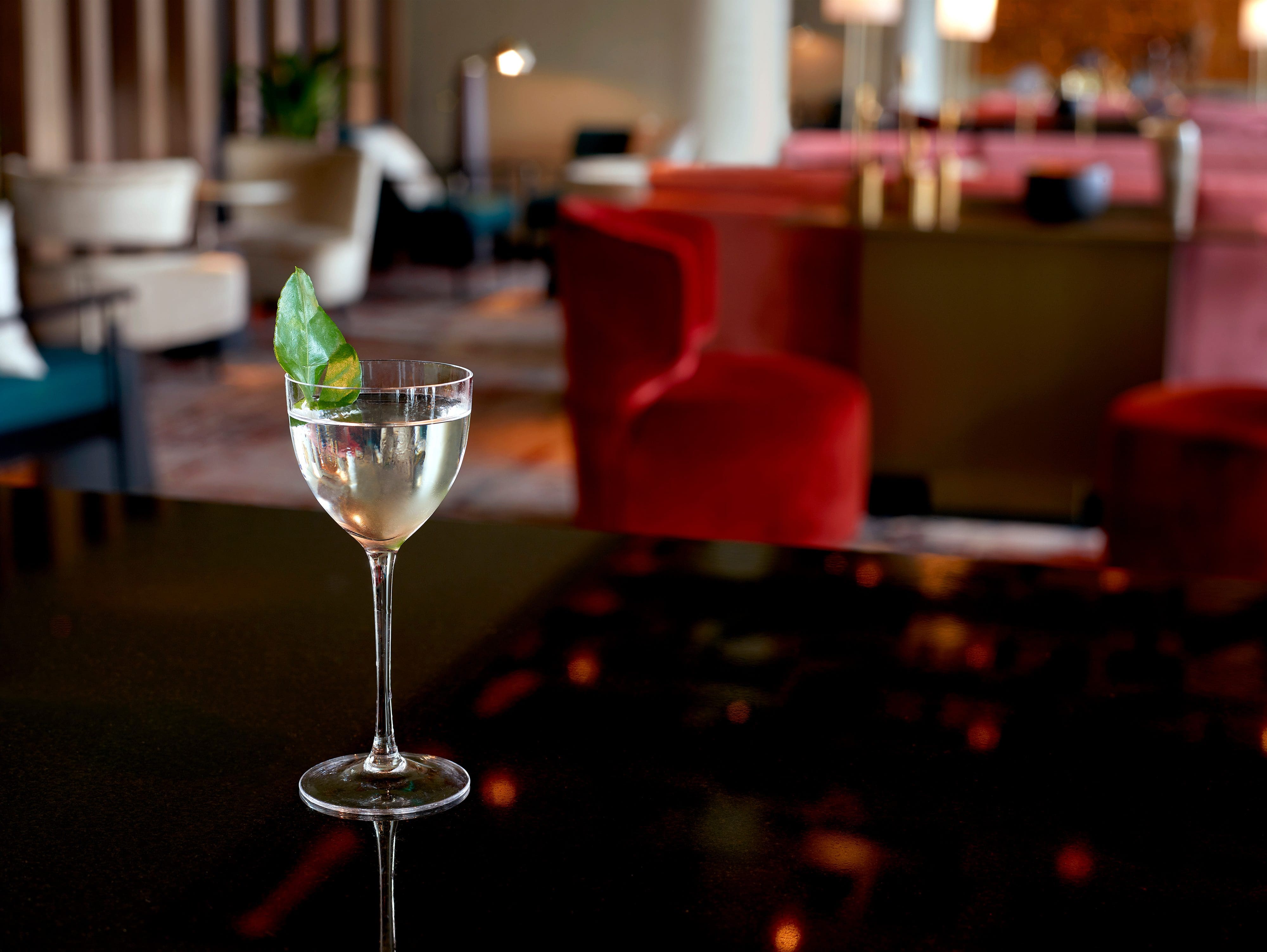 7000 Leagues Ahead
Best time to drink? During aperitivo hour, or when you're feeling all at sea
The inspiration: The Royal Navy and the gimlet
A life on the ocean blue needs gin, which Royal Navy ships had aplenty, giving this cocktail (pictured above) its base. Lime cordial protected sailors from scurvy, and in this version, it's made from the local kefir lime, with a dash of Angostura bitters, and served in a martini glass. "It's a simple and elegant drink," says Mariotti. "An uncomplicated answer for those moments when you're wondering where you are, where you're going, and what you should drink."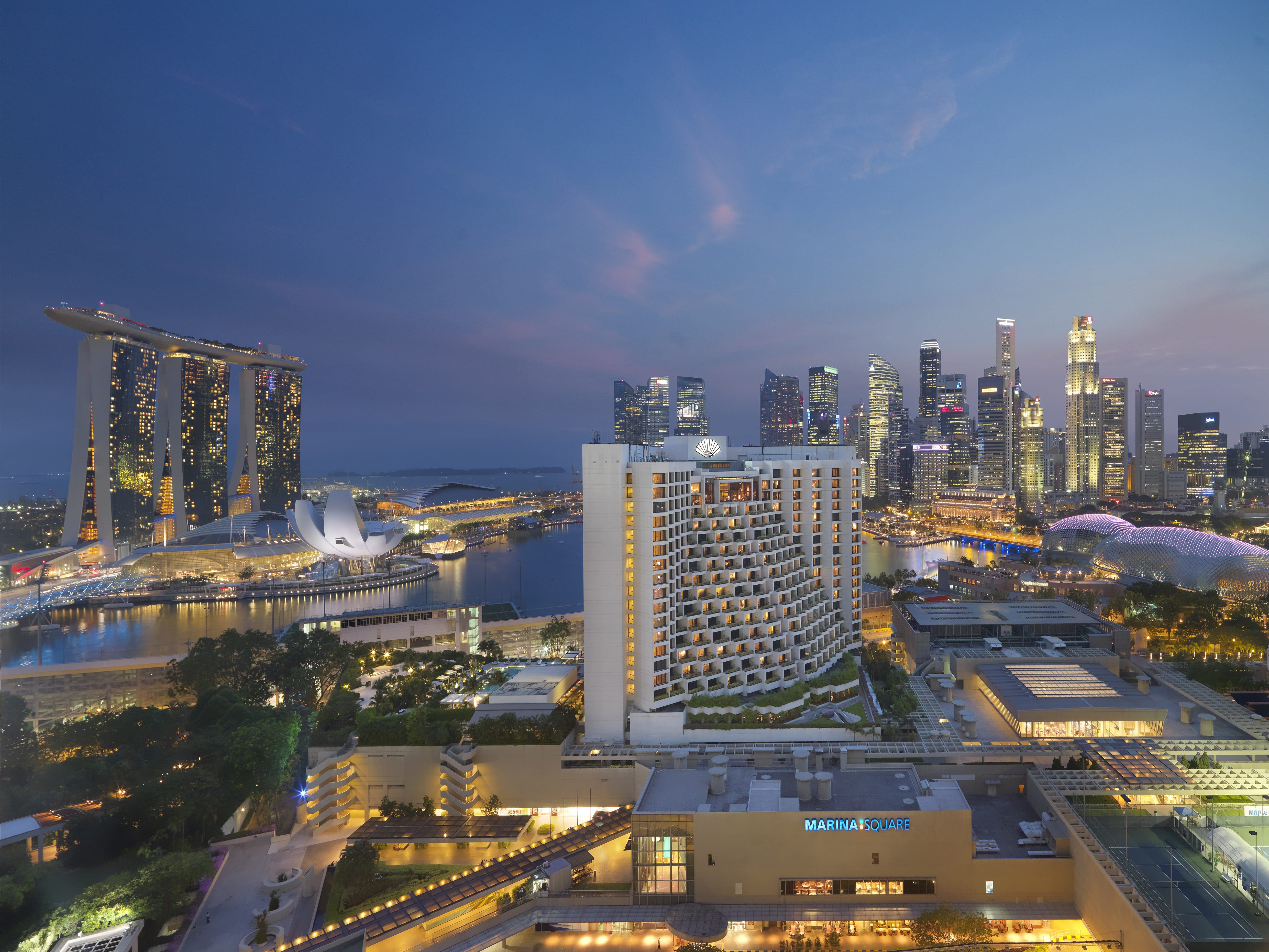 Come Stay with Us
Mandarin Oriental Singapore
5 Raffles Avenue , Singapore 039797, Singapore
+65 6338 0066