London
Mandarin Oriental Hyde Park, London's art collection
Fittingly for one of the world's great art cities, the considered collection of original art works at Mandarin Oriental Hyde Park, London is definitely a cut above the often maligned genre that is 'artwork in hotels'.  The varied artworks you'll encounter in the corridors and public-facing spaces here – from small art objects to large-scale photography – include a collection that was chosen specifically for the hotel by a team of curators. Here are just a few of the works to look out for the next time you're here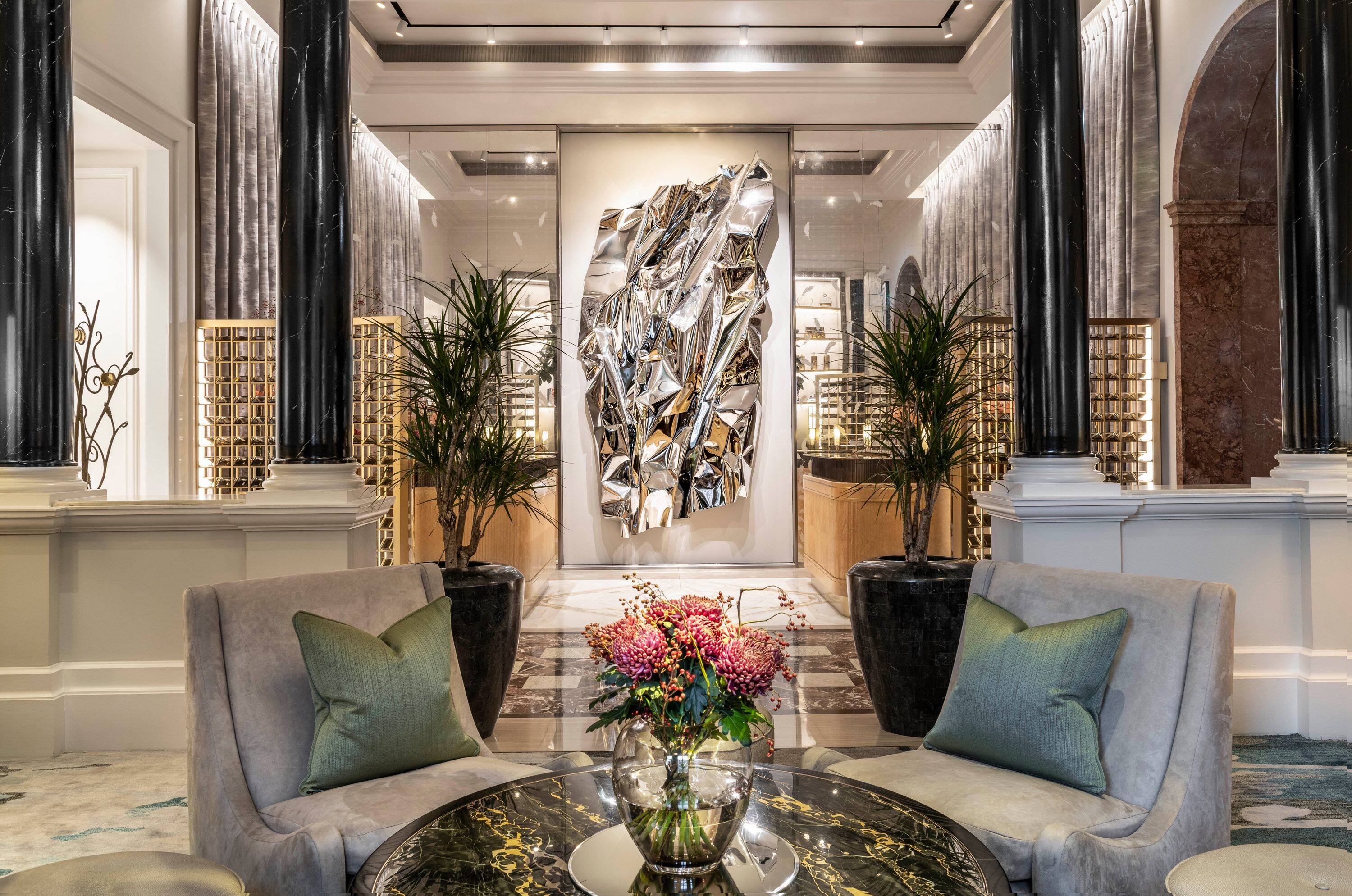 Hurricane Mirror by Fredrikson Stallard
A pleasingly scrunched-up piece of polished aluminium, Hurricane Mirror is the first artwork that many visitors to the hotel will encounter. The abstract work by London-based duo Fredrikson Stallard (the sculpture and furniture-making partnership of Patrik Fredrikson and Ian Stallard) is positioned close to the high-tea venue, the The Rosebery. Should you be getting fitted for a suit during your London trip, you can spot more work from the artists' 'Hurricane Silver' series in Savile Row tailor, Gieves & Hawkes.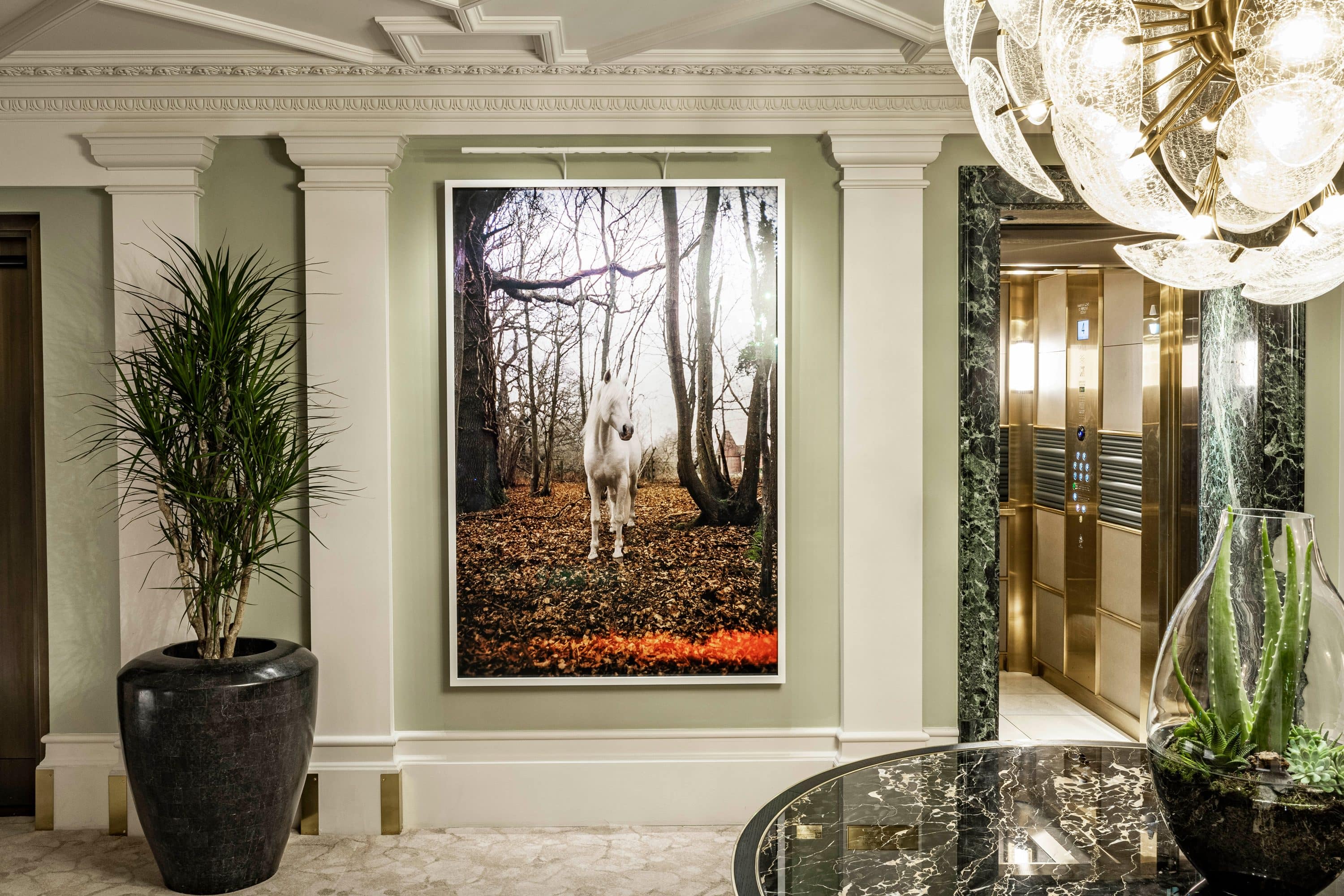 Decemberish by Mary McCartney
Horses roaming the  English countryside are a recurring motif in the photography of Mary McCartney, who seems to photograph them almost as often as she creates her intimate, warmly saturated portraits of public figures (including her own famous family). Decemberish, Sussex, 2017, is one of several of McCartney's equine photographs in the guest-room hallways. It makes sense to find her work here, of course; McCartney is the official portrait photographer of Mandarin Oriental's Celebrity Fans campaign, shooting the 'official' portraits of everyone from actor Rami Malek to champion golfer Adam Scott.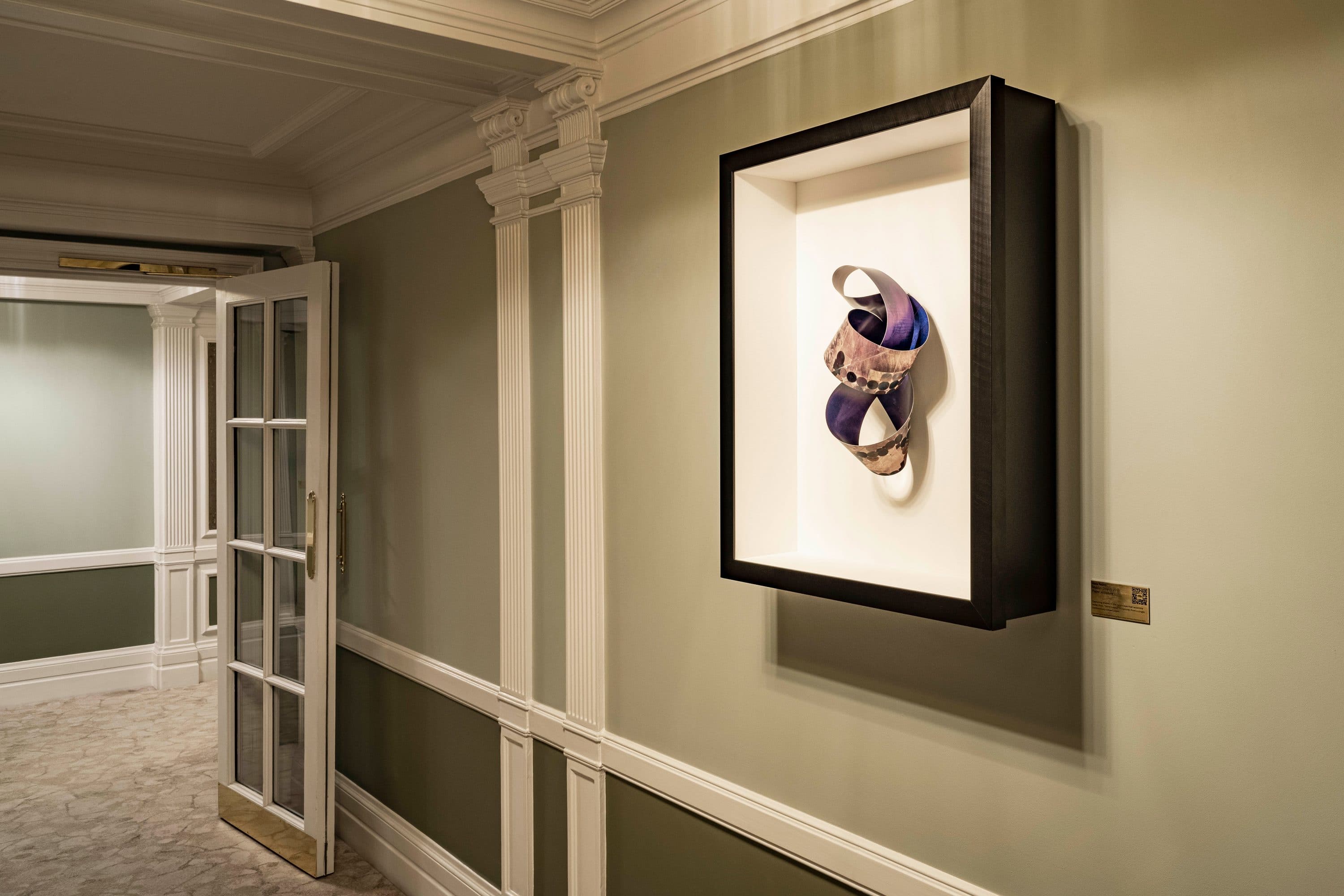 Mobius Strip by Aldo Torino
An Austrian artist, Aldo Tolino, is the creator of Mobius Strip, a work that takes the form of the hard-to-pin-down (literally) geometric form of the same name. His choice of shape references aspects of the construction of the Crystal Palace, the glass structure in which the Great Exhibition was staged in Hyde Park in 1851. Look closely at the artwork and you'll see satellite photography of the site where the Crystal Palace once stood.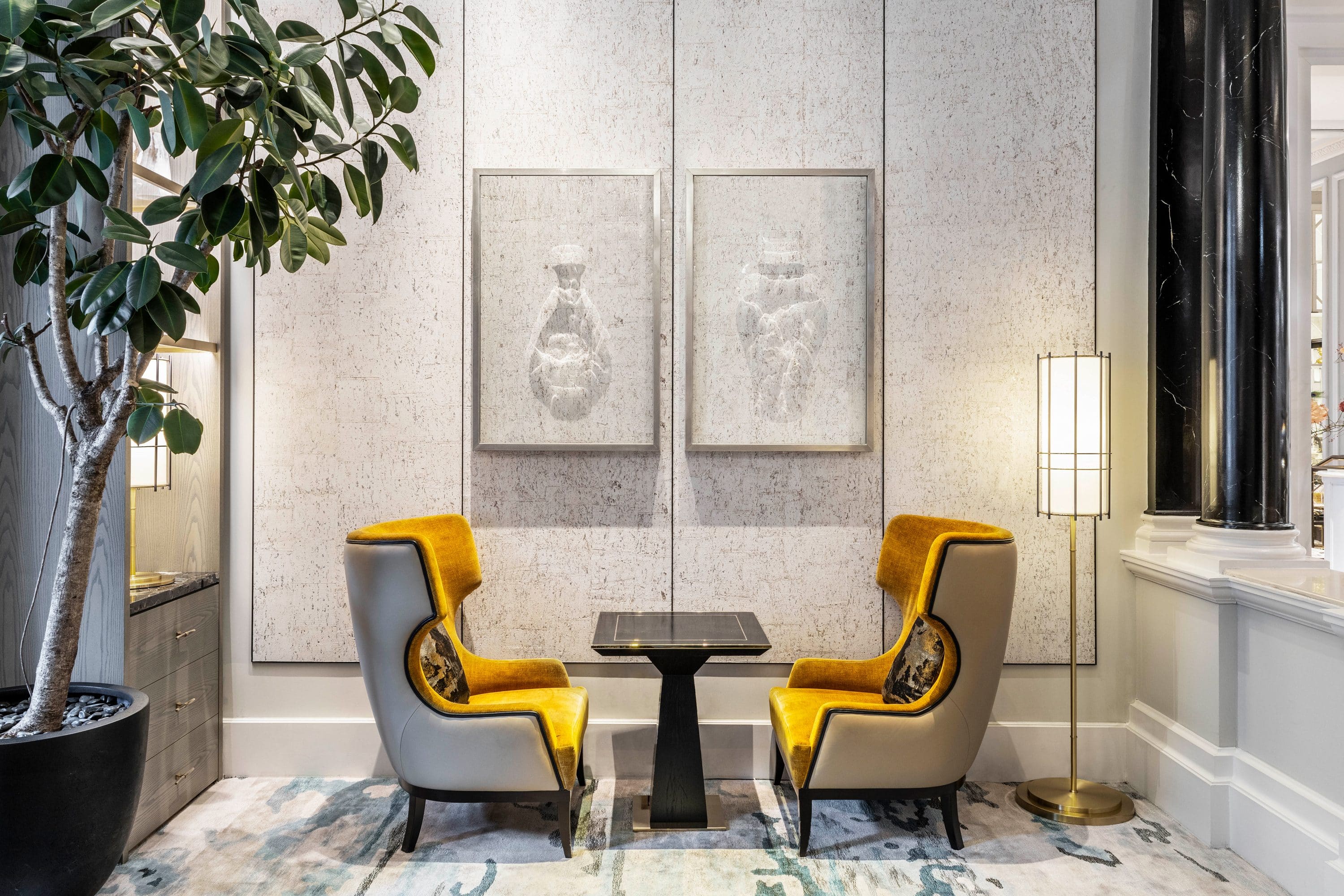 Bottle And Jar by Sang Min Lee
In the lobby, Sang Min Lee's carved glass sheets reference the shapes and figures of traditional Korean pottery. The carved shape is only visible when the piece is lit. The more light that bounces off the engraving, the more defined its silhouette becomes.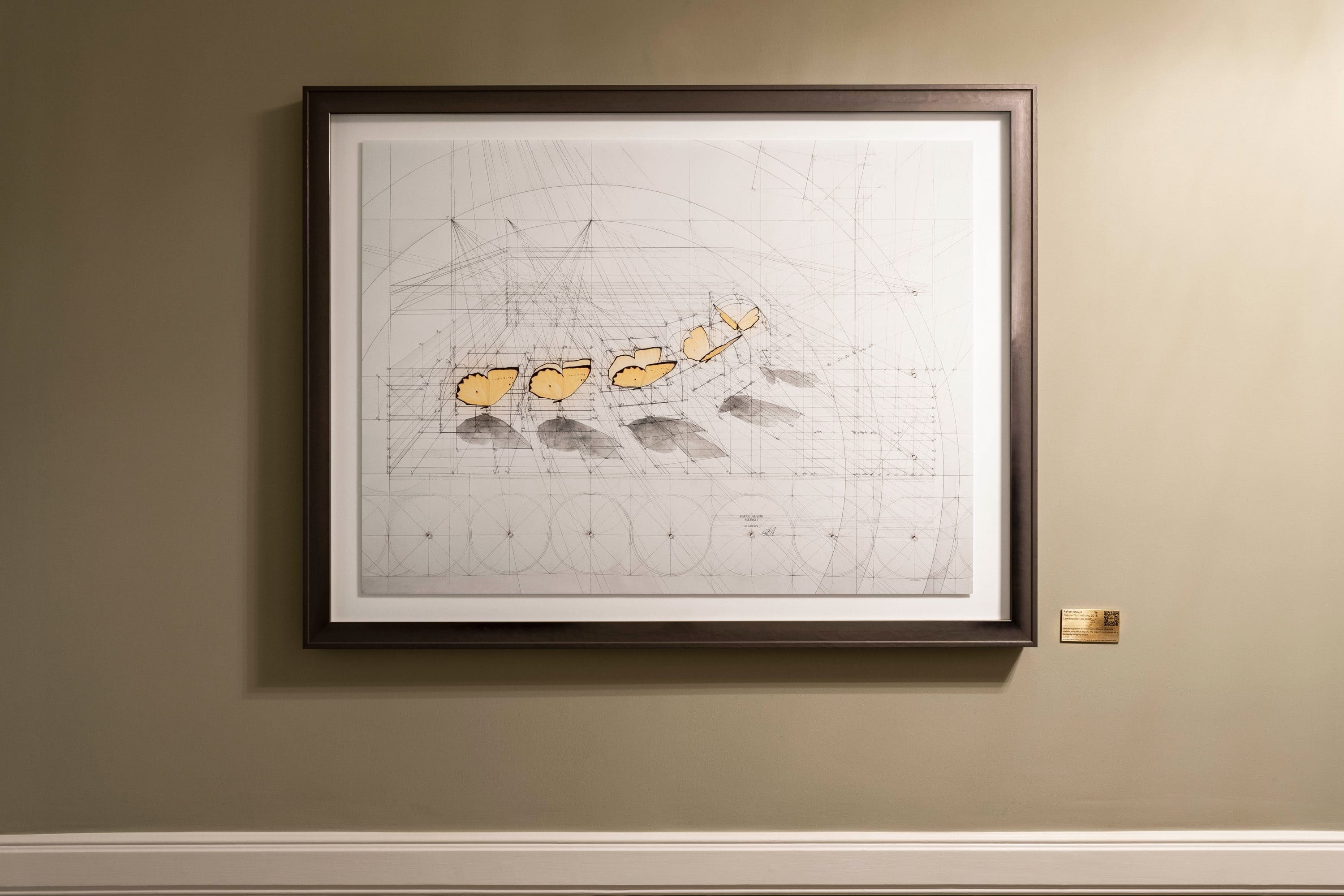 Triple Flat Helices by Rafael Araujo
Rafael Araujo is a draftsman who takes creative inspiration from naturally occurring mathematical patterns, from the Golden Ratio to the Fibonacci Spiral. He works chiefly in pencil, aided only by a schoolboy's toolkit of a protractor, compass and ruler. That's how he created this print, Triple Flat Helices, which makes visible the logarithmic spirals of butterflies' flight patterns. 
Come Stay with Us
Mandarin Oriental London
66 Knightsbridge , London SW1X 7LA, United Kingdom
+44 (0)20 7235 2000