Worldwide
The world's best urban gardens
From giant Victorian glasshouses to Thai courtyard jungles, these six urban oases will allow you to escape to nature, even in the heart of some of the world's largest cities
For urban biodiversity in action – Singapore Botanic Gardens
These days, Singapore might be more famous for its iconic Gardens by the Bay, where space-age glasshouses are set between towering 'supertree' structures clothed in living green, but, if you're looking to escape the crowds, hop in a cab to the city's old, colonial botanic gardens. Just 15 minutes from Mandarin Oriental, Singapore, this Unesco World Heritage Site is home to a mind-boggling selection of the world's tropical flora, with stunning canopy walks over forest-fringed lakes, and the most perfectly manicured orchid garden. Continually expanded as part of the country's 'City in a Garden' development plan, which now makes Singapore officially the most biodiverse city in the world, it's an amazing case study in the power of urban greening. Go in the morning to catch local seniors practising tai chi beneath centuries-old trees, grab breakfast from one of its many al fresco cafés and maybe catch a glimpse of a wild otter or hornbill.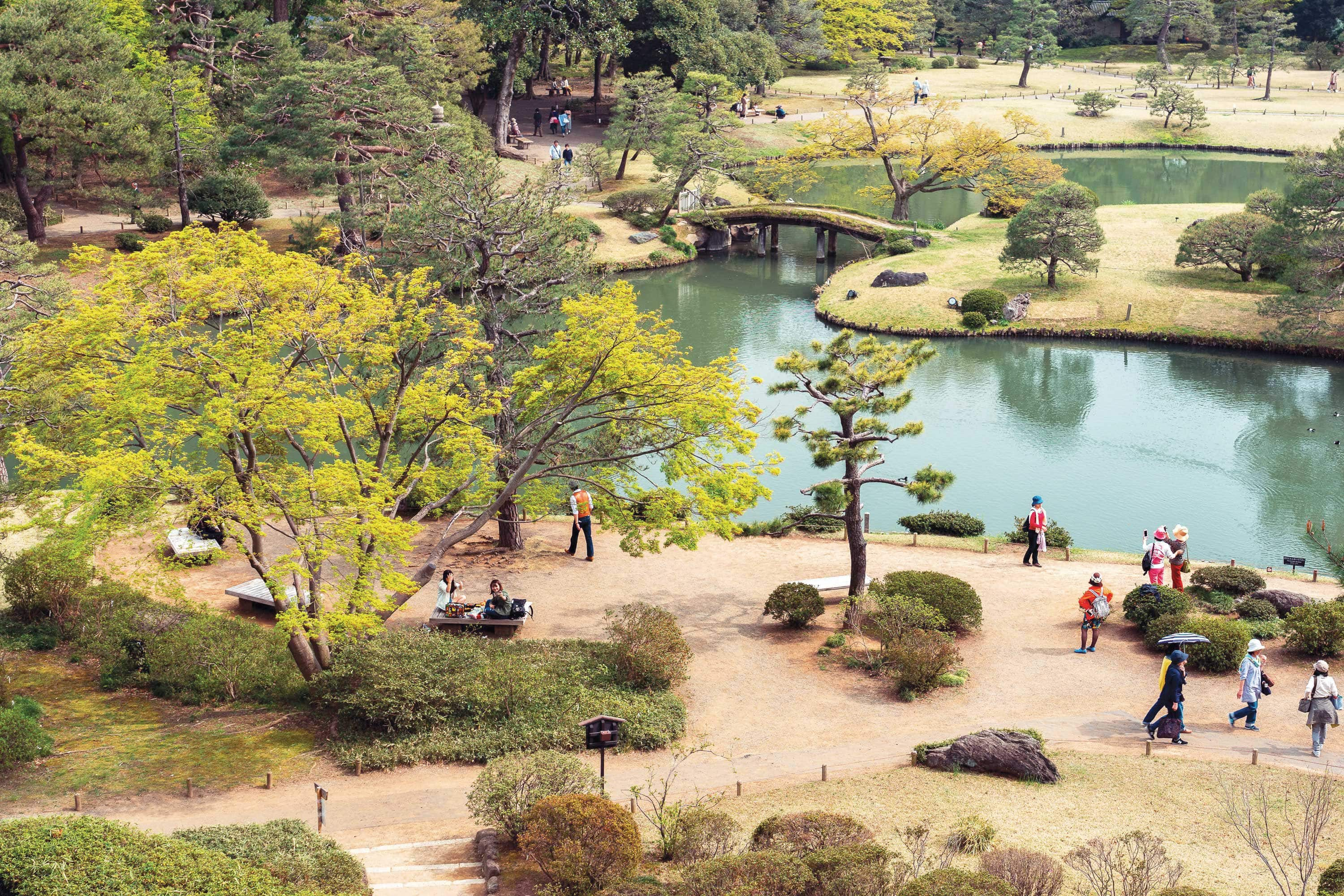 To learn about the art of Japanese living – Rikugien Gardens
Hidden behind great walls, Rikugien Gardens feels a world away from its location in the largest city on the planet. Built around 1700, it differs little from its original design, transporting the visitor back to the Edo period, when Japan had sealed itself off from the outside world. The garden consists of 88 zones, set around a sinuous central lake, each of which aims to bring to life scenes from traditional poems across woodlands and rolling hills. It was images of landscapes such as these on imported screens and ceramics that first caused Europeans to break from centuries of formal geometry and strict symmetry to embrace the naturalistic garden style we love today, marking an historic turning point in how the West viewed nature and our place in it. Take a trip as the garden flushes red and gold with autumn leaves, and you'll feel as if you've fallen into a fairy tale – and all just a 15-minute taxi ride away from Mandarin Oriental, Tokyo.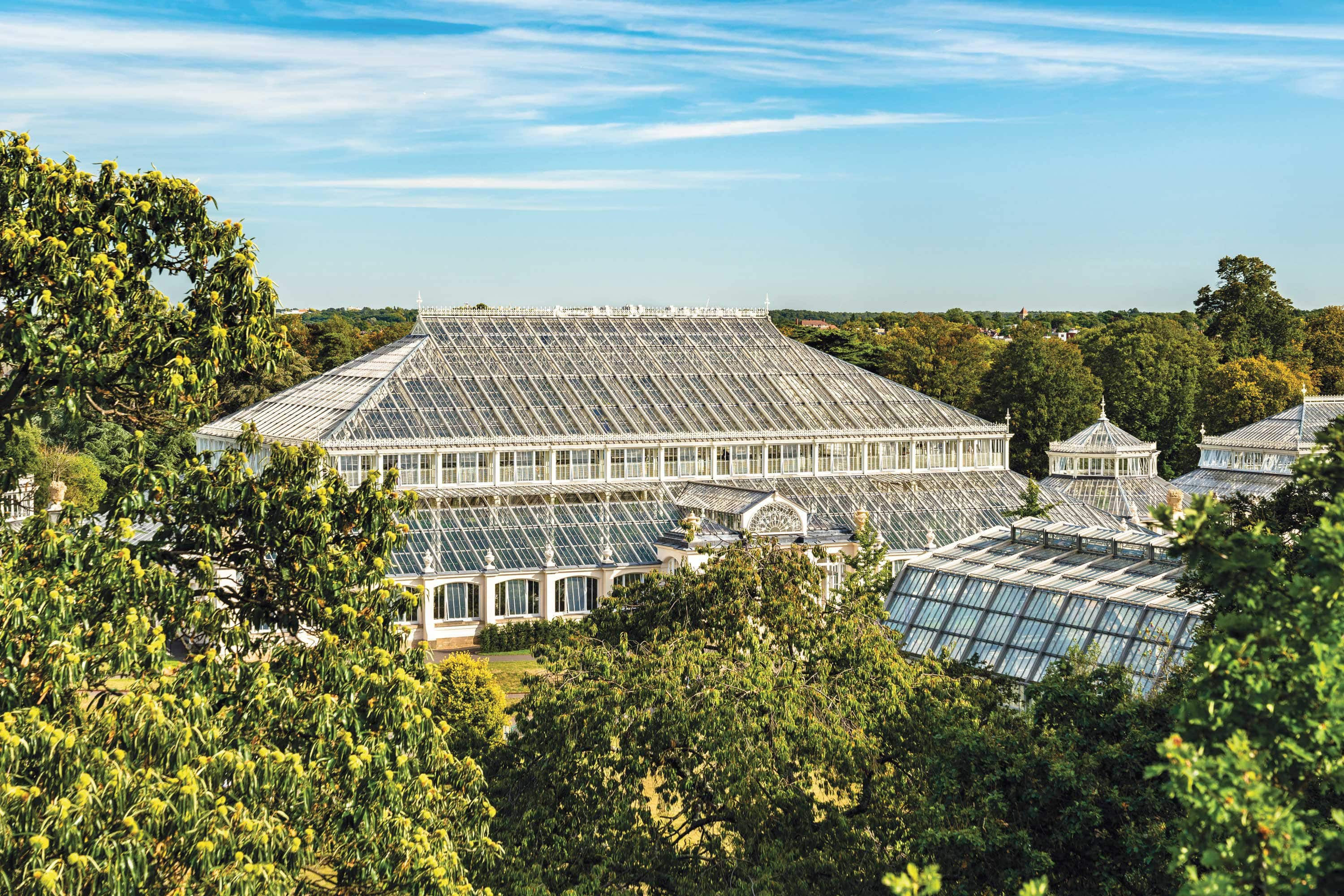 To marvel at Victorian ingenuity – Royal Botanic Gardens, Kew
Founded in an era when plants were appreciated not just for their aesthetics, but considered crucial industrial assets that were key to the rise and fall of civilisations, the research and collections at Kew Gardens have literally shaped the world as a we know it today. Set within acres of woodland with vast lawns and lakes in the western outskirts of London, Kew's Victorian glasshouses were engineering marvels, which stunned visitors with their first glimpses of tropical flora. Among the historic wonders, the magnificent palm house is home to the world's oldest indoor plant: a cycad collected in the 1700s from South Africa. It's all well worth the 45-minute Tube journey from the station outside Mandarin Oriental Hyde Park, London.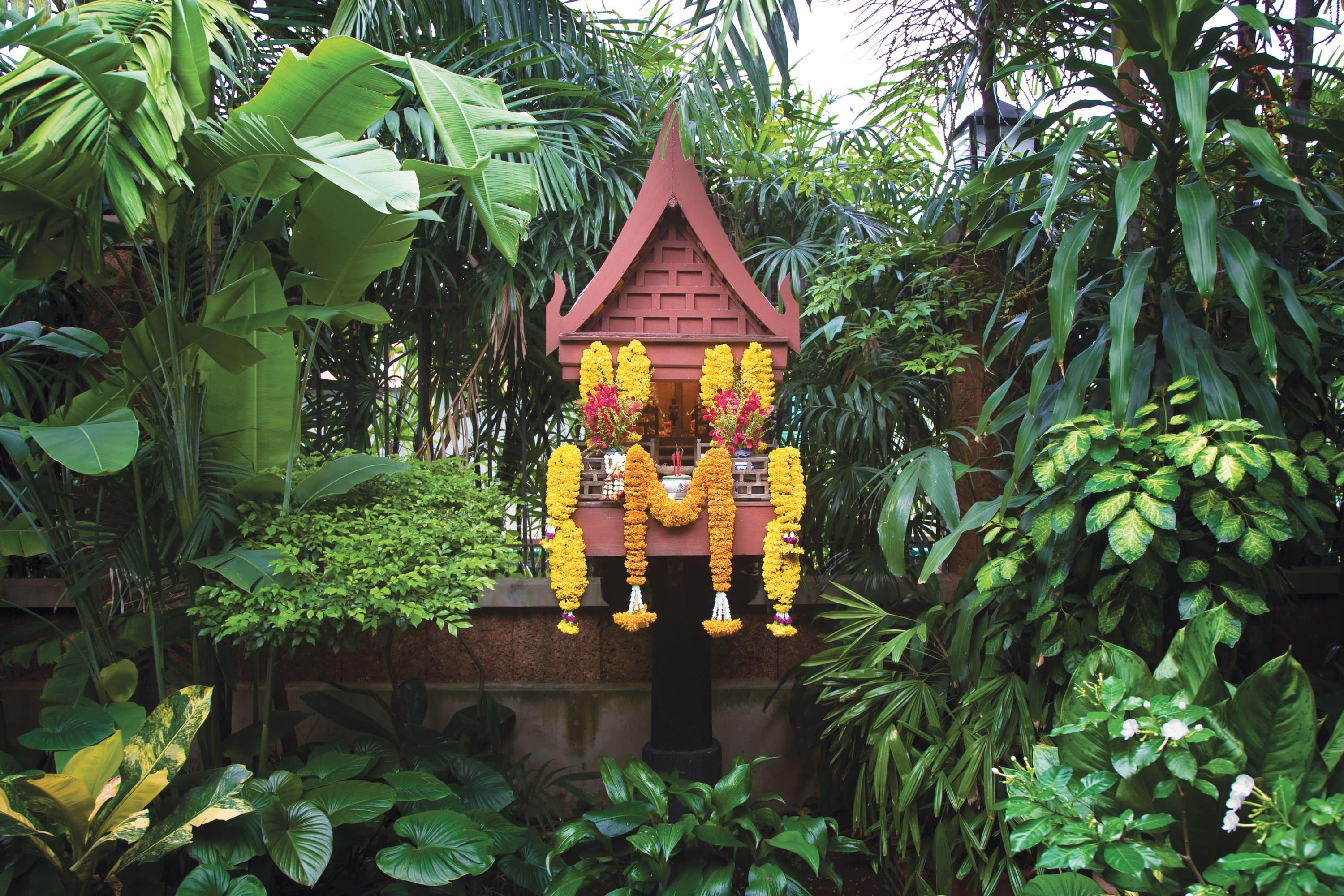 To see where gardens and art museums meet – Jim Thompson House
Most of the world's great gardens are sprawling, historical estates, which is what makes the tiny, canal-side garden of Jim Thompson House Museum in Bangkok, covering less than half an acre and built only in the 1950s, such a rare jewel. Created by the renowed American architect and entrepreneur to house his collection of Asian art, the museum is made up of six traditional timber, open-sided Thai houses that were collected from across the country, dismantled panel by panel and reassembled on site. In the shady courtyards and passageways between these historic buildings, the most spectacular gardens have been created, with densely packed foliage softening the stunning lines of the architecture, all reflected in tranquil lily ponds.
Perfectly blending the boundaries between inside and out, the verandas cleverly frame views of jungle leaves and exotic orchids as you walk barefoot surrounded by an exquisite art collection. It's a fun-filled 15-minute tuk-tuk ride to and from Mandarin Oriental, Bangkok, so, even if you have only an hour to spare, it's close enough for you to lose yourself in a wonderous walk.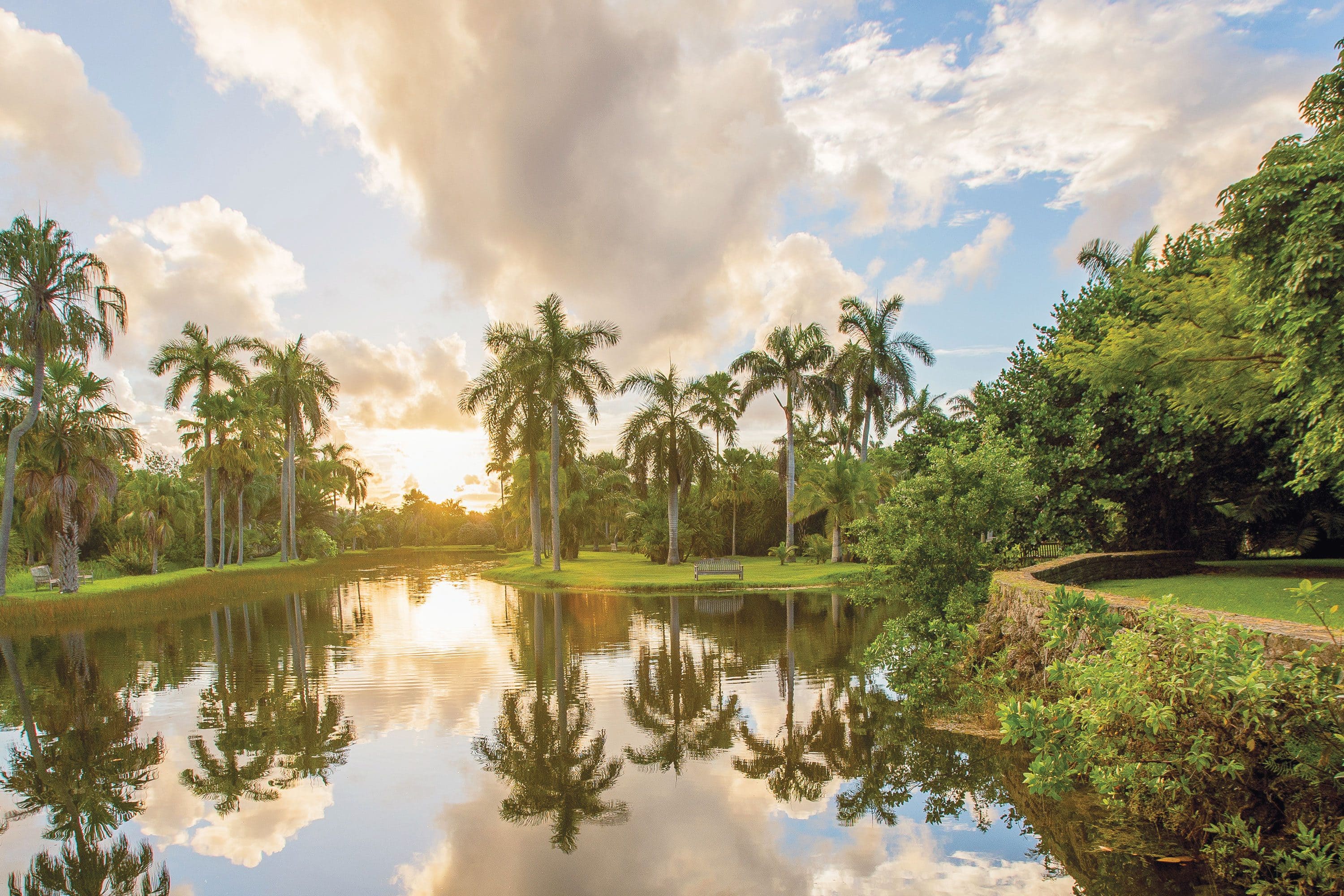 To see playful tropical informality – Fairchild Tropical Botanic Garden
It's fascinating how gardens can be such a barometer for the cultures that created them, and this landscape is all about playfulness, fun and frivolity – a sort of botanical Disneyland for Florida. Dominated by a canopy of enormous, swaying palms and a labyrinth of winding lakes, there's a definite 'Garden of Eden' atmosphere to the Fairchild Garden, enhanced by a huge collection of the world's tropical fruit trees, live butterfly houses and even quirky outdoor exhibitions where animatronic dinosaurs lurk between prehistoric living plants.
Sign up for an offbeat day course – such as making botanical ice cream from the garden collections, or yoga with crystal singing bowls – for a fascinating day out in what is described as the only rainforest in the continental United States. The gardens are just a 40-minute drive away from Mandarin Oriental, Miami, so you can be back in the pool gazing out over the city skyline before dinner.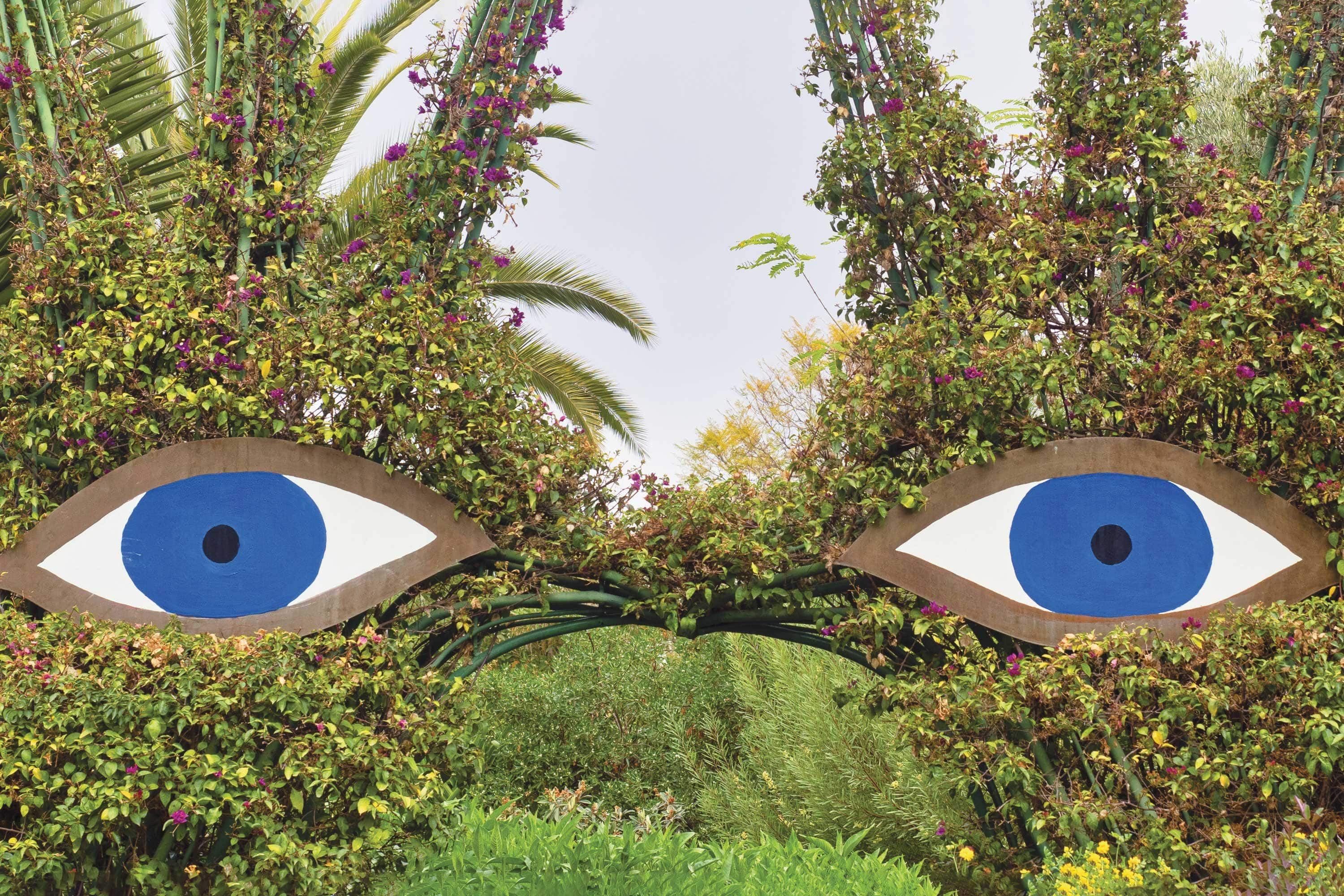 For the most incredible natural setting – Anima André Heller Garden
Marrakech is famous for its stunning historic gardens but, if you want to see the embodiment of traditional Arabic design principles brought to life in the modern age, you simply have to visit Anima André Heller Garden, just a 40-minute drive from Mandarin Oriental, Marrakech. Against dramatic snow-capped mountains, it feels surreal to be standing amid verdant palms and exotic cacti, in a colour scheme of dazzling kaleidoscopic hues very intentionally designed to amplify the already bewildering Alice in Wonderland vibe. It's no surprise that this garden is the brainchild of an avant-garde artist, with rooms full of mad, colourful sculptures dotted through the space, as if they have fallen from the sky. If you want to feel as if you have left this planet – with your feet still firm attached to the ground – this is the place.