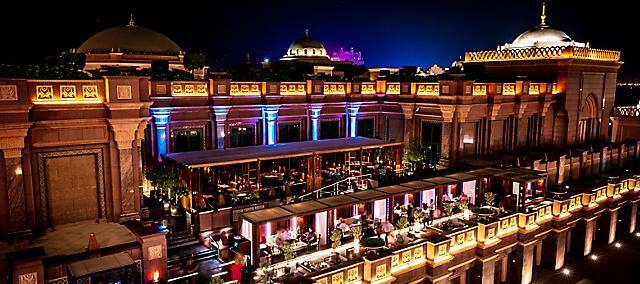 Abu Dhabi
Hakkasan
For any restaurant reservations, please note that the reservations terms and conditions will apply.
By making a booking or otherwise using the restaurant services, you confirm your agreement to MOHG's Privacy Policy and you consent to the processing of your personal information by MOHG, including the collection, retention and usage of your name, contact details, other personal information (which may include sensitive data, e.g. medical conditions), transaction data and demographics ("PI") in order for MOHG to provide you with the requested services. You have the right to request access to, correction and deletion of, and withdrawal of your consent to processing of, your PI by contacting MOHG's Data Privacy Officer by email at dataprivacyofficer@mohg.com or by post at 8th Floor, One Island East, Taikoo Place, 18 Westlands Road, Quarry Bay, Hong Kong. Any PI you supply is voluntary but if you choose not to supply your PI then you may not be able to access or obtain the services requested. For the purposes of providing you with such services, MOHG will share your PI with MOHG's global network of companies and the service providers that assist MOHG with administering your PI, which may be transferred to, processed in and stored at a country outside your country of residence (including outside the EU/EEA). For any online reservations, please note that a third party vendor's applicable terms will apply.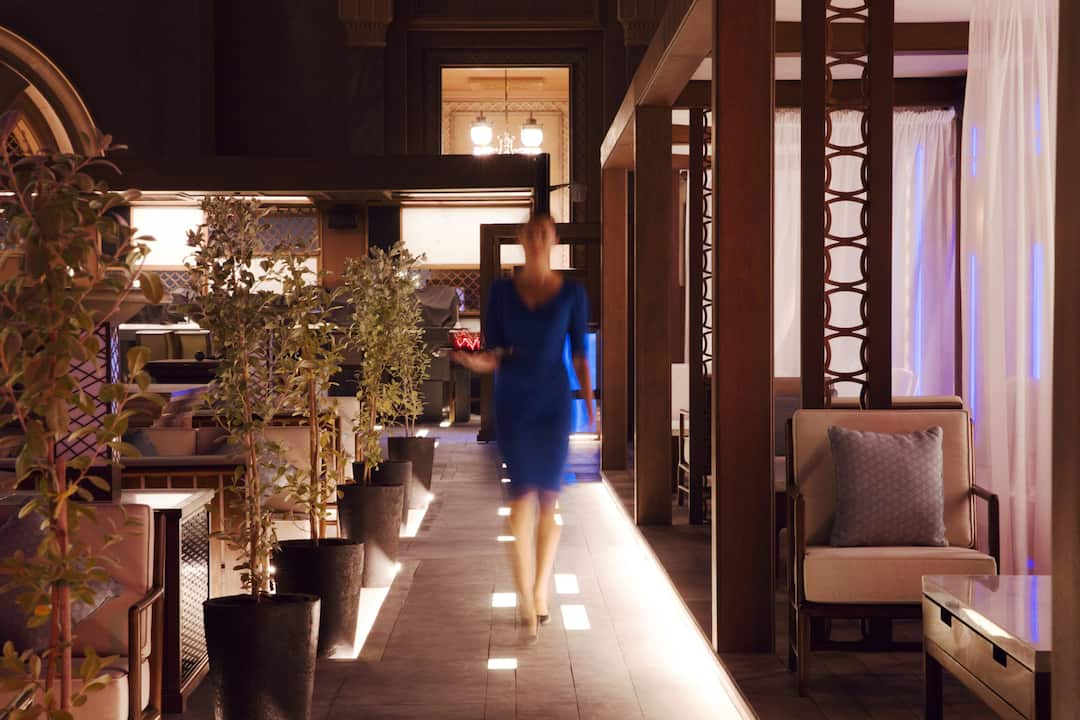 7pm - midnight
12pm - midnight (Friday)
Hakkasan Abu Dhabi brings Hakkasan's award-winning cuisine to the landmark Emirates Palace. Comprising a restaurant, bar and lounge as well as four private dining rooms, the 16,000 sq ft space is separated by carved wooden screens and latticing that echo the rich interiors of the London flagship restaurant.
Long-time design partner Gilles & Boissier designed the space with the Hakkasan ethos of the modern ethnic, interpreting it for the United Arab Emirates. Embroidered furniture and marbled Chinese forms enrich the space, and the main dining area is crafted into a wooden cage surrounded by backlit blue glass and a stainless steel frame.
Most recently, Hakkasan Abu Dhabi has launched the new Hakkasan Terrace which is all set to top the list of this winter's must-visit alfresco lounge spots. Overlooking the grounds of the majestic Emirates Palace, the new 108-seat terrace boasts a stylish bar area complete with bespoke cocktail menu and laid-back cabanas overlooking the city-skyline. A vibrant drinking and dining experience, guests can expect a roster of local and international DJ talent. Signature Hakkasan dishes like Peking Duck with Caviar and Crispy Duck Salad are served alongside a set of new dishes created especially for an Emirate clientele. The restaurant is headed by chef Lee Kok Hua, who was previously at Hakkasan Hanway Place where he worked under Head Chef Tong Chee Hwee for five years.
Guests have a choice of two entrances by which to arrive at Hakkasan, either via the main Palace lobby's entrance or Hakkasan's own private entrance which can be located by following the signs to the East Wing when driving into Emirates Palace. Both choices have a complimentary valet parking service.
Happenings in Hakkasan
Brunch At Hakkasan: Giving guests and Abu Dhabi locals another reason to visit Hakkasan Abu Dhabi, the award-winning modern Cantonese restaurant welcomes guests for Brunch at Hakkasan, every Friday from 12 to 4pm. Learn more here!
The Hakkasan Terrace: The city's stylish are invited to indulge in a bespoke beverage menu and enjoy award-winning food at the capital's most exciting al fresco lounge, Hakkasan Terrace. Bask in awe-inspiring views of the lush hotel lawns as you unwind in an intimate cabana or catch up with friends as the DJ spins chic beats in what is sure to be a magical evening. Daily from 6pm.
Brunch
A new night revealed, Hakkatini Wednesday is your new midweek escape where food, drinks, fashion and music come together every Wednesday night. Indulge in a specially created Hakkatini Wednesday offer for only AED 96 per person at Hakkasan Abu Dhabi.
Hakkasan Wednesday is available at Hakkasan Abu Dhabi every Wednesday from 6 – 11:30pm.
For reservations, please email hakkasan@emiratespalace.ae or call +971 2 690 7739.
*All prices are in UAE Dirham and are inclusive of all applicable service charges, local fees and taxes