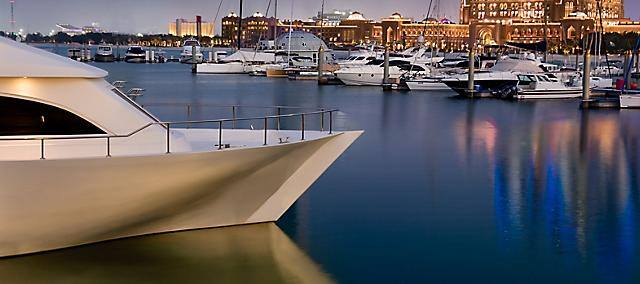 Abu Dhabi
Emirates Palace Marina
Emirates Palace Marina
Marina Designed for Luxury Yacht Owners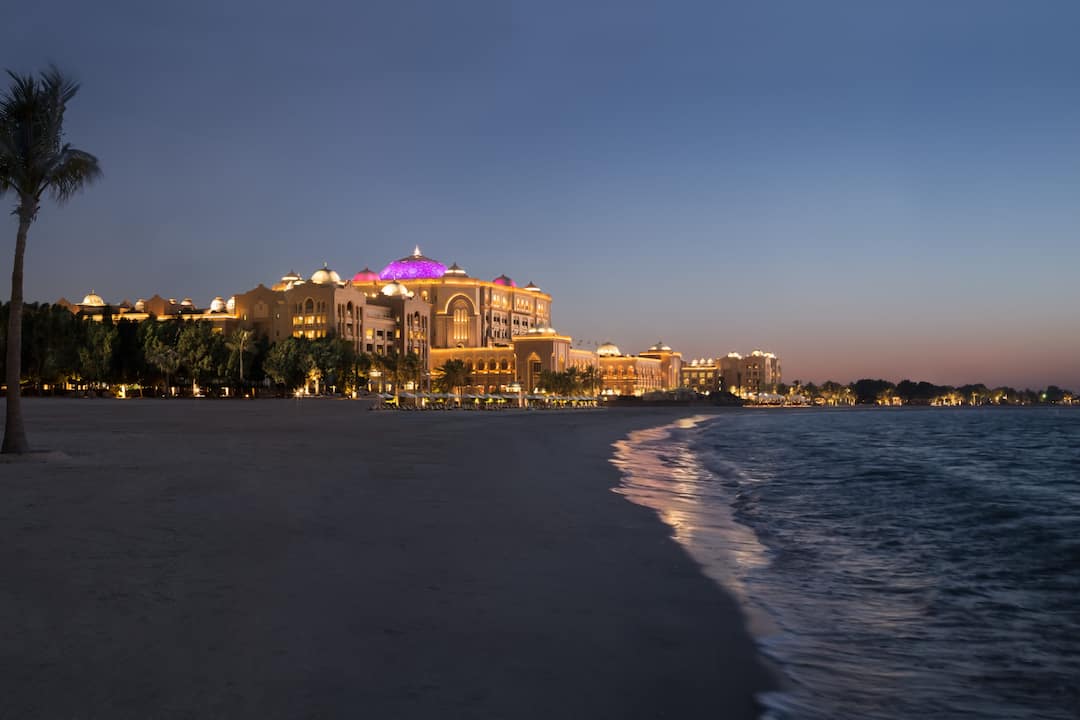 Emirates Palace Marina is the first of its kind in the country and region, combining luxury with comfort, and remains the destination of choice for luxurious yachts inside and outside the United Arab Emirates.
Having recently been awarded Blue Flag accreditation, the clear blue waters of the Emirates Palace Marina meet the highest international standards of water quality and environmental safety.
From world class yachting services to water sports, Emirates Palace Marina is the ideal location for luxury and fun. Many marinas use the terms 'lifestyle' and 'destination', but few can truly match the natural environment, positioning and service quality of Emirates Palace Marina.
Welcome to our world of personalized yachting service. No matter what size your vessel is discover why our Marina is the perfect gateway to exploring Abu Dhabi and its beautiful coastline, or simply relaxing on-board.
The Marina
Central to the provision of large yacht visitor and residential berthing in the Emirates, Emirates Palace Marina boasts 167 berths, ranging from 12m to 140m metres, with dedicated large yacht facilities and unrestricted tidal access. Set within the grounds of Emirates Palace Hotel, the most expensive hotel ever built in modern terms, Emirates Palace Marina was designed as a stage for the region's most luxurious yachts, high profile events and an exclusive welcoming haven for visiting yachts.
Care & Commitment
Our team is chosen not only just for their marine skills and experience, but also for their attitude. We are not simply in the marina business, we are in the marina hospitality industry. Simply put, this means we are not simply caretakers of the marina, we are active in assisting all yacht owners with their leisure pursuit. From assisting with boating skills to advice on upgrades, where to go, what to do, and how to get the most from owning a yacht in the UAE. This commitment to the yachting community and its environment is manifested in the international standards we have been awarded, most notably ISO 140001 (Environmental Management).
Our world class facilities and services
The destination of choice for luxurious yachts
24/7 deep water access to the Gulf
Solid concrete dock construction
3-phase power and mains water
Black water pump out service
35-metre dual-pump fuel dock
24-hr dock assistance
Fast-response RIB assistance
Approach Pilotage and guidance
Bathymetries and berthing plans
Secure onsite parking
Weather reports
Valet docking and skippering services
Underwater cleaning
Fresh ice service
Offshore recovery & amenity delivery
Victualing and supply services
Chandlery ordering and delivery
Engineering and maintenance
Foreign flag vessel immigration assistance
Berth holder lounge and terrace
Newspapers and periodicals (on request)
6-person conference facility
Wireless internet access
Club car transfer services
Helicopter landing
Florist delivery services
'On Yacht' spa services by Emirates Palace Spa
'On Yacht' food delivery
Party and event catering
Professional laundry services
Yacht Harbour Association membership
By Road
Located at the far West side of the Corniche, Emirates Palace Hotel is signposted on all major routes into Abu Dhabi. The marina is located at the far left side of the property, and is accessed directly through its own dedicated gate, Gate 3. Please follow security procedures to access the marina.
By Sea
Emirates Palace Marina is set behind a protective breakwater at the entrance to the Mussafah Channel, at the Western side of Abu Dhabi. Approaching from any direction, the visual waypoint of the Safe Water Mark (Oc.15s, FD2) at 24-29-300N; 54-18-00E lines up for the main approach. From this point, head SSE, leaving the Marina Village Sea wall to port, and the Emirates Palace Hotel bay will open up ahead. Emirates Palace Marina (24-28-08; 54-18-48) is located immediately to starboard after the starboard mark set off the breakwater. For safety and security, UAE Coastguard patrols will stop any vessel without prior entry authorisation at the marina entrance, and verify the details of all arrivals. Therefore please contact Marina on arrival for on water administration assistance to ensure unimpeded access to marina.
Located in the West Beach area near the Emirates Palace Marina, get some high-adrenaline fun with our selection of water sports.
If you're looking to spend an energy-filled afternoon in the water, the selection of water sports offered by the Beach Club is your answer. With complimentary access to non-motorised water sports like kayaking and sailing, guests can choose from a wide range of activities to fill their day. For those who like the added thrill of an engine, water skiing and wakeboarding are definite must-tries.
Located in the West Beach area near the Emirates Palace Marina, get some high-adrenaline fun with our selection of water sports:
Sailing
Sea kayaking
Paddle boarding
Wind surfing
Wakeboarding
Waterskiing
All non-motorized water sports are complimentary for in-house guests.