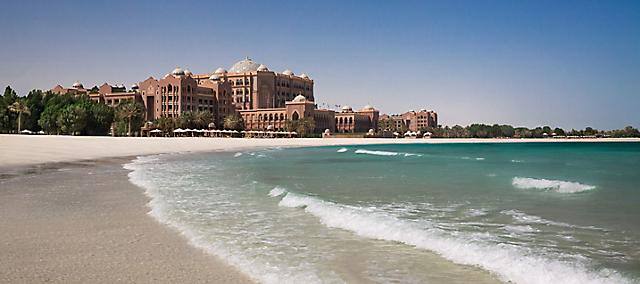 Abu Dhabi
Leisure activities
Leisure activities
Relax in the most beautiful place in the world
As the first choice hotel in Abu Dhabi for discerning leisure seekers, you too can stay fit and relaxed by participating in yoga classes, jogging or cycling on beautiful outdoor trails.
Within 100 hectares of luscious gardens and lawns, and along 1.3 km of pristine beach, enjoy a plethora of activities for all athletic levels and ages.
See the selection of available leisure activities below.
Two luxurious, temperature controlled swimming pools are available for your use and are real jewels in the crown of Emirates Palace facilities.
Built especially for your comfort and to meet your every need, these pools provide you with sun and fun for as long as you choose to stay.
Cascades Adventure Pool - Open from 7am to sunset.
Discover an active, family‐friendly atmosphere at the adventure pools, located in the West Wing Beach Club. Water activities include a tranquil Lazy River run, cascading waterfalls, two water flumes, and a pool activities area.
Children will enjoy playing in 'Sarab Land' where our specially trained staff members will guide them through age‐appropriate activities and games. An outdoor play zone is also available for your children to run, play and enjoy summer fun, all year round.
**The minimum age for using slides is 5 years old. Children younger than 5 years old who are confident to use the slides alone need to have a parent waiting in the splashdown area. Adults are not allowed to use the slides while holding small children.
Las Brisas Leisure Pool - Open from 10am to sunset.
For a quieter and more peaceful setting, venture over to the Las Brisas Pool, located in the East Wing Beach Club. The Las Brisas Pool features a large Jacuzzi under a charming gazebo, 3 smaller bubble pools attached to the main swimming pool, and a swim‐up pool bar for adults.
A free form deck leisure pool surrounds the area, circled with soothing palm trees and comfortable seating where you can enjoy perfect moments; resting, reading, and enjoying the sunshine.
Our FIFA standard football pitch is home to international teams during winter training. Organize a game and play where champions have stood.
If you are a football fan, you will love the football pitch at Emirates Palace. Our FIFA standard football pitch is home to international teams during winter training. Organize a game and play where champions have stood.
Our Football Pitch
The professional football pitch at Emirates Palace is designed in compliance with FIFA standards, and is perfect for training camps, team winter breaks, corporate games and health training programs.
Pitch flexibility
The field can be split into two pitches with 7/7 aside
Floodlights provide night lighting
Possibility to be operated 24 hours
Guaranteed privacy of all players and staff
Less than 100 meters away from the rooms
Our Club House
The Club House is a multi-functional, exclusive space built to fit every team's professional requirements. The ideal local for relaxation and physical recovery, the 24-hour facility includes:
Two changing rooms, with capacity to accommodate 20 players each
One changing room for referees and officials
Meeting room with LCD TV screen
Lounge area
Storage rooms
Private car parking
Reception desk
Outdoor terrace
Club House Spa, fully equipped with Jacuzzi, sauna, steam room and massage rooms
Located in the East Wing, enjoy the old sport of cricket, traced back to Tudor times in early 16th-century England, on our beautifully manicured lawns.
Enjoy a game of cricket on our manicured pitch with the majestic façade of the Palace in your background. Located in the East lawns, the cricket pitch is the ideal location for a fun company sporting event or a professional game.
Throughout the year, professional groundsmen ensure that the cricket wicket, as well as the four grass pitches, are well maintained and groomed for every game. Beautiful landscaped gardens around the field provide a scenic sitting area for spectators.
An array of services can be provided according to the needs of the event, be it club car service, food and beverage arrangements and cricket equipment availability.
With a Resident Tennis Coach and a top quality tennis programme for all ages, improve your game on one of our four floodlit courts.
Emirates Palace Tennis Academy by PSS Emirates offers an extensive tennis programme, delivered by our professional Resident Tennis Coach. The programme includes private lessons, group clinics, and bespoke lesson programmes for all ages, formatted to your specific objectives in mind.
The Tennis Courts
Our four floodlit tennis courts are made of cushioned hard court surface, providing an ideal court for all levels.
Located on the West Parklands next to the Football Club House, the courts are open daily from 7am to 10pm, with last booking at 9pm.
Private lessons are available daily between 7am to 10pm.
Padel Tennis
One floodlit Padel tennis court is also available for our guests' enjoyment. Bookings are available from 7am to 10pm.
General rules
It is requested to reserve bookings at least 1 day in advance.
Registration and payment must be made at the West Beach Club Reception prior to your lesson or court booking.
Appropriate tennis attire and non-marking shoes are essential. Shirts must be worn at all times and swimsuits are strictly forbidden.
Tennis shoes are available on request, should you not have your own.
No shows for booked lessons will be charged at the full rate.
The History of Padel
For those of you who may not be familiar with this fast-paced sport, Padel was first invented in Mexico by Enrique Corcuera in the mid 1970's. It is currently most popular in Spain and some Latin American countries but is beginning to spread rapidly across Europe and other continents. The game's huge popularity along the Costa del Sol in southern Spain has exposed it to large numbers of ex-patriot residents and holiday-makers, sparking its growing popularity in other European countries.
The Nuances of Padel
Not to be confused with "Paddle Tennis," Padel is typically played as a doubles game on an enclosed court about half the size of a Tennis Court. The ball used and the scoring is the same as normal Tennis. However, the biggest difference between the two sports is that the court has walls and the ball can be played off of them in a similar way as the game of Squash. Padel is also played with a padel rather than a racquet. The method of serve is always underarm.
Padel is great for players of all ages and skills, as it is both quick and easy to pick up, and less physically demanding than similar sports like Squash. Most players get the grasp of it within the first twenty minutes of playing and find it easy to achieve a level of proficiency.
Let our Tennis Coach help you
Interested in checking out this energetic sport? Our professional Resident Tennis Coach is happy to navigate you around the rules and nuances of the sport in a one hour "Introduction to Padel" lesson.
Padel courts are open from 7am to 10pm. Court time, padels and balls are free of charge to in-house guests and beach club members.
An afternoon of smashing and spiking with friends is invigorating, so take some time and be ready for some high-speed fun on the sand.
Whether you are looking to have a competitive game of beach volleyball with your friends, or just itching to bump a volleyball around the sand, our beach volleyball court is your answer to get athletic under the sun. Located near the West Pool on the 1.3 km stretch of private, pristine beach, get your game on against the beautiful façade of the Palace.
Balls are provided at the Beach Club.
Located in the West Beach area near the Emirates Palace Marina, get some high-adrenaline fun with our selection of water sports.
If you're looking to spend an energy-filled afternoon in the water, the selection of water sports offered by the Beach Club is your answer. With complimentary access to non-motorised water sports like kayaking and sailing, guests can choose from a wide range of activities to fill their day. For those who like the added thrill of an engine, water skiing and wakeboarding are definite must-tries.
Located in the West Beach area near the Emirates Palace Marina, get some high-adrenaline fun with our selection of water sports:
Sailing
Sea kayaking
Paddle boarding
Wind surfing
Wakeboarding
Waterskiing
All non-motorized water sports are complimentary for in-house guests.
Enjoy four championship golf courses within 45 km of Emirates Palace throughout Abu Dhabi, with the ease of transfers arranged by our concierge team.
Are you a golf enthusiast? Enjoy four championship golf courses within a short drive from Emirates Palace – our Concierge Team is happy to organize transportation to ensure easy transfer to any of the four courses below. Abu Dhabi City Golf Club With 9 holes, Abu Dhabi City Golf Club is only 9.3 km from Emirates Palace.
Saadiyat Golf Club
With 18 holes, Saadiyat Golf Club is the first ocean golf course designed by Gary Player. It is a short 17.4 km from Emirates Palace.
Abu Dhabi Golf Club
With 27 holes, Abu Dhabi Golf Club is the largest course in Abu Dhabi, and is home to the PGA European Tour. It is 26.9 km from Emirates Palace.
Yas Links
With 18 holes, Yas Links is the first Middle Eastern links course and is at a distance of 42.1 km from Emirates Palace.
All golf courses offer golf club rentals.
Imagine a day of relaxation on a 1.3km stretch of golden sand while watching the turquoise waves of the Arabian Gulf lap at the shore.
Emirates Palace Beach Club now offer wooden hand-crafted beach cabanas for the comfort of guests. Situated on the shoreline, close to the East Wing swimming pool and Las Brisas restaurant, the Emirates Palace beach cabanas provide the ultimate in luxury.
Retreat from the sun on a wooden podium suspended above the sand and relax upon soft furnishings, while the sea breeze gently blows the cabana curtains, lulling you into a hypnotic sense of complete serenity.
Add a touch of luxurious privacy to the beach experience at Emirates Palace.
For more information or reservations, please call +971 2 690 7311 or email beachclub@emiratespalace.ae.
Re‐discover your inner tranquillity with our 60‐minute Vinyasa and Hatha yoga classes, provided especially for both beginners and intermediate level lovers of yoga. Relaxing yoga in luxurious surroundings is one of the Emirates Palace facilities that are a real favourite with those who seek calmness and tranquillity.
Our facilities include all the yoga equipment you'll require, so all you need to focus on is your own relaxation in our lusciously luxurious surroundings.
If you prefer the exhilaration of a fast paced activity and want to maximise your experience of the best in Abu Dhabi hotel facilities, allow Emirates Palace to arrange a bicycle ride or jog through manicured gardens that will lead you along a 6.5 km path of discovery. Explore the winding trail encircling our cricket pitch with the breath‐taking facade of Emirates Palace as you venture towards the end of the Emirates Palace Marina.
Here, you will find some of the most beautiful locations of any hotel in Abu Dhabi and don't forget to take pictures of the Palace, with a lagoon in the foreground. This is the place where you can cherish your memories forever.
Bicycles are available for rent from the East Wing and West Wing Beach Club from 7am to sunset.
Other facilities along the beach and pool areas include a pool table, lawn tennis, table tennis, foosball, children's outdoor playground and a children's club with daily activity schedules.
For more information or to book a spot please call +971 (0) 2 690 7311