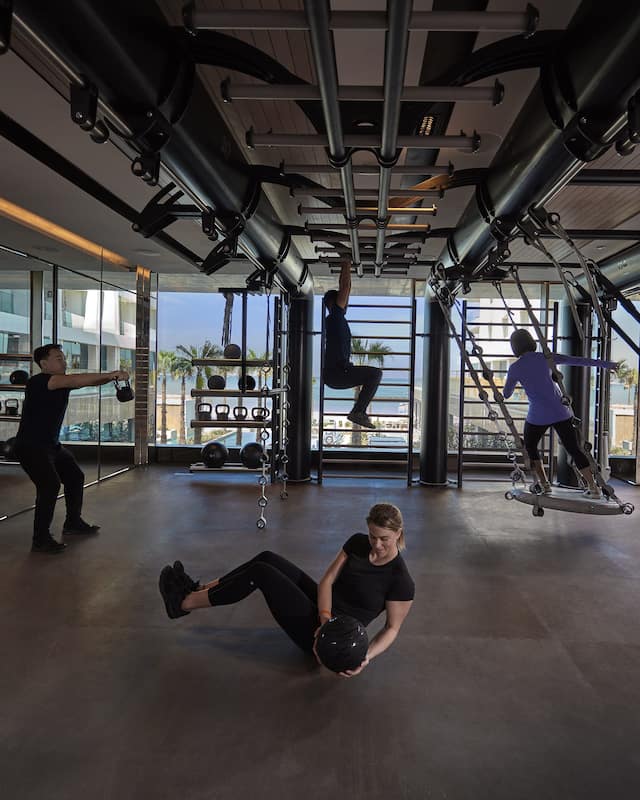 Dubai
Fitness & Wellness
Fitness & Wellness
Stay active with our pools, state-of-the-art fitness equipment and range of classes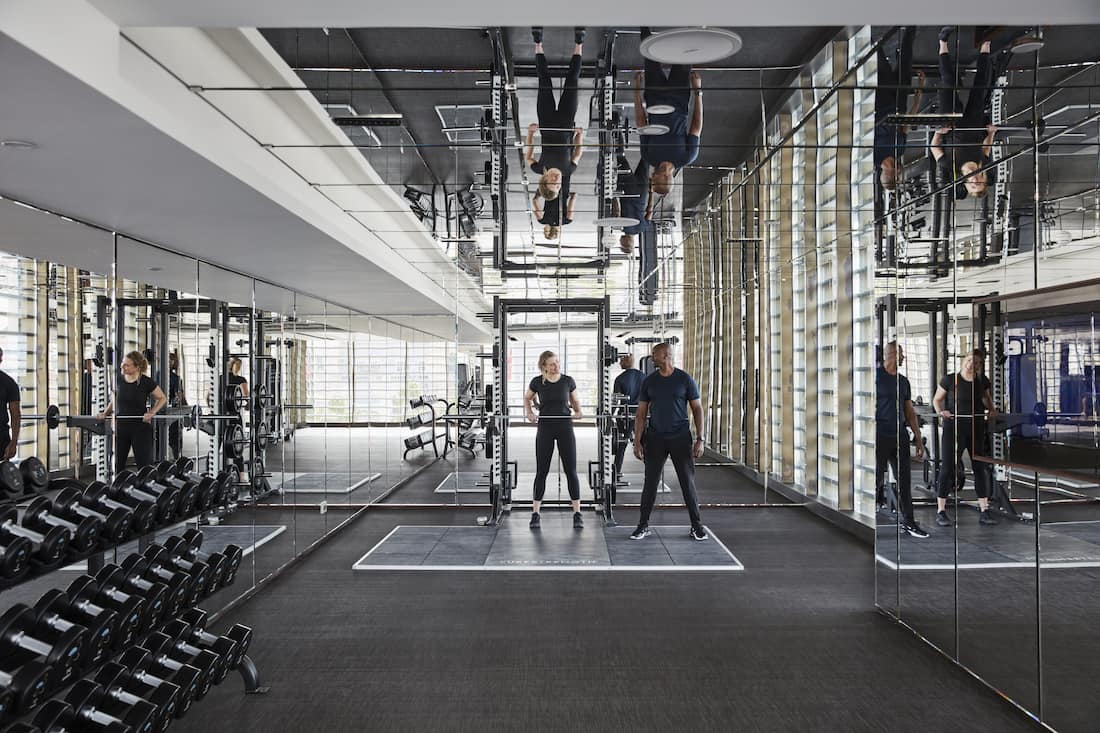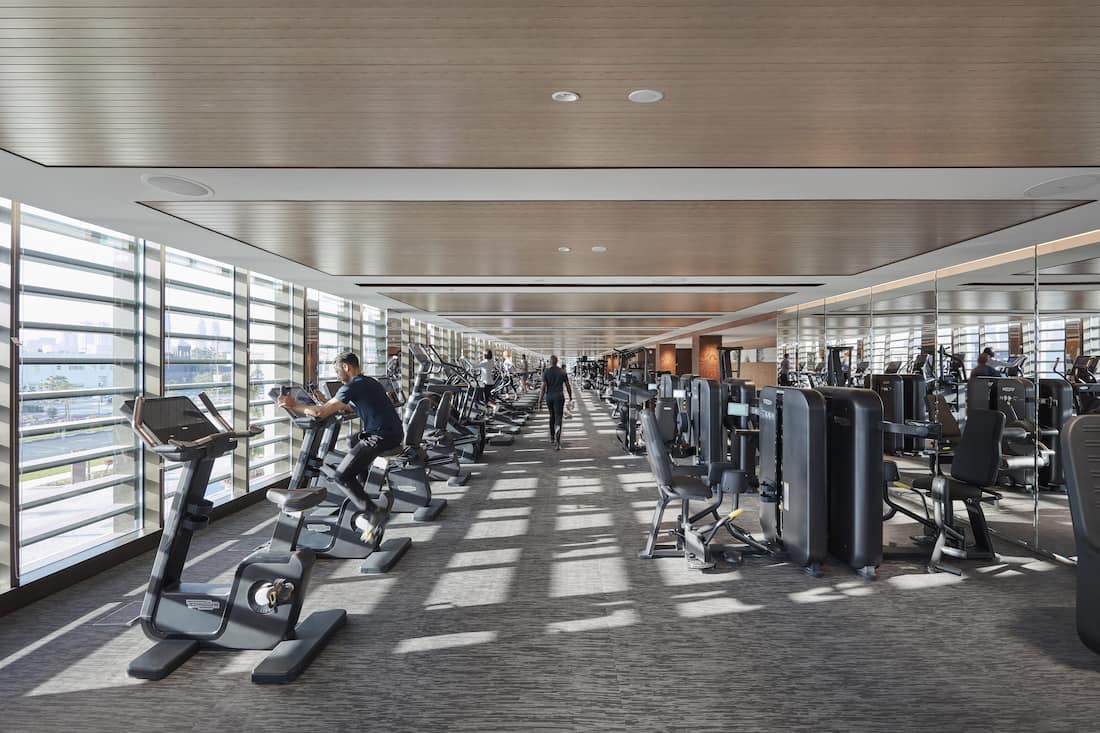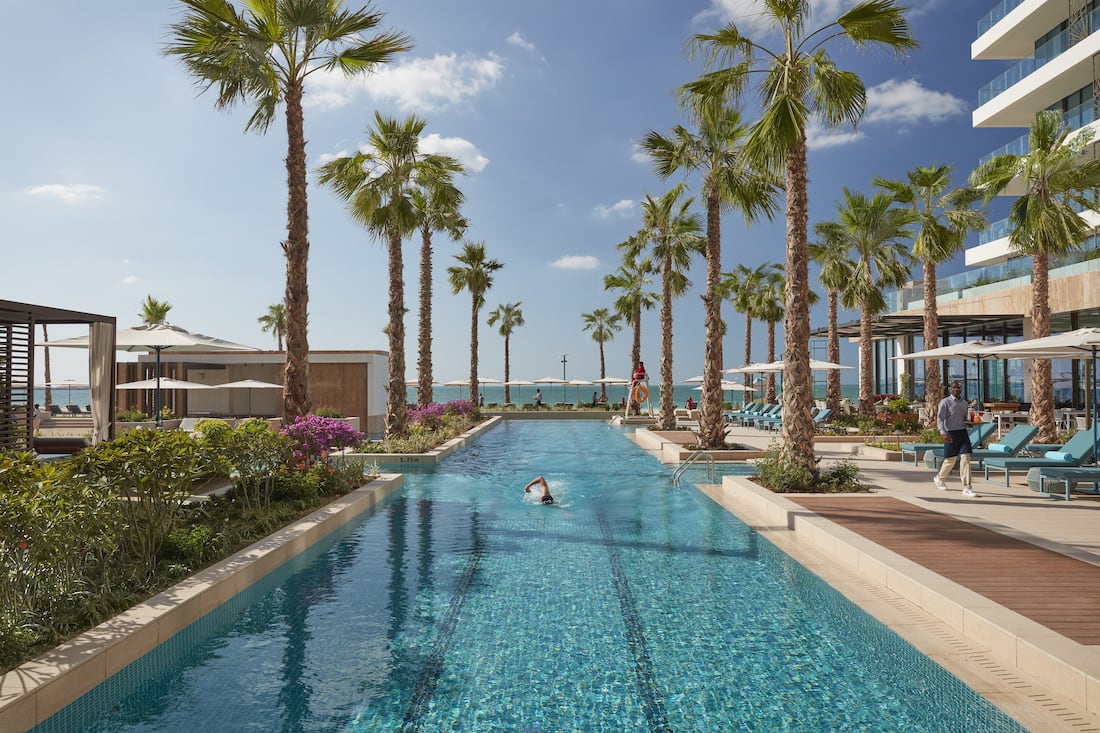 Our Fitness Centre and Movement Studio are equipped with state of the art results-oriented fitness equipment, targeted to achieve your wellness goals. This equipment includes cardiovascular, strength and flexibility equipment from the Technogym® Artis range and OUTRACE® functional training.
Over 35 state-of-the-art Technogym Cardio and Strength machines in our 4,000 sqft Fitness Centre
High-performance Functional Area; including the Omnia 3, SkillRow and SkillMill self-powered treadmill
Go Freestyle in our 1,500 sqft Movement Studio, with the fully adaptable OUTRACE functional training rig
Get training support and track your fitness journey using our dynamic MyWellness digital application from Technogym
Personal Training
Whatever your goal, be it to improve overall fitness and wellness, improve endurance or to gain strength and guidance for a lifestyle change, our specialised instructors will work with you to ensure that you focus on appropriate customised exercises to gain optimal results and to help you reach your full potential.
Fitness Assessment Testing
Ever wondered how fit or in shape you are? Let our team of experienced Fitness Instructors guide you through a physical Fitness Examination. Measuring recovery time, Fitness levels, Body Fat and Flexibility. Encouraging you to take your fitness journey to the next level.
MO MAX
A fast-paced, functional training program in the MOvement Studio, utilising our signature OUTRACE® rig helps to improve your overall speed, strength, stamina, power and agility.
MO Box
Fitness focused on boxing class that works on overall conditioning and fundamental boxing skills.
MO Yoga
Yoga-based class that works on improving overall wellbeing by releasing tension, both physically and mentally, through traditional Yoga movement.
MO Dance
Free-flowing fitness dance class with inspirations of street, latin and hip-hop style movement.
Beach Blaster Bootcamp
A fast-paced, team based functional training program on the beach helps to improve your overall speed, strength, stamina, power and agility. Booking is available from October to May.
Little Nomads Martial Arts Academy
Led by our certified instructor Houcine Attar, our Little Nomads Martial Arts Academy offers kids and teens a fun and stimulating training program including a variety of martial art classes such as Taekwondo and Kickboxing. Younger fans will learn effective defence techniques and build self-confidence and discipline, all in a safe, supportive and high-energy environment.
Every Sunday, Tuesday, and Thursday
Available for ages 5-16
Tuesdays and Thursdays: 10am
Saturdays: 3pm
For more information or to enroll your child, call 04 777 2222 or email modub-fitness@mohg.com.
Please contact Fitness & Wellness Reception for pricing of classes and ladies only classes
Stay active with
Our Fitness & Wellness Specialists
Position: Personal Trainer
"You don't have to be great to start, but you do have to start to be great"
 
With the right knowledge, skills and motivation Houcine knows it will be easy for his clients to reach their goals and get one step closer to where they need to be. With 19 years of experience in the fitness industry and many professional qualifications; he can help his clients get what they want to achieve and more. With Houcine they can change their past, so they can focus on making a great future.
Qualifications:
Level 4 Professional Trainer Low Back Pain Management Active IQ UK
Level 3 Professional Trainer GP Referral Medical Conditions Active IQ UK
Level 3 Personal Trainer Active IQ UK
Level 3 Nutrition Active IQ UK
Diploma First degree TAEKWONDO Coach
Diploma 4th DAN international black belt TAEKWONDO
Kids Kickboxing Trainer Qualification
Circuit Training Certified
Qualified TRX Trainer
First Aid and CPR Certified
Specialties:
Specific training for lower back pain
Specific training for medical conditions (High blood pressure, Asthma, Obesity, Stress, Depression, Cancer, Cholesterol, Osteoporosis)
Fat loss and muscles gain
Nutrition and Supplementation
Martial Arts training programme (Taekwondo, Kickboxing, Boxing)
Professional Career:
Taekwondo National Champion for 9 years – Tunisia
Taekwondo Regional Champion for 14 years – Tunisia
Champion Taekwondo Champion 2014
"UAE – Korea Friendship Taekwondo championship" Champion 2014
Participated in the world TAEKWONDO Hanmadang Festival Korea 2014
Tunisia National Team Player (Taekwondo)
Tunisia Regional Team Captain (Taekwondo)
Position: Personal Trainer
"You must expect great things of yourself before you can do them."
From a young age, Sasha has been involved in fitness and sports, starting with a strong passion for football and leading into Gymnastics at secondary school. This early enthusiasm evolved into a focused development towards the studies of Fitness, Recreation and Sports with a particular interest in Mixed Martial Arts (MMA) training. After graduating from five years of study at university, Sasha is now determined to share this knowledge and help his clients along their own fitness journey; with the same drive, energy and inspiration!
Qualifications:
•    Specialist Diploma in Physical Education and Sport
•    Bachelor's Diploma in Human Health
•    REPs Level 3 Personal Trainer
•    Candidate 'Master of Sports'
Specialties:
•    Athletic Training
•    Mixed Martial Arts
•    Gymnastics
•    Bodybuilding
•    Mobility & Flexibility
Experience:
•    5 years MMA
•    2 Years Gymnastics
•    2 Years Personal Training
Position: Fitness & Wellness Supervisor
"Health is Wealth"
Nothing is more important than your health. The fitness industry has brought joy to Prima's life and changed her for the better. With her knowledge and skills, she aims to inspire and encourage people to care more about their health and reach their fitness goals. It might be hard in the beginning, but with focus, motivation and the right training, her clients will surely succeed!
Qualifications:
Fitness Instructor Level 2
Certified First Aider
Level 3 Anatomy & Physiology
Level 3 Nutrition
Specialities:
HIIT Training
Strength & Conditioning
Zumba
Position: Fitness Instructor
"Fitness for Appearance and Health"
With more than 10 years in the industry, Ilham encourages people to take care of their health and work towards their fitness goals. Having taken up cycling for cardiovascular and endurance benefits, Ilham then progressed into the fitness industry.  In 2006 he qualified as an instructor to support others in attaining a fit and healthy lifestyle. He takes great pride in helping people achieve their personal goals. His motto is "Do it NOW, never wait for 'later'!"
Qualifications:
Gold's Gym Fitness Foundation: Trainer Certificate
First Aid Level 2 Certification
Federation of International Sports, Aerobic and Fitness Course (FISAF)
Specialities:
Functional Fitness
Fat Loss
Circuit Training
Weight Management (loss/gain)
Position: Yoga instructor
"Yoga is the journey of the self, through the self, to the self"
Being a Yoga teacher is much more than just showing poses; it's about guiding you through real self-understanding, helping to take your past and straighten your present to build your future. This became very clear to Olha during her trip to India, where she had the opportunity to study from one of the most ancient Yoga ashrams in the holy city of Rishikesh. There, surrounded by Himalayan mountains, she awakened a 'new person', emerging stronger both physically and mentally.
From childhood, taking part in both gymnastics and dancing competitions; physical fitness was always a part of her life.  Her professional career started as a group fitness trainer with experience in Tae-Bo, Step-Aerobics, Spin classes, Functional Fitness and Tabata.  
Olha likes to smash physical limits, she believes human beings can do much more when we set our minds to it and her biggest passion is Yoga!
    
Qualifications:
REP's Category E 'Yoga Instructor' & Category B 'Gym instructor'
200 hours of in the 'Teacher Training Course' at the Patanjali International Yoga Foundation, India
Prenatal Yoga Teacher Certification (The Yoga Education Institute)
ProFit Conventions 2017 "Step-Professional"
Certification of a gym instructor "Star Fitness"
LDNM Nutrition course REP's
Specialities:
Yoga: Hatha, Ashtanga, Aero-yoga
Pranayamas
Guided meditation
Step-aerobics
Tae-Bo
Functional Fitness
Experience:
2 Years Group Fitness training
2 Years Yoga
1 Year Personal Training