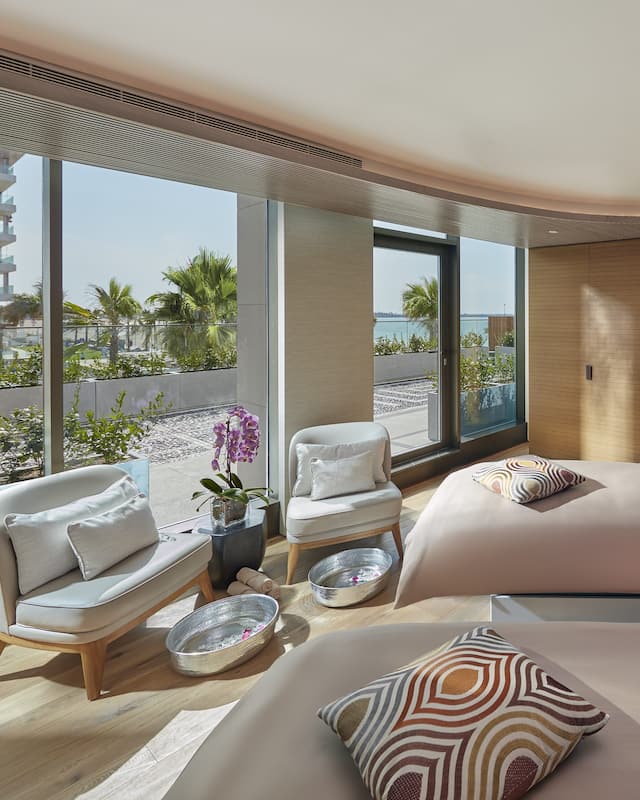 Dubai
Spa & Wellness
Spa & Wellness
A wellness journey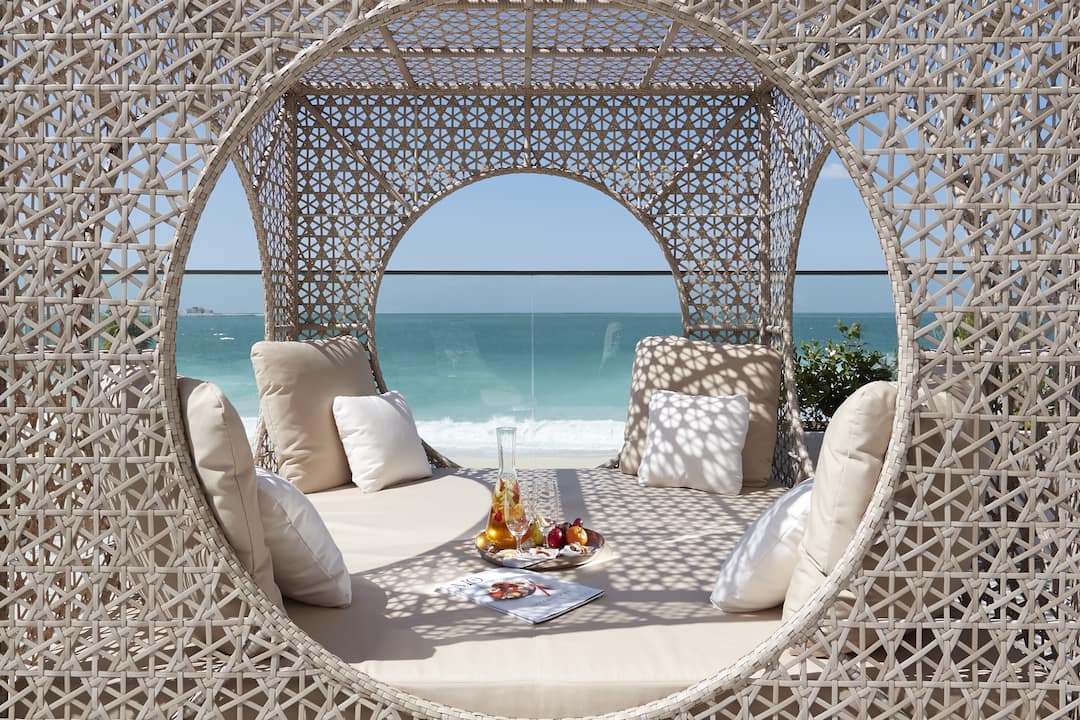 Discover a spa experience where every sense is indulged and every minute is focused on you and your needs. At the Spa at Mandarin Oriental Jumeira, Dubai, we hold a true passion for wellness, placing your physical, emotional and mental wellbeing at the centre of everything we do.
Guided by our Oriental heritage and influenced by the local cultural diversity of the UAE, the Spa offers a host of treatments and therapies unique to Mandarin Oriental Jumeira, Dubai. Our signature treatment, Nomadic Sensory Journey, features Emirati drumming as part of the healing process, incorporating Asian beauty knowledge with cutting edge technology. An indulgent VIP suite, Sea Jewel, offers sea views, an interconnecting Hammam-style treatment area and the option of connecting to a further space suitable for wedding parties.
We also aim to cater to the wide-ranging needs of our guests with a range of fitness classes in our state-of-the-art Fitness & Wellness Centre and Movement Studio featuring the first Outrace® equipment in a hotel in Dubai. We offer high energy strength and functional training, as well as more holistic forms of exercise and beach-based classes. We can also arrange in-depth personal training consultations focusing on developing programmes to improve, fitness and health that suit the individual needs of the guest.
The Signature VitaDrip®
The Spa at Mandarin Oriental Jumeira, Dubai has partnered with globally renowned, The Elixir Clinic, an international wellness clinic specializing in intravenous therapy, to offer guests and members a diverse selection of VitaDrip® infusions that enhance wellbeing and boost energy.
In conjunction with this partnership, The Spa also offers guests The Signature VitaDrip® which has been exclusively formulated by The Elixir Clinic. This bespoke nutrient-rich IV infusion is designed to improve energy levels, rehydrate the body, relieve jet lag symptoms and strengthen the immune system while promoting detox and anti-aging. View treatment menu.
Mandarin Oriental is proud to introduce Inner Strength – Outer Strength, a worldwide series of Spa and Hotel-based initiatives designed to help people use this unprecedented time to build their strength, both mentally and physically.
Outer Strength (Fitness, Health, Vitality)
Keeping ourselves physically strong is of utmost importance. Our outer strength is developed by building our physical vitality through exercise, movement and healthy nutrition. If there is one thing we have learned from the pandemic, it is the importance of maintaining our overall physical health and immunity.
Inner Strength (Mindfulness, Resilience, Character)
During a stressful time of great change, it is important to incorporate stillness into our lives to allow the mind to process new information and reflect on appropriate strategies to manage difficulties. Inner Strength is developed by taking time for silence, contemplation and mindfulness.