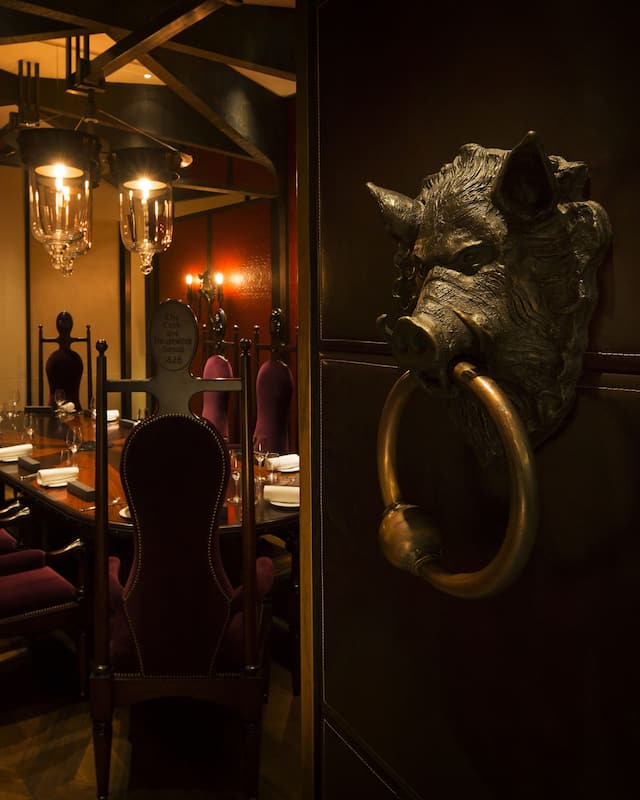 Dinner by Heston Blumenthal
Spacious, yet secluded
Private Dining
Enjoy a culinary adventure in the exclusive surroundings of our dramatic private dining room. Seating up to 12 guests, this 16th century Tudor inspired space is ideal for private celebrations or chic corporate gatherings.
The elegant room features embossed leather walls and a replica of The King's Table excavated from Westminster Palace with chairs depicting gothic grotesques, celebrating the stately ingredients used within each of our historical dishes. The room is complemented by a beautiful central chandelier, fashioned from the largest pieces of hand-blown glass in Britain.
A window offers an insight into the energy and activity of the main dining room and views onto Hyde Park, with a blind that can be drawn to ensure complete privacy.
A 3 or 5 course menu is offered including our signature dishes, and bespoke menus can be created to cater for dietary requirements. The menus are accompanied by wine pairing options carefully selected by our Head Sommelier and his experienced team of wine professionals.
Cakes, flowers, place cards, personalised menus and AV equipment can be arranged upon request.
For more information, please contact our Events Team on +44 (0)207 201 3844 or at molon-dinnerpdr@mohg.com.
12 - 2pm (Mon- Thu)
12 - 2:30pm (Fri- Sun)

6 - 9pm (Mon- Thu)
6 - 9:30pm (Fri- Sun)