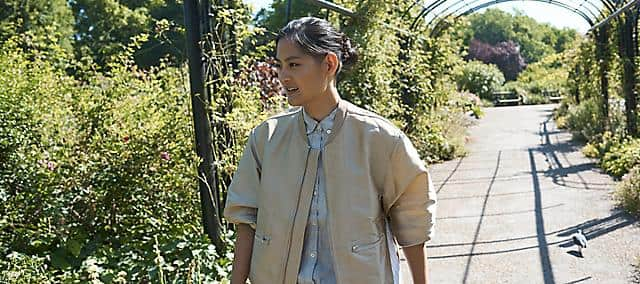 Joyce Wang's design details
Keep an eye out for these clever finishing touches at the new-look Mandarin Oriental Hyde Park, London

BY DOMINIC LUTYENS
Dominic Lutyens writes on interiors for titles including Vogue, Financial Times and Elle Decoration. His books include Living with Mid-century Collectibles.
Mandarin Oriental Hyde Park, London has been undergoing one of the most extensive, ambitious renovations in its 115-year history. Masterminded by renowned designer Joyce Wang, its new interiors reference the natural setting and royal heritage of neighbouring Hyde Park, but are also contemporary and light-filled. Wang explains the thinking behind her finishing touches. To experience the refurbishment for yourself, book now. Read the full interview with Joyce Wang in MO Magazine, available in your room at all Mandarin Oriental properties.
RUFFLING FEATHERS
Spotting ducks in the park gave Wang the idea of using feathers both as a decorating tool and as a motif. Feather-shaped stencils were used to gild mirrored artworks above the headboards in the bedrooms; she also adapted a 1920s graphic of a feather to create a pattern applied to framed, silk-covered wall panels in the suites. Wang rendered this all the more opulent by enriching the negative spaces between the motifs with copper leaf.
READING LIST
Far from just props, Wang has lined bookshelves with carefully curated collections of vintage tomes, which also creates a cosy, studious atmosphere. Sourced from Mayfair bookseller Heywood Hill, her choices cover London history, politics, royalty, botany and jewellery. The books also relate to some of the rooms' names. The Wallace Suite, for example, pays homage to naturalist and explorer Alfred Wallace, who co-published a paper on the theory of evolution by natural selection with Charles Darwin. This is also relevant to the hotel's surroundings: after travelling to southeast Asia, Wallace returned with plants, some of which are still grow in Hyde Park today.
OUTSIDE INFLUENCES
Wang has dreamt up rugs with patterns inspired by different aspects of Hyde Park's ever-changing scenery. "They're based on such natural features as dramatic shadows cast by trees," says Wang, "as well as falling leaves and flickering reflections of light on ponds and lakes."
ROYAL REFERENCES
Antique brass deer and duck figurines liberally adorn bookshelves and desks – a nod to the fact that Hyde Park was once Henry VIII's hunting ground. "We wanted to celebrate the historical fauna of the park with these figurines – an ode to the park's past," says Wang. The park is also famous for Rotten Row, the sand-covered avenue established by William III, which remains popular for horse riding today. Acknowledging the park's equestrian heritage, Wang has created original ceiling-mounted lights incorporating horsehair. Look out for them in the corridors between rooms.
EDWARDIAN SPLENDOUR
The building's Edwardian heritage has been preserved in the suites in its romantic, fairytale turrets, which boast hexagonal floors and soaring ceilings. Wang has accentuated their grandeur by furnishing them with unmistakably English-looking pieces: "We selected deep club chairs upholstered in plush velvets and sofas with scrolled-edge details," she explains. 
LIGHTENING UP
Wang was determined to flood the guest rooms with light, steering clear of overly imposing furniture and opting for pale and even transparent materials. "To make the furniture more forward-looking and lighter, I avoided pieces with heavy bases and chose ones that combined clear acrylic with metal," she says. "I also used a lot of blond wood to make the rooms look more luminous."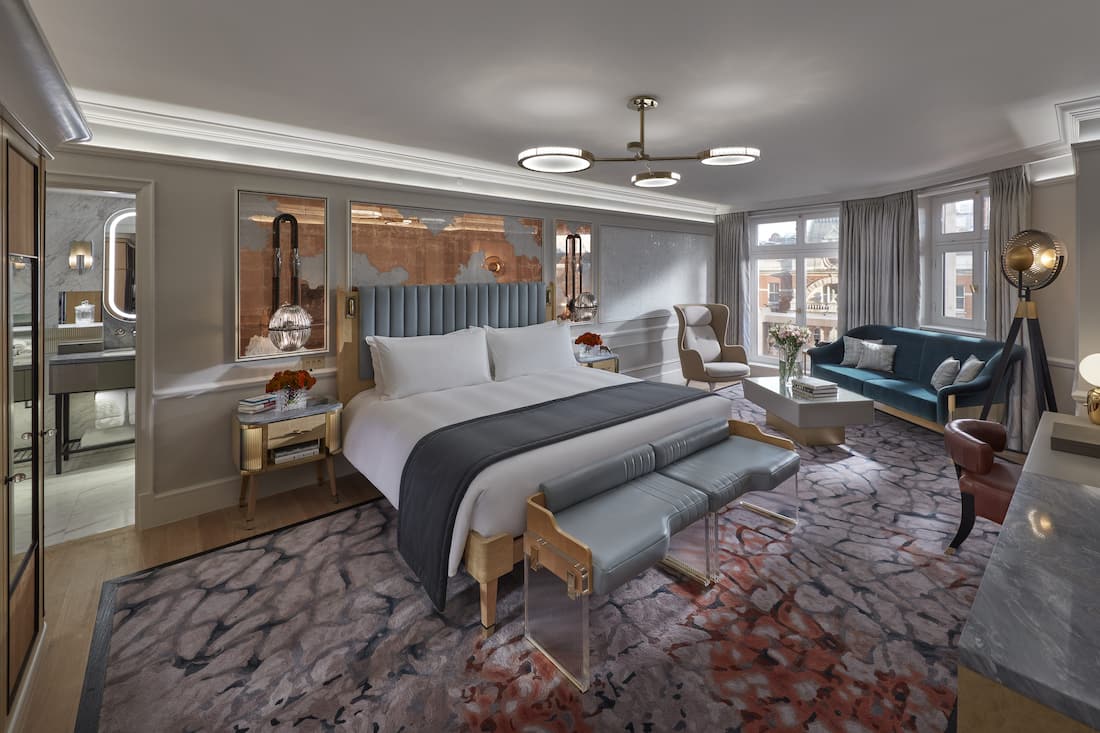 How may we tempt you?
Experience the refurbishment for yourself with one of our enticing packages. There's never been a better time to enjoy London.
View Offers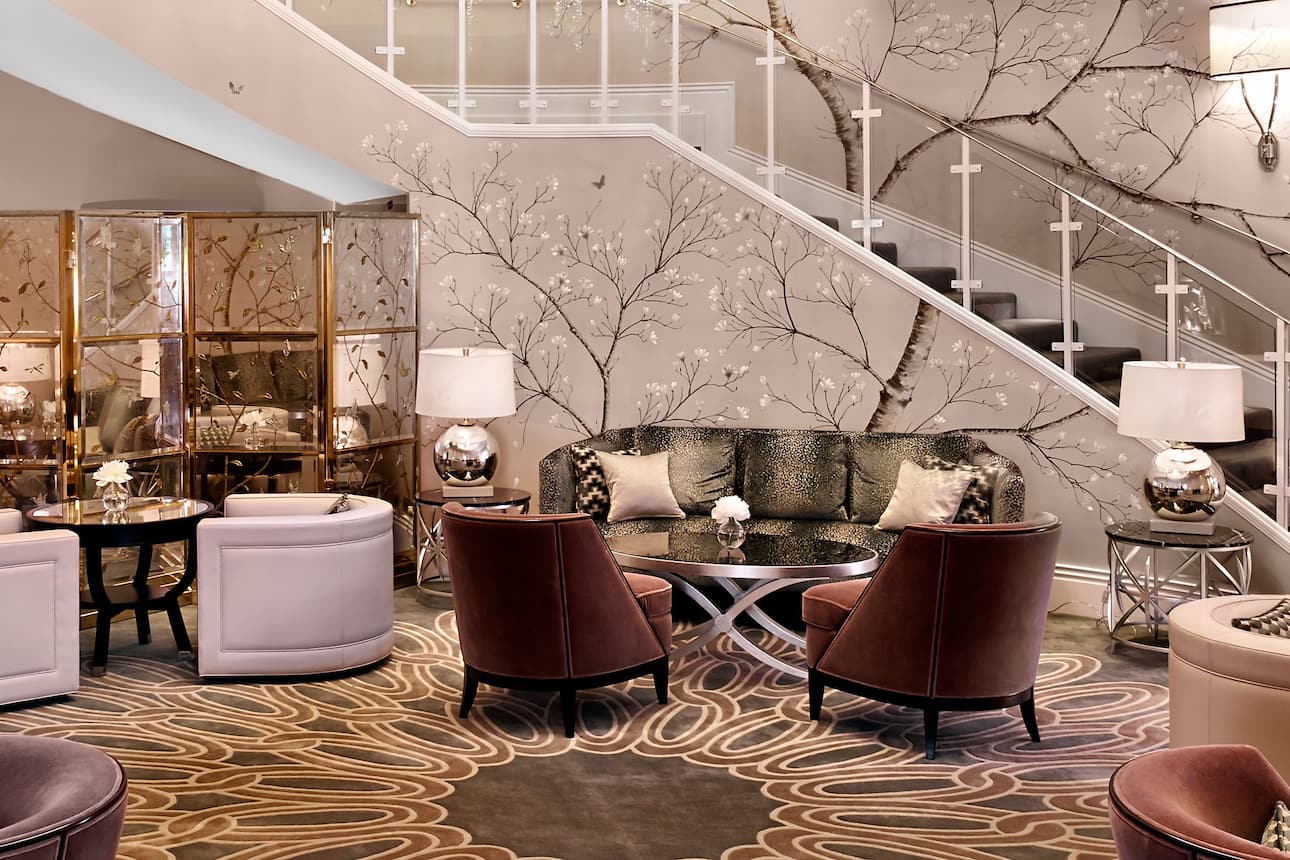 The interior designers' guide to London shopping
Joyce Wang, the mastermind behind the ongoing refurbishment of Mandarin Oriental Hyde Park, London, on the best shops in the capital
View Article