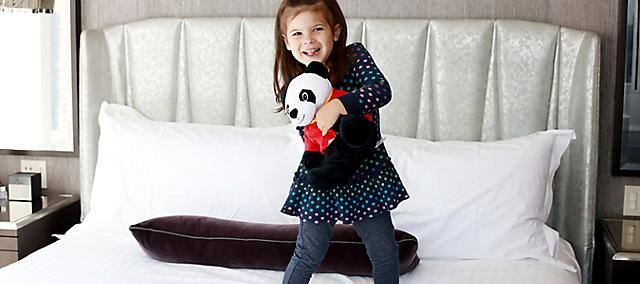 Washington, DC
Younger Fans
Younger Fans
We know that travelling with children requires a little more thought. At Mandarin Oriental, Washington D.C., we aim to make you as comfortable as possible so you can focus on creating precious family memories.
In-room Amenities
All Younger Fans are greeted upon arrival with the signature Mandarin Oriental, Washington DC stuffed panda bear to keep them company and remind them of their trip. Additional amenities include cribs and rollaway beds for a restful nights sleep.
Panda Club
Our Panda Club is a safe and happy place for your children to make new friends, learn new skills, and most importantly play and be entertained. You can relax knowing they are in the care of D.C.'s premier childcare providers, White House Nannies. Schedule a play date for the children and some well-deserved time off for you during your stay.
Children's Menus
All of our restaurants offer special children's menus, which are also available through In-Room Dining.
Babysitting
We are happy to provide guests with a list of babysitting companies that have provided services in the past.
Why should adults have all the fun?
Panda Club at Mandarin Oriental, Washington D.C .
Panda Club offers a host of amusements to keep little ones entertained.
Together with Washington, D.C.'s prestigious childcare providers, White House Nannies, kids can enjoy a space that is all their own with thoughtfully planned programs and activities. Endless fun awaits with an assortment of games, books, crafts, music, toys, and movies.
Parents can relax knowing their little ones are in good hands, freeing them to enjoy a little grown-up time.
Price
USD 35 per hour per child, Friday and Saturday. USD 50 per hour per child, Sunday. Three hour minimum.
Schedule a Playdate
Pre-registration for The Panda Club is required. Please contact us at +1 (202) 787 6088 to book.
Available dates:
October:
Oct 8 & 9 & 10 (Fri - Sun)
Oct 22 & 23  (Fri - Sat)
Oct 29 & 30 (Fri - Sat)
November:
Nov 12 & 13 (Fri - Sat)
Nov 26 & 27 (Fri - Sat)
December:
Dec 31 & Jan 1 (Fri - Sat)
White House Nannies
Since 1985, White House Nannies has been providing award-winning childcare to thousands of discerning parents, visitors, and businesses in the Washington, D.C. area.
All White House Nannies:
Are carefully screened and extensively interviewed.
Have at least three years of professional childcare experience.
Pass a written childcare assessment test.
All nannies are CPR and First Aid Certified.
Pass strict background checks.
Additional information on White House Nannies can be found here.