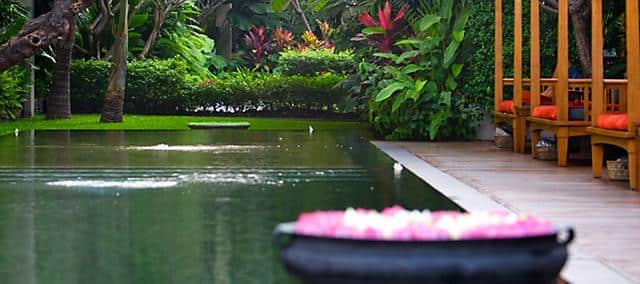 BangkokFitness & Wellness
Fitness & Wellness
Stay active with our pools, state-of-the-art fitness equipment, range of classes and sporting facilities
+66 (2) 659 9000 ext 7440
The Fitness Centre is the perfect place for health-conscious people who appreciate professional service and a highly personalised approach to fitness. The centre is located across the river, just past our lotus pond.
Fitness Centre
Our state-of-the-art Fitness Centre has everything you need for a total body workout with aerobic machines, weight training facilities, sauna, steam room and Jacuzzi. We also offer personal training sessions.
Swimming
We have a choice of two pools. A wading pool surrounded by cabanas for relaxing dips and a 25-metre long pool, ideal for swimming laps.
Complimentary Classes
We offer free fitness classes to our guests and members. Choose between Movement Foundation, Muay Thai or Thai boxing, circuit training, boot camp, dynamic yoga and a variety of conditioning sessions.
Stay active with
Specialty classes and sporting facilities
In Sanskrit yoga means "union", the coming together of the mind, body and breath through various techniques encompassing Asanas (posture) for the healthy body, Pranayama (breathing exercises), Dhyana (meditation) and Yoga Nidra (yogic relaxation), leading us into a blissful state of being.
Our yoga sessions are designed and conducted by resident Yogic Lifestyle Trainer Neelam Khatri. Neelam has extensive experience of teaching yoga and conducting workshops, retreats and programmemes. She has been actively associated with The Art of Living Foundation, including teaching yoga at the highly acclaimed hotel, 'The Oberoi Rajvilas' in Jaipur, India.
Muay Thai is popular among Thais, expats and visitors to Thailand. We are delighted to collaborate with Attachai Muay Thai Gym, a leader in Muay Thai training, to offer the finest Thai boxing experience in a luxury setting.
Theerapong (Khun Art) is one of the skilled and experienced trainers from Attachai Muay Thai Gym, who holds a professional fight record of 115 fights, with 85 wins conducts our Muay Thai classes. These sessions are perfectly suited for people of all skill levels and those who simply want to try a fun, new exercise.
Our circuit training and boot camp classes offer an ideal way to get your heart pumping. In the new functional training area, trainer Kittichai Namuangrak (Khun Max) brings 16 years of fitness industry experience to these exciting, high-energy training sessions.
Circuit training uses resistance training and high-intensity workouts to target strength-building and muscular endurance, with an exercise "circuit" involving one completion of all exercises in a given programmeme. Boot camp is a high-intensity workout designed to help people get fit faster, and it includes basic interval training and speed drills.
Our Movement Foundation classes mark a major shift away from the belief that fast and furious workouts produce the best results, instead operating around the concept that "movement is medicine."
ACE certified Carl Jones teaches our Movement Foundation classes. He is a fitness and movement training professional who specialises in calisthenics to foster better health and longer life. He previously had six years of military service and is well trained in martial arts including Hung Ga and Jujitsu.
Practise your backhand on our outdoor tennis court. Enjoy personalised crossfit training with our trainer in the new functional training room. Our multi-sports court is also available to hire for futsal, basketball and volley ball.