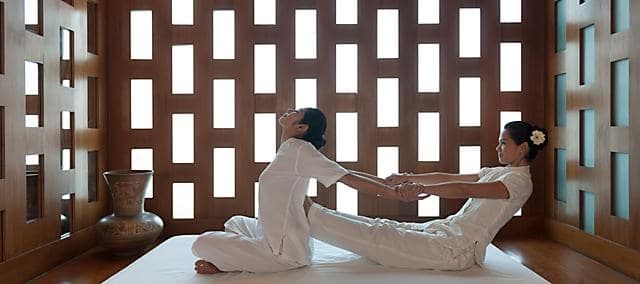 Bangkok
Treatments to relax and revive, from head to toe. Whether you wish to feel relaxed, rejuvenated or energised, our soothing treatments will restore a sense of harmony to your body, mind and soul.
Prices are subject to 10% service charge and 7% government tax
Announcement:  The Oriental Spa and the Fitness & Wellness Centre are temporarily closed in accordance with the legislation to prevent the spread of COVID-19. Our swimming pools and tennis courts are fully operational.
At Mandarin Oriental, the comfort, health and safety of our guests and colleagues is always our highest priority, our treatments have been adapted to meet current health requirements, and we would like to reassure you that we have extremely high standards for health and safety, please click here for more details. For more information on travel restrictions, health advisories and safety precautions, please visit Thailand's Ministry of Public Health, the World Health Organization, and the Tourism Authority of Thailand (TAT) website for the latest information.
Relax and revive, from head to toe
Massage
Signature
Body
Programmes
Essence of Thailand
Essential Traveller
Advanced Skin Care
Holistic Skin Care
Nature's Alchemy
Bastien Gonzalez
Facial Treatment Additions
Endermologie® for Face
Endermologie ® for Body
BGA InSoles®