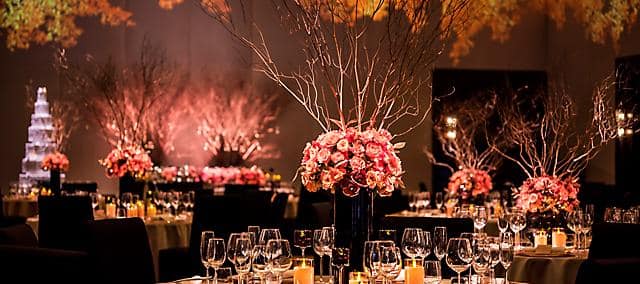 Tokyo
Meetings & Events
Meetings & Events
At Mandarin Oriental, Tokyo, the comfort, health and safety of our guests and colleagues is always our highest priority.
As we remain alert to advice from health experts and government authorities and will adapt our services based on the latest guidelines, we are operating with reduced facilities and services.
For more information on health advisories and safety precautions, please visit https://www.mhlw.go.jp/english/,Japan's Ministry of Health, Labour and Welfare page for the latest updates on Covid-19.
A reliably spectacular venue for your event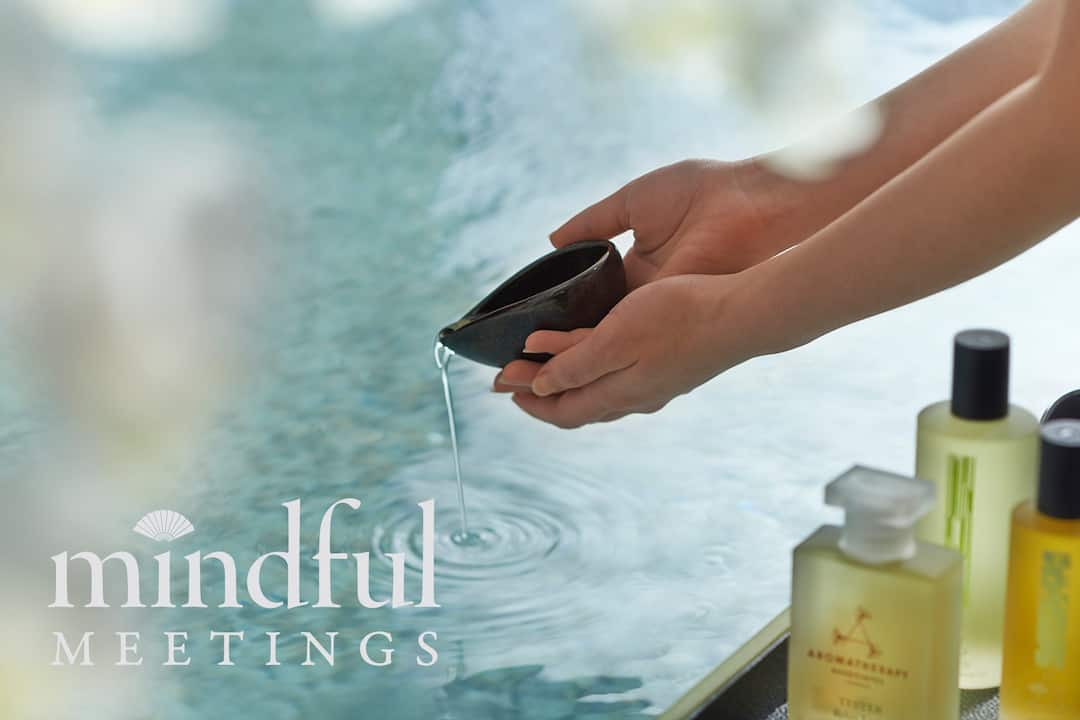 DIRECTOR OF SALES & MARKETING

DIRECTOR OF SALES & MARKETING
Mindful Meetings
Be innovative. Be inspired. Be energized.
Experience our new, progressive approach to meetings that helps you drive better results. Designed to inspire and engage your audience, Mindful Meetings incorporate wellness elements into every meeting, ensuring that your participants feel inspired, engaged and ready to focus, so that you can achieve your objectives.
Every facility and service required in planning your wedding is available within the hotel, including a wedding dress shop, beauty salon and flower shop staffed with some of the most experienced event specialists in Tokyo. What's more, our expert team of wedding planners can manage every aspect of your wedding, from flowers to photographer, catering and cake, leaving you more time to relax and enjoy the excitement.
With our covetable Nihonbashi address, we are within easy reach of some of Tokyo's most prominent business addresses and attractions.
Close to the celebrated 'Bridge of Japan' from which Nihonbashi takes its name
Direct access to Mitsukoshimae subway station and JR Shin-Nihonbashi station
Direct access to COREDO Shopping Malls and Cinema
Within walking distance of many of Tokyo's main attractions including the Imperial Palace and the exclusive Ginza shopping area
Eight minutes from Tokyo Station
Five minutes from Tokyo Stock Exchange
Within 60 minutes drive of Narita International Airport
Within 30 minutes drive of Haneda International Airport
Within lO minutes drive of Tokyo City Air Terminal
Located between the 30th and 36th floors of the futuristic 38-storey Nihonbashi Mitsui Tower, our 179 luxurious appointed guest rooms and suites offer spectacular views of the Tokyo skyline. Ranging from 50 to 60 square metres, our guest rooms are spaciously sized, while our opulent suites range from 90 to 250 square metres.
With an enticing mix of mouth-watering cuisine, breathtaking views and stunning interior design, we offer an extensive choice of restaurants and bars.
Michelin-starred French Fine Dining at Signature
Michelin-starred Cantonese cuisine at Sense
Michelin-starred Molecular cuisine at Tapas Molecular Bar
"Edo-mae" style sushi at Sushi Shin by Miyakawa
Italian dining at K'shiki
Michelin Bib Gourmand for freshly baked pizza at The Pizza bar on 38th
Vibrant authentic cuisine buffet dining at Ventaglio
Chic place for cocktails, food and live music at Mandarin Bar
Private dining with authentic French and Cantonese cuisines from both Signature and Sense
Asian teas and Chinese pastries at Sense Tea Corner
Breakfast, cocktails and afternoon at Oriental Lounge
Cake, bread, chocolate, pastry, deli, retail items, tea and coffee at The Mandarin Oriental Gourmet Shop
The Spa at Mandarin Oriental, Tokyo has merged therapies and philosophies from around the world to create an exotic array of treatments. In nine serene rooms, including five suites, guests will be guided through a bespoke journey of Asian and western-inspired healing, aimed to relax, inspire and create an exceptional awareness of true wellbeing.
Spread between a modern tower and a historic landmark. Mandarin Oriental, Tokyo offers guests the unique opportunity to hold their meeting, event or celebration in either a cultural heritage or contemporary setting. The grand ballroom and wedding chapel are located on the third floor of the new tower, while four large banquet halls and six meeting rooms are set within the adjacent Mitsui Main Building.
FUNCTION ROOMS
FLOOR PLANS
AREA 
sqm
COCKTAIL
DINNER
THEATRE
CLASSROOM
BOARD STYLE
U-SHAPE
HOLLOW SQUARE
Grand Ballroom (I, II & III)
View
550
400
320
500
260
--
--
--
Sanctuary
View
250 
120
--
150
80
--
--
--
Linden Room
View
166 
120
100
150
90
--
39
48
Alder Room
View
130  
80
60
120
60
--
36
42
Oak Room
View
107 
60
50
80
40
24
33
36
Maple Room
View
81 
--
20
--
--
--
--
--
Beni Room
View
70 
40
20
40
30
20
27
30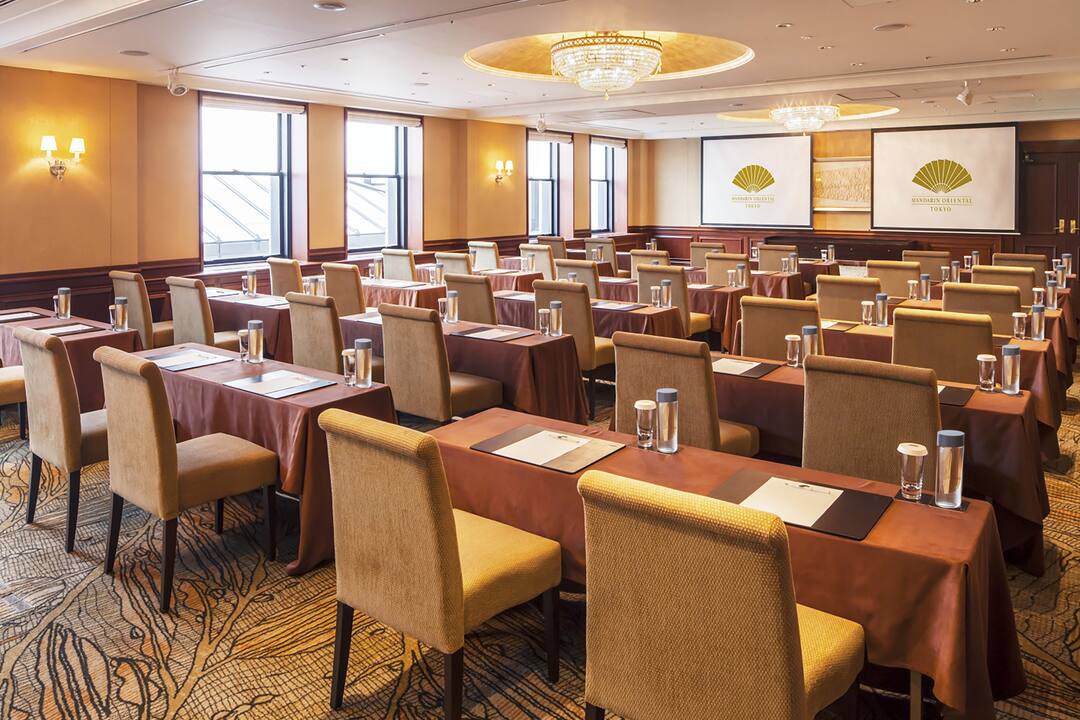 Business Meetings
When you hold a meeting with us, you can be assured of the highest possible standards.
Weddings & Events
With our stunning facilities, excellent service and original ideas for events great and small, Mandarin Oriental, Tokyo is the ultimate celebratory venue.
Facilities
We offer a choice of atmospheric venues from cutting-edge meeting rooms to a stunning ballroom, historic banquet rooms and a wonderfully tranquil private chapel.
Catering
Our catering is always a talking point. We promise to deliver fabulously fresh cuisine that will be a highlight of your event.
Submit an enquiry
Please provide us with the details of your meeting or event and our Sales & Catering experts will come back to you with a proposal that meets your requirements.
Request for Proposal