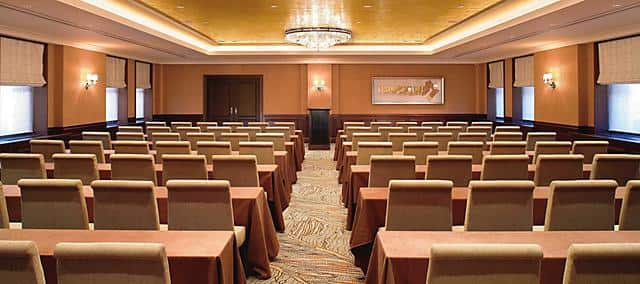 Tokyo
Facilities
Facilities
We offer a choice of atmospheric venues to suit all manner of occasion
The versatility of our 13 function rooms allows you to create your own very individual event. We offer a choice of spaces, from the grand expanse of our ballroom to the contemporary tranquillity of our private chapel or the historic warmth of the panelled Oak room.
Grand Ballroom
Located on the 3rd floor of our modern tower, the Grand Ballroom can be divided into three separate rooms and has two waiting rooms and a 200-square metre foyer.
Mitsui Main Building
As one of the few surviving historic buildings in the city centre, the Mitsui Main Building offers delegates a rare opportunity to contemplate some of Tokyo's past. We offer a choice of conference and banqueting facilities in the building, all of which have the advantage of natural light.
The Sanctuary
Our private chapel is a stunningly modern space suitable for weddings and creative events. With the option of colour-effect lighting, the chapel also offers superb acoustics and a stage surrounded by flowing water.
Room specifications
FUNCTION ROOMS
FLOOR PLANS
AREA 
sqm
COCKTAIL
DINNER
THEATRE
CLASSROOM
BOARD STYLE
U-SHAPE
HOLLOW SQUARE
Grand Ballroom (I, II & III)
View
550
400
270
500
260
--
--
--
Sanctuary
View
250 
150
--
150
80
--
--
--
Linden Room
View
166 
120
100
150
90
--
39
48
Alder Room
View
130  
80
60
120
60
--
36
42
Oak Room
View
107 
60
50
80
40
24
33
36
Maple Room
View
81 
--
20
--
--
--
--
--
Beni Room
View
70 
40
20
40
30
20
27
30